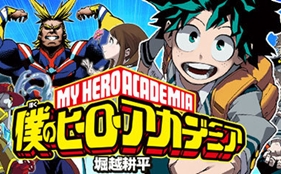 According to this week's issue of Viz Media's Weekly Shounen Jump digital magazine, they will be serializing Kouhei Hirikoshi's (Sensei no Bulge, Oumagadoki Doubutsuen) manga, Boku no Hero Academia (My Hero Academia). They will begin the release in the magazine's next issue. The publisher also announced that the manga will run simultaneously with Japan's release starting February 9, 2015.
The action, adventure, comedy and supernatural shounen manga was released on July 7, 2014 under Shueisha's Weekly Shounen Jump's 2014 Issue #32.
There are currently two compiled Japanese manga volumes for the series. The first volume shipped on November 4, 2014 containing the first seven chapters. The second volume was released on January 5, 2015 including chapters 8-17. The third volume is planned to ship on April 3, 2015.
The manga was nominated among 14 manga titles for the 8th Manga Taishou Awards. The first volume of the manga reached 7th place on the Weekly Oricon Manga Chart for November 3-9, 2014. As of November 9, 2014, the first volume has sold 71,575 copies. The second volume of the manga reached one rank up with 167,531 copies. As of January 18, 2015, the volume sold 205,179 copies.
Boku no Hero Academia received a VOMIC adaptation (Shueisha's Voice Comic) where the manga is shown on TV with special effects and character voice acting. The adaptation started on January 11, 2015 in Animax TV and has four episodes announced so far.
Episode Release:
Episode 1 – January 11, 2014
Episode 2 – January 17, 2014
Episode 3 – January 24, 2014
Episode 4 – January 31, 2014
VOMIC Cast:
Tessyo Genda (Sengoku Basara's Shingen Takeda, Crayon Shin-chan's Action Kamen) as All Might
Daiki Yamashita (Yowamushi Pedal's Sakamichi Onoda, Log Horizon's Touya) as Izuku "Deku" Midoriya
Yuuichirou Umehara (Orenchi no Furo Jijou's Wakasa, Binan Koukou Chikyuu Bouei-bu LOVE!'s En Yufuin) as Bakugou Katsuki
Koutarou Nishiyama (Binan Koukou Chikyuu Bouei-bu LOVE!'s Atsushi Kinugawa, Haikyuu!!'s Kazuhito Narita) as Kamui Wood
Yuki Minami as Mount Lady and Izuku's Mother
Yuna Taniguchi (Death Parade's Mai Takada,  Robot Girls Z's Gromazen R9) as Younger Izuku
Synopsis of Boku no Hero Academia from MAL:
People are not born equal, a realization that 4-year-old Midoriya Izuku faced when bullied by his classmates who had unique special powers. Izuku was one of the rare cases where he was born with absolutely no unique powers. This did not stop Izuku from pursuing his dream, a dream of becoming a great hero like the legendary All-Might. To become the great hero he hopelessly wants to become, he now will join the ranks of one of the highest rated "Hero Academies" in the country: Yueiko. With the help of his idol All-Might, will he be able to claim the ranks and become a true hero?
Read the first few chapters from the first compiled volume of the manga in Japanese here.
Visit the manga's official Twitter account here or the author's official Twitter account here.
Source – Viz's Official Weekly Shounen Jump Reader, SokkoHeroAca Blog
sevenpocky | Anime and Manga Enthusiast. Slice-of-life and Sports genre fanatic. Shoujo manga lover.
Oh, and I'm short and I love writing manga news.