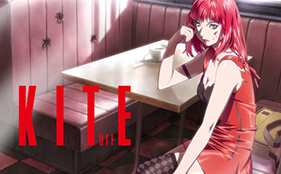 The official website for the Japanese live-action version of Yasuomi Umetsu' 1999 adult OVA A KITE/KITE has posted a newly drawn promotional illustration by the anime director himself featuring the protagonist of the film, Sawa.  The live-action Sawa portrayed by India Eisley has vivid red hair, not brown like the Sawa in the OVA. Yasuomi Umetsu has drawn Sawa as she is seen in the film and a postcard of this illustration will be given to the first 3,000 audience in theaters across Japan.
Japanese trailer for Kite:
Kite is a 2014 American action film directed by Ralph Ziman, based on the 1999 anime of the same name by Yasuomi Umetsu. The film stars India Eisley, Callan McAuliffe and Samuel L. Jackson.
Kite live-action movie synopsis from wiki:
In a vast, multicultural and decimated urban landscape, set after a financial collapse, Sawa, a beautiful but emotionally detached young woman, lives a secret life as a covert assassin. The daughter of a police detective involved in the investigation of human trafficking, she was orphaned at the age of 12 when an unknown assailant targeted both of her parents. Now 18, Sawa is intent upon eliminating members of the flesh-cartels whom she presumes murdered her family—men who exploit the defenseless children of a collapsed society for the pleasure of high-paying, foreign clients.
A Kite synopsis from MAL:
Sawa is a school girl, an orphan, and an assassin. She is being controlled by a corrupt cop who gives her targets to kill, detailing to her the crimes these men have committed in order to justify their death. Some of his power over Sawa has to do with her deceased parents and the promise of revenge. When another orphan, a teenage boy called Oburi, is brought in to assist Sawa, the two teenage killers form a bond of sorts. As they heal each other's emotional wounds, they begin to dream of a life that would not be spent under the shadows of murder.
Source: Crunchyroll, Akiba Souken