Electronic pop soloist and model Yun*chi, who recently sang "Wonderful Wonder World*" for Log Horizon 2nd Season, will be releasing an anime song cover mini-album on April 15th. The new album will be titled Ani*yun – Anime Song Cover and will consist of seven of Yun*chi's favorite songs from both classic and new anime series including popular works like Space Dandy and Cardcaptor Sakura.
Here's the tracklist for the upcoming mini-album:
Ojamajo Carnival!! (Ojamajo Doremi)
Catch You Catch Me (Cardcaptor Sakura)
Tenshi no Yubikiri (Kare Kano)
Viva Namida (Space Dandy)
Koi no Uta (Tamako Love Story)
Kimi ni Todoke (Kimi ni Todoke)
Sakura Kiss (Ouran High School Host Club)
The album art: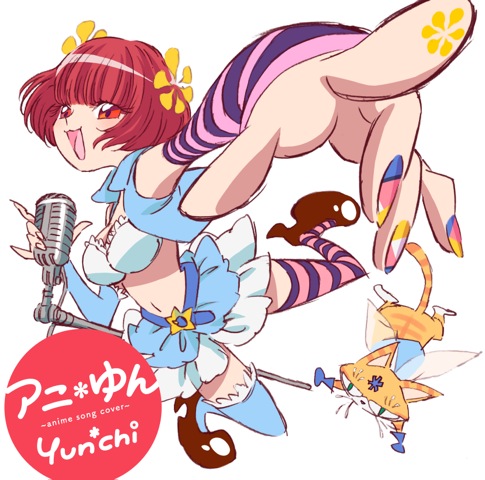 Yun*chi's comment about the upcoming album:
"Ever since I was little I've loved anime and it's influenced things like my fashion, love life, and even my dreams. Now I'm quickly approaching the third year since my debut, I've gotten offers to sing songs for anime as well and like always, I'm watching a lot of cool anime series every season and sometimes go out to anime clubs. I want to realize a project for that [version of] Yun*chi! So with that said, this time I tried covering anime songs*. Anime song × Yun*chi, 'Ani*Yun'!! I definitely hope you'll listen to it♪"
The singer has done performances two years in a row at London's Hyper Japan cultural expo event, as well as sang the ending themes "Your song*" and "Wonderful Wonder World*" for both seasons of Log Horizon, and held her first solo live at the club MOGRA in December last year.
Source: aramajapan