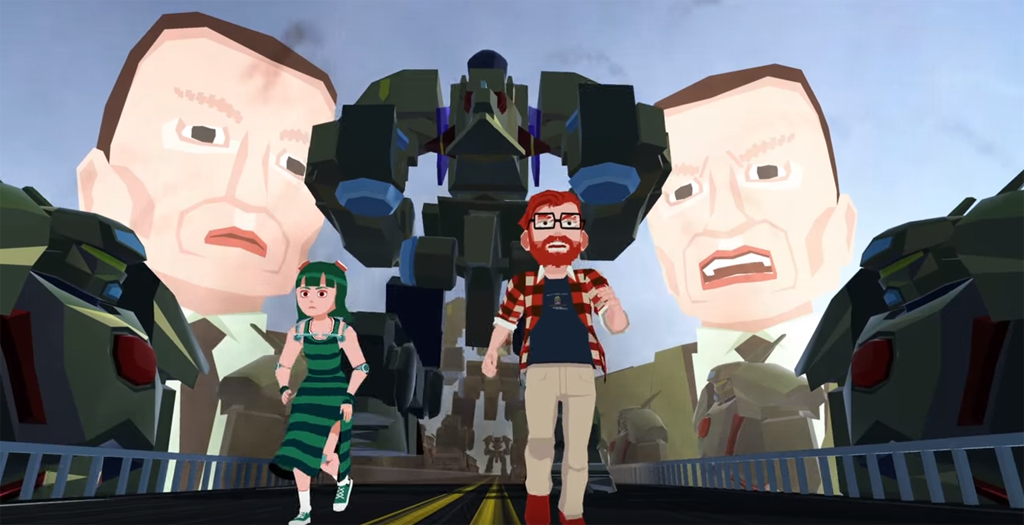 The independent (or indie, for short) game development landscape has been gaining momentum over the past few years. Humble beginnings become even greater futures with programmers and designers alike combining their hearts and souls into one hell of a passion project. Since Super Meat Boy's release back in 2010, the ecosystem has received what could be considered a massive overhaul.
Publishers like Playism and Degi Games have provided a glance into the doujin scene that been thriving in Japan with releases like Eschatos, a shoot-em-up (or SHUMP) with the world constantly shifting around you, and Astebreed, another SHUMP that amplifies the energetic nature of escaping projectiles and eliminating your foes to an entirely new level – all DRM free.
Even larger publishers, like Atlus, have allowed us gamers to witness titles we never thought could push the boundaries of interactive experiences, let alone RPGS, and – most notably – the Persona series. What started off as an odd spin-off to an already gigantic Shin Megami Tensei ethos, the Persona franchise has gained massive headway with Sega Sammy Holdings, the parent company of Atlus, reporting that the series has sold over six million copies worldwide as of May 2015.
It's easy to see, now, why Ackk Studios didn't just take inspiration from another hallmark of RPG goodness, Earthbound, but also the Persona series – which has cemented its place in the hearts of avid role-playing aficionados – for their upcoming title, YIIK: A Postmodern RPG.
Taking place in a real-life 1990s setting, Alex Eggleston, the protagonist, finds himself graduating college with a new perspective on the mystery of adult-hood. After discovering a video of a women he had met before on an imageboard, him and his friends take it upon themselves to unravel this mystery. Since YIIK's first trailer back in February, more pre-alpha footage has started to come out on YouTube which showcases gameplay, skits, and the simplistic, yet vibrant world of YIIK.
Featuring a flat-shaded aesthetic, almost harkening back to the low-poly graphical age of the original PlayStation, fans of Earthbound will notice YIIK's eclectic battle system. Each character has their own distinctive style of combat like Alex using a record player to perfectly time his attacks with each time the player succeeds in consecutively hitting the red and yellow parts of the record. Skills can, also, be radically different between characters with Velia using a skill like Bass Drop which drops the player in an 8-bit style scenario. Its sparkling, unique presentation is packed with variety and vibrancy, ensuring each character is eccentric and interesting in their own right.
Time Energy, the meter represented in the top-right of the screen, builds up as you take damage, allowing you to slow down time. This can be advantageous, especially with the aforementioned attacks that Alex uses, allowing you to have more time to accumulate an even stronger attack. Additionally, enemies can be seen in real-time in the world and your foes will stay dead permanently upon being defeated.
Skits, or cutscenes where the characters interact, are also reminiscent of Persona or even the Tales of series which provides a close-up look at the gorgeous, 2D art of each characters. Another notable highlight from the pre-alpha footage is the voice acting with voice direction being handled by Brittany Lauda (Holy Knight OVA, Ladies versus Butlers). Chris Niosi, otherwise known for his animations under the name Kirbopher, captures the essence of a post-grad wandering into an enigma with near anxiety perfectly as Alex. Alex's friend, Michael, is voiced by Clifford Chapin (Tokyo Ravens, Robotics;Notes) and the actors share a likeable, endearing chemistry which is complemented by Melanie Ehrlich's wonderfully realistic, enriching performance as Vella.
Another skit has been posted on Ackk Studios' official YouTube, featuring two more characters Rory and Claudio debating over shoujo anime. Anthony Sardinha, known for his hilarious contributions to Team Four Star's Dragon Ball Z: Abridged, has booming presence as Claudio and, take it from someone who obsesses over magical girl anime, really knows how to sell the magical girl crazed fan. Yuriofwind, a YouTuber notable for his videos about gaming mysteries and obscurities, provides the voice of Rory and his counter-points to Claudio come off convincing, perhaps even setting off rage in the most dedicated of magical girl fans who'll undoubtedly play this game.
If my geeking out didn't make things apparent, there's a lot to be excited about with YIIK: A Post-Modern RPG. With only pre-alpha footage and a couple of trailers to go on, it makes the anticipation even sweeter. Its presentation catches the eye, draws the player in without the need for grandiose, spec-heavy graphics. The voice acting adds personality to an already stand-out cast of characters, which could set up for an interesting, mind-bending mystery narrative. Andrew Allanson's music doesn't shy from being "out there," switching from chiptune melodies for an arcade setting and a snappy, synthetic battle theme to really drive home its tonality. Throw in a series of puzzles with an uncanny alternate world and you've found a glistening, prospective needle in a haystack of indie titles.
Ackk Studios and publisher Ysbryd Games hope to release YIIK: A Postmodern RPG between late-December 2015 to mid-February 2016 for PC/Linux/Mac, PlayStation Vita, PlayStation 4, and the Wii U. For more information, check out the official YIIK website and Ackk Studios' official YouTube.