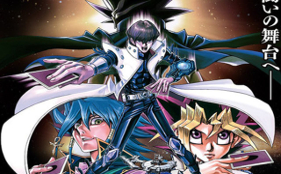 The Yu-Gi-Oh!'s anime franchise Twitter account announced that the upcoming film Yu-Gi-Oh!: The Dark Side of Dimensions will open in Japan for April 23. The film will be available outside of Japan in late 2016.
The cast is as follows:
Hidehiro Kikuchi (Ran from Green Legend Ran) as Hiroto Honda (Tristan Taylor)
Hiroki Takahashi (Japan from Hetalia Axis Powers) as Katsuya Jonochi (Joey Wheeler)
Junko Takeuchi (Gomamon from Digimon Adventure) as Mokuba Kaiba
Maki Saitou (Marina Konno from Good Morning Call) as Anzu Masaki (Téa Gardener)
Rica Matsumoto (Shinunora from Gun Frontier) as Ryo Bakura
It was previously announced that Shunsuke Kazama will return to voice Yugi Muto, and Kenjiro Tsuda will return to voice Seto Kaiba as the stars of the film.
Yu-Gi-Oh!'s manga creator, Kazuki Takahashi, is in charge for the film's script, the character design and is serving as chief producer supervisor. Satoshi Kuwabara (Yu-Gi-Oh! Zekal, Yu-Gi-Oh! Zekal II) is the film director.
Shueisha's Weekly Shonen Jump magazine teases the film's story, which takes place 6 months after the end of the manga:
In the past Yugi Yami and Kaiba have clashed many times!! Yami Yugi, who resides in Yugi Muto's body, and Kaiba will have a duel that bets their prides and accepts each other's mutual experience.
Yu-Gi-Oh! is a Japanese manga series about gaming written and illustrated by Kazuki Takahashi. It was serialized in Shueisha's Weekly Shonen Jump magazine between September 30, 1996 and March 8, 2004. The plot follows the story of a boy named Yugi Mutou, who solves the ancient Millennium Puzzle, and awakens a gambling alter-ego within his body that solves his conflicts using various games.
Two anime adaptations were produced; one by Toei Animation, which aired from April 4, 1998 to October 10, 1998, and another produced by NAS and animated by Studio Gallop titled Yu-Gi-Oh! Duel Monsters, which aired between April 2000 and September 2004. The manga series has spawned a franchise that includes multiple spinoff manga and anime series, a trading card game, and numerous video games. Most of the incarnations of the franchise involve the fictional trading card game known as Duel Monsters, where each player uses cards to "duel" each other in a mock battle of fantasy "monsters", which forms the basis for the real life Yu-Gi-Oh! Trading Card Game.
Yu-Gi-Oh! synopsis from MyAnimelist:
Yuugi is a somewhat frail young boy who happens to be a big fan of gaming of any kind. But when he solves an ancient egyptian puzzle he is granted all the powers of darkness. Now when confronted with danger and injustice, he transforms into a much darker and dangerous form, and proceeds to dish out the justice and punishment for those who so richly deserve it.
Source: ANN
Heyho, I am Lequitas and very new to this, I hope I can get much better at writing!