Following up on our recent announcement, the staff for the anime adaptation of Takumi Hiiragiboshi's Absolute Duo light novel series has been updated.
The staff is as follows:
Director: Atsushi Nakayama
Series Composition: Takamitsu Kouno (Ayakashi, Minami-ke Tadaima, Kyou no Go no Ni (2008))
Character Design: Keiichi Sano (Kamisama no Memochou, Otome wa Boku ni Koishiteru: Futari no Elder, Strike the Blood)
Animation Director: Keiichi Sano (Bungaku Shoujo, Toaru Kagaku no Railgun episode 1, Higashi no Eden episode 6), Norie Tanaka (Fairy Tail 2nd key animation (ep 160), M3: Sono Kuroki Hagane, Magi: The Labyrinth of Magic)
Blaze Design: Takashi Kojima
Art Director: Kenta Masuda
Color Design: Yuko Tsumori
Director of Photography: Kei Machida
Editing: Kashiko Kimura
Sound Director: Takeshi Takadera (Cardfight!! Vanguard, D-Frag!, Yowamushi Pedal)
Music: Atsushi Hirasawa
Music Production: Kadokawa (Media Factory)
Production: 8-bit (Infinite Stratos, Grisaia no Kajitsu, Yama no Susume)
The cast includes:
Yoshitsugu Matsuoka (Arata Kangatari's Arata, Sword Art Online's Kirito, Trinity Seven's Arata Kasuga) as Tooru Kokonoe
Nozomi Yamamoto (Genshiken Nidaime's Chika Ogiue, Daitoshokan no Hitsujikai's Senri Misono,Joshiraku's Tetora Bouhatei) as Julie Sigtuna
Ayaka Suwa (Tokaku Azuma from Akuma no Riddle, Ikumi Suzuki from Jinsei, Komine Nozomi from Nozo x Kimi) as Tomoe Tachibana
Ayaka Imamura (Mini from Akame ga Kill!) as Miyabi Hotaka
Haruka Yamazaki (Tomoyo Kanzaki from Inou-Battle wa Nichijou-kei no Naka de, Eita Kidou from Oreshura, Mizuha Amagi from Vividred Operation) as Lilith Bristol
In addition to this, the leaked key visual has been revealed: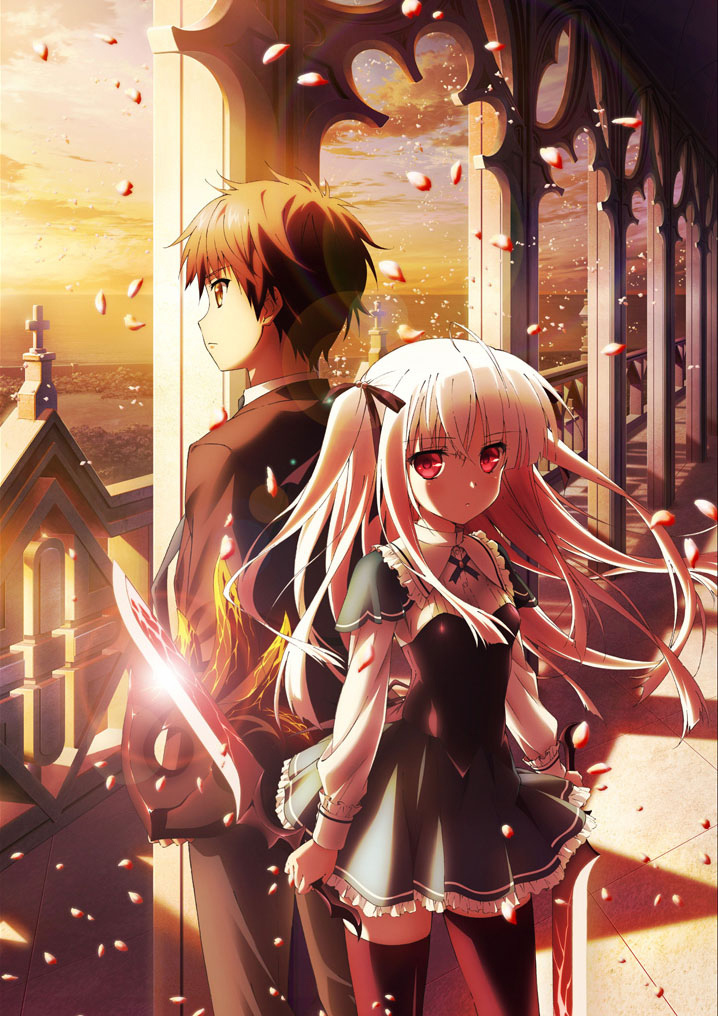 Absolute Duo is a Japanese light novel series by Takumi Hiiragiboshi with illustrations by Yuu Asaba. Media Factory has published six volumes since 2012 under their MF Bunko J imprint. A manga adaptation with art by Shinichiro Nariie started serialization in Media Factory's seinen manga magazine Monthly Comic Alive from April 27, 2013, and has been collected in a single tankobon volume. A second spin-off four-panel comedy manga adaptation titled Absolute Duo Tea Party with art by Tooru Oiwaka will also be serialized in Monthly Comic Alive magazine with the December 2014 issue to be sold on October 27, 2014. An anime television series adaptation by 8-Bit was announced at Media Factory's 2014 Summer School Festival event.
Absolute Duo synopsis from Haruhichan:
After losing a loved one, Tooru Kokonoe enrolls at Kouryou Academy so as to gain a "Blaze," a weapon that is his soul manifestation, for the sake of revenge. He was expecting a weapon… What he got was a shield… How is he to seek revenge with something that isn't even a weapon?!
Source: moca-news