This year's 51st issue of Kodansha's Weekly Shonen Magazine announced on Wednesday that the Ace of Diamond The Live stage play will receive a sequel in March 2016.
The Ace of Diamond The Live play ran from August 1 to August 9 at the Zepp Blue Theater in Roppongi. Pony Canyon released the performance on DVD on Wednesday.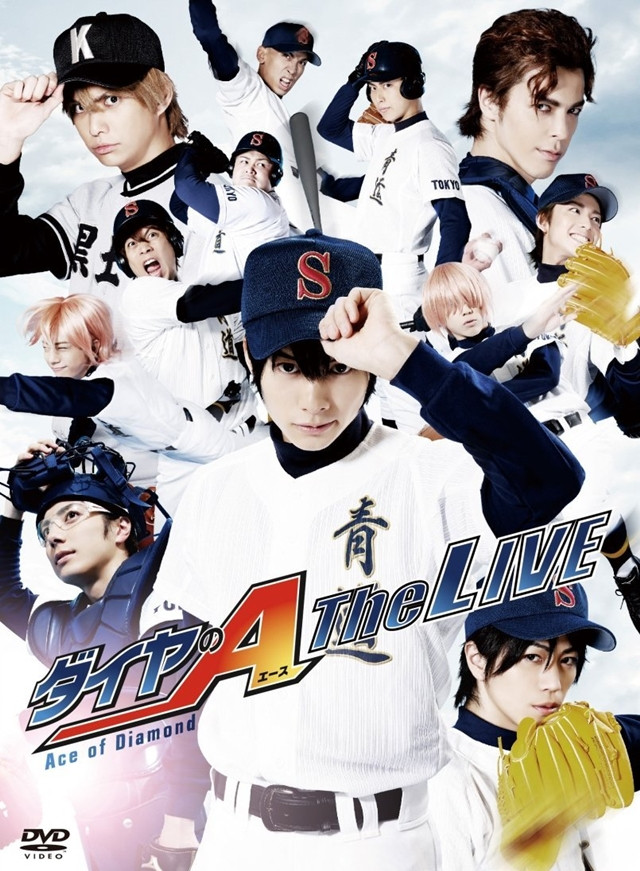 The first play's main cast consisted of:
Ren Ozawa as Eijun Sawamura (seen above)
Tomoki Hirose as Satoru Furuya
Takuma Wada as Kazuya Miyuki
Taiga Fukizawa as Haruichi Kominato
Subaru Hayama as Yōichi Kuramochi
Taizo Shiina as Ryōsuke Kominato
Ryousuke Takahashi as Jun Isashiki
Yūsuke Ueda as Masashi Yūki
Hiroyoshi Mizunuma as Tōru Masuko
NAO-G as Kōichirō Tanba
Airu Shiozaki as Chris Yū Takigawa
Daichi Nakashima as Keisuke Miyauchi
Shouhei as Ichirō Sakai
Yuuki Aomine as Norifumi Kawakami
Ryouichi Wada as Kenjirō Shirasu
Takurō Sawada as Kenta Maezono
Yasuhisa Kato as Tesshin Kataoka
Saki Endo as Rei Takashima
Keisuke Fujita as Kazuyoshi Ōta
Ami201 as Kiyokuni Azuma
Hirotsugu Kurosu as J. Animal M.
Hisato Izaki as Naoyuki Zaizen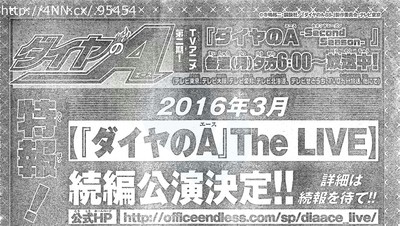 Office ENDLESS produced the play, while voice actor and scriptwriter Shinato Asanuma (Ace of Diamond's Yoichi Kuramochi, Majestic Prince's Toshikaze Asagi) directed the play and wrote the screenplay.
Ace of Diamond is an ongoing anime adaptation of the popular sport's manga by Yuji Terajima.
Crunchyroll's synopsis of the series is as follows:
I want to pitch to that mitt again… A meeting with catcher Kazuya Miyuki changed the 15-year-old Eijun Sawamura's life. He said goodbye to all his friends and knocked upon the door of Seidou, a prestigious baseball school, intent on testing his own strength. There, he met many proud baseball players who were betting everything on the sport! A classic tale, yet new and fresh. All the emotion and excitement of the popular baseball manga is at last coming to television in the form of an anime!
Source: Anime News Network