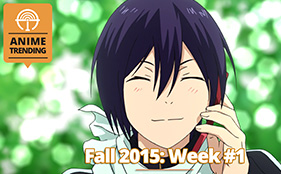 Greetings everyone and we're back with Anime Trending on Haruhichan! However, things are going to be different starting today. Today, Anime Trending is partnering with Haruhichan to make voting for your favorite anime of the week, character and ships easier! Voting will now take place on Haruhichan. Anime Trending is still working on a separate website but the project is in progress. In the meantime, we hope this minor change will allow a smooth transition in the future.
For individuals new to Anime Trending, it is a Facebook community that has been dedicated to reporting charts on ongoing anime series as well as favorite characters, ships and soundtracks on a weekly basis.
At the end of each anime season, Anime Trending consolidates the votes throughout the whole season and complies it into a showcase called "Anime of the Season (AOTS)." At the end of the year, anime series which ranked high during AOTS battle it out for Anime of the Year.. During the 2014 Anime of the Year Awards, Zankyou no Terror took #1 with Noragami as the runner up.
Without further or do, you can now vote for your favorite anime from the Fall 2015 Anime season!