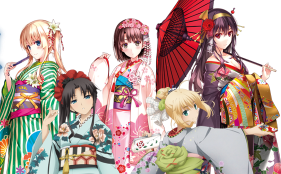 After teasing the designs for weeks and first only announcing that acrylic cutouts and wallscrolls would be made of them, yesterday Aniplex announced a new 5 figure series featuring girls from 2 separate franchises. Rin and Saber from the Fate/stay night: Unlimited Blade Works franchise will be joined by Megumi, Utaha, and Eriri from Saenai Heroine no Sodatekata. The designs feature the girls in stunningly detailed kimonos that only pictures can really do justice in describing.
No release date has been set, however the Original Kimono set that Aniplex released was 1/8 in scale and featured the girls from Puella Magi Madoka Magica. Prices ranged from 9300 yen (about 78 USD) with multiple releases for Madoka only, to 12000 yen (about 100 USD) with a single release for the other four, so expect a similar pricing and release scheme for this new set as well.
Source: Aniplex
snakes88 is an anime and PVC enthusiast . Have feedback on the article? Feel free to get in touch on Twitter to talk about all things anime and PVC.