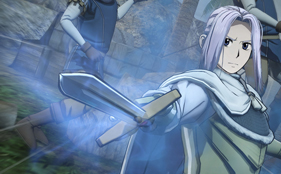 KOEI Tecmo Europe began streaming English-subtitled gameplay videos for Arslan, Daryun, Narsus, and Elam from its Arslan: The Warriors of Legend game on Monday.
Arslan: The Warriors of Legend is a game based off the manga The Heroic Legend of Arslan by Tanaka Yoshiki with art by the creater of Full Metal Alchemist, Arakawa Hiromu.
The confirmed playable characters in this wonderfully stunning new addition to the Warriors' game series are Arslan, Daryun, Narsus, Gieve, Falangies, Alfarid, Elam, Jaswant, Kishward, Hilmes, Zandeh, Kubard, Yus, Isfan, and Zaravant.
The game's Mardan Rush feature allows players to lead a troop of soldiers and deliver heavy damage to the enemy army. Players can talk control of cavalry, archers, or infantry to utilize each group's special abilities in aid to the victory of battles. These strategic form of combat allows players to finely tune their approach to the battlefield. Overcoming obstacles, attacking distant opponents, and rescuing your allies will all be key in winning battles. The game's Shift Change mechanic allows players to string together multiple combos by changing weapons.
Arslan: The Warriors of Legend contains more than 200 Skill Cards that can change a character's abilities, and also features side stories that will grant you a more in-depth view of the narrative.
The game is slated for release on PlayStation 3, PlayStation 4, Xbox One, and PC through Steam in North America on February 9, 2016 and then a following release in Europe on February 12. In North America, GameStop and EB Canada will include a special weapon and armor set for Daryun, as well as "Conflict at Gujarat Fortress," a new original scenario for Free Mode. Best Buy and Amazon will offer a new original scenario, "Battle for the Title," for Free Mode.
The game shipped after a delay in Japan on October 1. No Xbox One or PC release has been announced in Japan. Sony also released two limited edition "Arslan: Senki x Musou Limited Edition" themed PlayStation 4 systems on October 1 in Japan.
Source: Anime News Network