こんにちわみんなさん (Hello everyone!)
Fall 2013's anime, "Non Non Biyori", was a simple slice of life that told the story of four school girls living in the Japanese countryside. The village consisted of a candy store, the school, farms, homes and… that was really it.  Heck, the four girls were the only students in the school aside from one other boy. You may think this would be incredibly boring to watch, but it wasn't. It had some good comedy, and it was an anime that you could sit down and relax with. It was a nice change of pace seeing the rolling hills and greenery that is missing in most anime. It showed you the true beauty of nature and why we should love the great outdoors. The characters were good, and they had really good chemistry with each other. However, one character made the entire anime great, and that was Renge "Ren-chon" Miyauchi. This incredibly mature 1st-grader spouted off lines that you would expect an adult to say, but still has that childlike mannerism to her that just made her an incredibly endearing character. The show knew what it was and it delivered well.
Today, an announcement was made that "Non Non Biyori" would be getting a second season. No information was given aside from this message from Renge herself: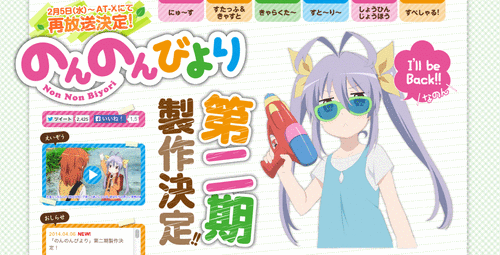 If you watched the first season, what did you think of it? Also, what do you think of this announcement? Let me know in the comments below!
また後で