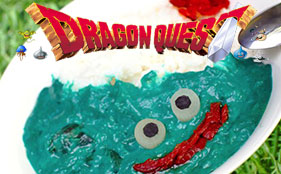 If you enjoy crazy wacky Japanese inventions, you'll love this blue slime curry which is inspired by the video game enemy Slime from the Dragon Quest series by Square Enix.
This delicious blue-tinted curry is being sold on amazon for 1,080 yen (~$10.06). The Slime Curry comes after Village Vanguard's additional products like Unazuki Beer Curry and Melon Curry.
Keep in mind that it's full of quite normal ingredients like carrots, brown rice, chickpeas, blue peas, red kidney beans, sugar, curry powder, tomato paste, salt, olive oil, garlic, ginger, gabardine, yeast extract , shiitake powder, tomato paste, beans, chicken, and onion. It comes in a airtight heatable pouch that holds about seven ounces. There aren't any sort of toppings or additional ingredients with the curry, so if you truly want to make your dinner look like a Slime from Dragon Quest, you'll have to provide your own.
Source: Crunchyroll