In the January 2015 issue of Hakusensha's Bessatsu Hana to Yume magazine which will be released on Wednesday, Saki Hiwatari (Global Garden, Mirai no Utena) will end her Boku no Chikyuu wo Mamotte sci-fi-drama shoujo manga series' sequel, Boku wo Tsutsumu Tsuki no Hikari.
However, she has also announced that a new manga series titled Boku wa Chikyuu to Utau will be released in the May 2015 issue of the same serializing magazine on March 26, 2015. It will be the sequel of the ending manga and will still continue the story of Kobayashi Ren. Written on the magazine announcement, Boku wa Chikyuu to Utau will be the "3rd Stage" of the Boku Tama series.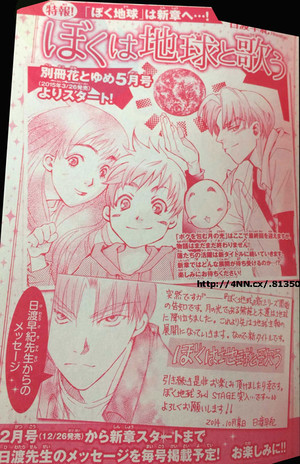 Boku wo Tsutsumu Tsuki no Hikari was released on 2003. It is serialized in the bimonthly Hana to Yume magazine and a special edition magazine, Hana to Yume Plus. There are currently 14 compiled manga volumes by Hakusensha and the fourteenth volume was released on September 19, 2014. Tankom licensed the manga in French.
The prequel, Boku no Chikyuu wo Mamotte, was published around 1987 – 1994 with 138 chapters and 21 compiled manga volumes under Hana to Yume magazine. It is licensed in North America by Viz Media, with all volumes translated. Planet Manga holds the manga license for Italian translations, Tonkam for French and Carlsen Verlag for German.
A tribute volume, Boku no Chikyuu wo Mamotte Tribute, preceding Boku no Chikyuu wo Mamotte was released on occasion of the 35th anniversary of the magazine on August 10, 2009 with one volume and 7 chapters. A side-story manga was also released, titled as Guuzen ga Nokosu Mono – Kioku Senmei II, which was released on 2001 with one volume, four chapters containing three short stories.
The prequel manga has received a six-episode original video animation produced by Production I.G (Usagi Drop, Kimi ni Todoke). It aired on December 17, 1993 to September 23, 1994. It has also received a movie, Boku no Chikyuu wo Mamotte: Alice kara, Rin-kun e, that was released on February 1, 1995. It has also a one-episode special that was aired on October 24, 2001.
Story of Boku no Chikyuu wo Mamotte (original first series) from Viz Media:
Life's hard when you're shy, harder still when you move from your quiet hometown to the bustle of a big city and a new high school. Poor Alice also has to cope with being regularly harassed by the bratty neighbor boy, Rin. Her life turns upside-down when she's stuck babysitting Rin and the annoying chore ends in unexpected tragedy. What Alice doesn't realize is there could be a greater force at work than unhappy chance!
Synopsis of Boku wo Tsutsumu Tsuki no Hikari (sequel) from MAL:
This tale follows the adventures of Alice and Rin's son, Ren. This series was originally planned as a oneshot, but due to popular demand it has become a series.
Source – ANN