It has been revealed in the special booklet included in Kodansha's Ninth (September) issue of Monthly Shonen Sirius magazine that the sci-fi manga of Tsutomu Nihei (Blame!, Biomega), Sidonia no Kishi (Knights of Sidonia) will be ending soon as the story is heading towards its conclusion. Additionally, the booklet includes six one-shot Sidonia no Kishi manga by illustrated various artists:
Ena no Kyouei by Tatsuwo (Ar nosurge: Umareizuru Hoshi e Inoru Uta)
Kidou Morito Suruuchi by Hiroaki Michiaki
Morito Kyouka no Zen-Katachi by Jyu Ishiguchi
Nihei-sensei Gomenasai by Akiko Higashimura (Kuragehime, Tokyo Tarareba-Jou)
SDK48 Keikaku by Koushirou Shimizu (2×BONE)
Shippo by Yayoi Ogawa (Kimi wa Pet, Watashi no Sensei)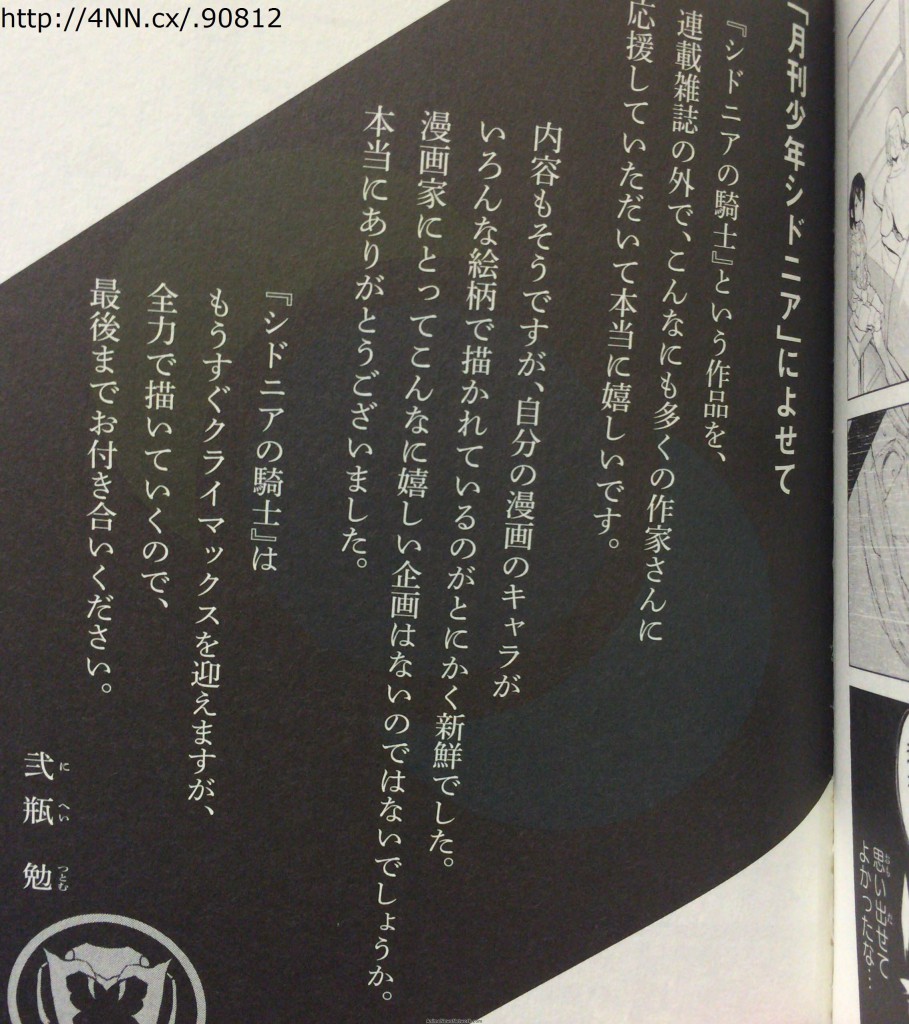 Sidonia no Kishi has been published under Kodansha's Monthly Afternoon magazine since April 25, 2009. There are 14 compiled manga volumes. The latest volume was published on February 23, 2015. Vertical Inc. is publishing the manga, print and digital, in English as Knights of Sidonia since February 5, 2013. The 14th volume will be released on September 29, 2015.
The manga received two 12-episode TV anime adaptations and one movie.
Synopsis of Sidonia no Kishi manga by Vertical:
Outer space, the far future.

A lone seed ship, the Sidonia, plies the void, ten centuries since the obliteration of the solar system. The massive, nearly indestructible, yet barely sentient alien life forms that destroyed humanity's home world continue to pose an existential threat.

Nagate Tanikaze has only known life in the vessel's bowels deep below the sparkling strata where humans have achieved photosynthesis and new genders. Not long after he emerges from the Underground, however, the youth is bequeathed a treasured legacy by the spaceship's coolheaded female captain.

Meticulously drawn, peppered with clipped humor, but also unusually attentive to plot and structure for the international cult favorite, Knights of Sidonia may be Tsutomu Nihei's most accessible work to date even as it hits notes of tragic grandeur as a hopeless struggle for survival unfolds.
Source: Shonen Sirius, ANN