The second promotional video for the upcoming Fall 2014 anime Cross Ange: Tenshi to Ryuu no Rondo has been uploaded. The series will be animated by Sunrise with a total of 25 episodes. The first episode will be previewed at a special event held at Shinjuku Milano on September 23, 2014. Regular broadcasting begins October 5, 2014.
The opening theme will be titled "Kindan no Resistance (禁断のレジスタンス)" and performed by Nana Mizuki while the ending theme will be titled "Rinrei (凛麗)" and performed by Eri Kitamura.
Cross Ange: Tenshi to Ryuu no Rondo promotional video 1:
The cast includes:
Nana Mizuki as Ange

Eri Kitamura as Salia

Yukari Tamura as Hilda

Houko Kuwashima as Vivian

Kaori Ishihara as Rosalie

Ami Koshimizu as Arsha

Yui Ogura as Chris

Sumire Uesaka as Momoka

Mamoru Miyano as Tasuku
Yui Horie as Sarah
Yukana as Emma
Mai Fuchigami as Mei
Megumi Toyoguchi as  Maggy
Sakiko Tamagawa as Jasmine
Michiko Neya as Zola
Kousuke Toriumi as Julio
Nao Toyama as Sylvia
Yukana as Riza
Mariya Ise as Misty
The production crew that will be working on the Cross Ange: Tenshi to Ryuu no Rondo anime:
Director: Ashino Yoshiharu (First Squad: The Moment of Truth, Mahou Shoujo Tai Arusu)
Series Composition: Higuchi Tatsuto (Bakumatsu Gijinden Roman, Sora wo Kakeru Shoujo)
Music Composer: Shikata Akiko
Character Concept: Yuusuke Matsuo
Character Design: Sayaka Ono
Parameiru Design: Junichi Akutsu
Dragon Design: Kazutaka Miyatake
Costume Design: Kurogin
Animation Studio: Sunrise (Code Geass: Hangyaku no Lelouch, Gintama, Gundam Build Fighters)
Key Visual: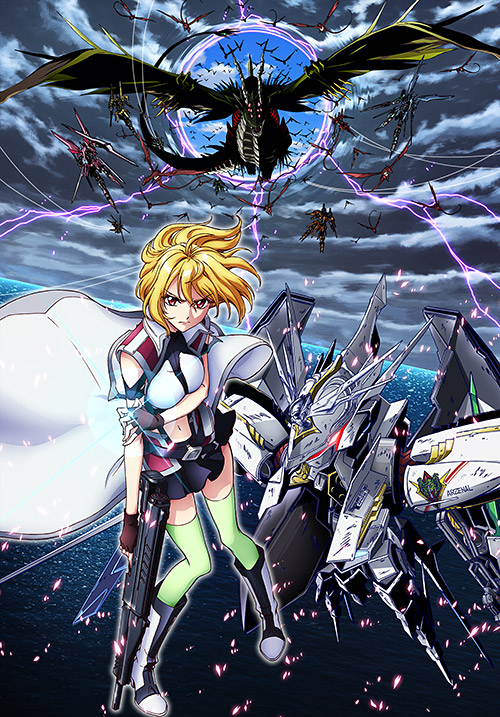 Cross Ange: Tenshi to Ryuu no Rondo is a Japanese mecha anime television series produced by Sunrise. It is scheduled to air from October 2014. The opening theme will be performed by Nana Mizuki, and the ending theme will be performed by Eri Kitamura.
A manga adaptation of the series started publication in August 2014 in the Japanese ComicWalker website.
Cross Ange: Tenshi to Ryuu no Rondo synopsis from Haruhichan:
Due to humanity obtaining the data technology that has evolved to a great amount—called "Mana"—the human race is able to subjugate all wars, starvation, pollution, and other problems on Earth by using its power, which is similar to magic. Earth has obtained the utopia of complete peace and no wants.

First princess of the Misurugi Empire, Angelize. As with everyone else, she also had no wants or worries. She was celebrated by the people of the empire, and was supposed to wear the crown. However, she realizes the shocking truth that she is a Norma. "Norma": An irregular existence that cannot use Mana, and are treated as heretics and as "things" rather than people. Having everything stolen from her, she isolates herself on a remote island.

What was waiting for her there was a fateful meeting with a group of Norma girls who know nothing but battle. The girls spend their days riding humanoid robot weapons called "Barameiru" hunting giant dragons that have come from another dimension to invade. Having her name taken from her, what will soldier Ange see at the end of the fight? What can she believe in? What will she obtain? The story of a single girl's fortitude starts now.
Source: Crunchyroll