TOHO began streaming a new 90-second trailer and 30-second 2nd teaser for the upcoming Detective Conan Movie 19: The Hellfire Sunflowers on Friday. The trailer also reveals that two-member Japanese rock band Porno Graffitti will perform the ending theme titled "Oh! Rival". This is the first time they will collaborate with the Detective Conan anime franchise, and their CD single is scheduled to be released as their 42nd single on April 15.
Second teaser:
The first trailer was revealed last December:
A new visual was also revealed: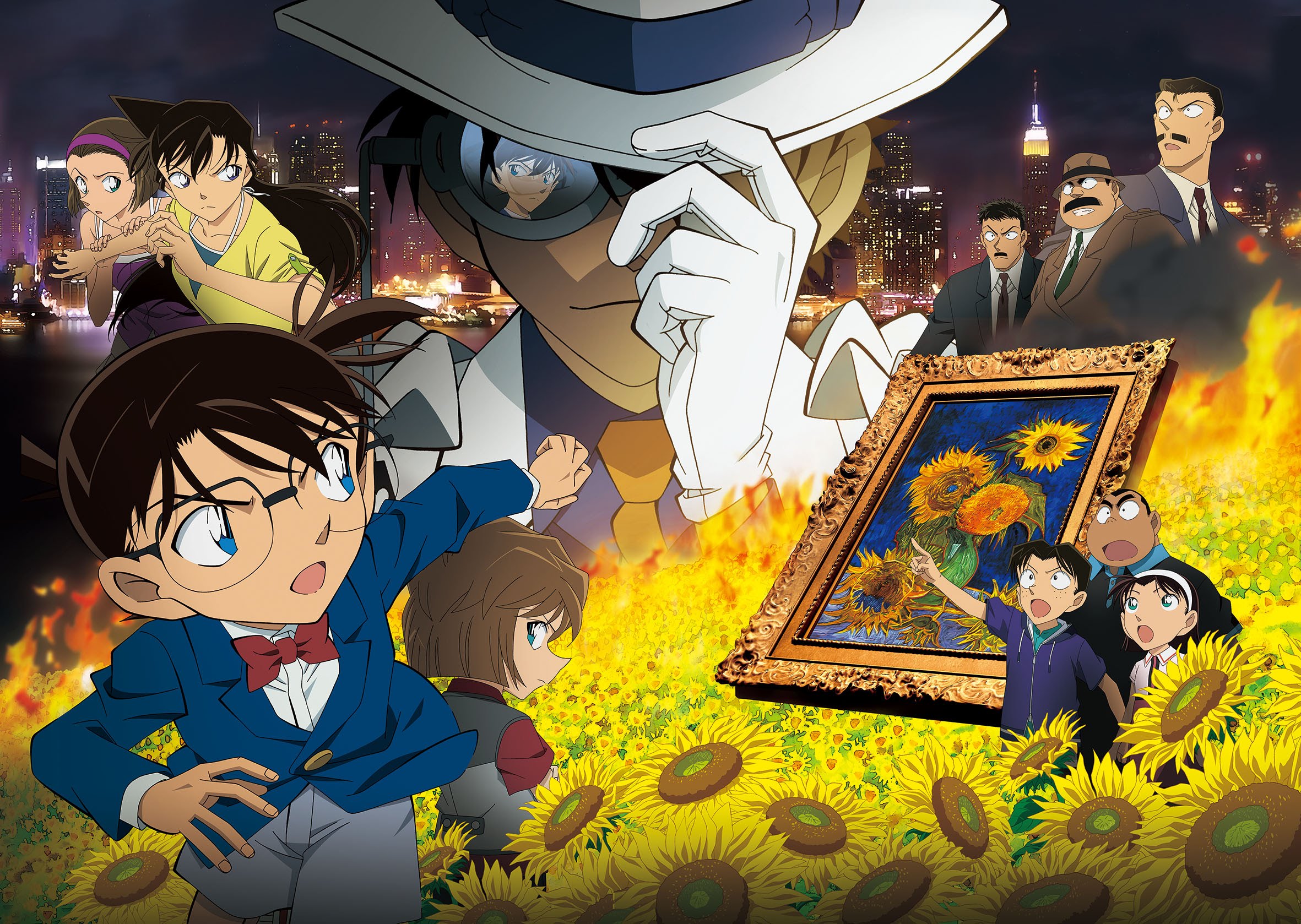 Kobun Shizuno will return to direct the film and Takeharu Sakurai will write the script. Katsuo Ono will again to compose the music. Minami Takayama will reprise her role as Conan Edogawa with Wakana Yamazaki as Ran Mouri, Rikiya Koyama as Kogorou Mouri, and Kappei Yamaguchi as Kaito Kuroba/Kaitou Kid.
Here's a synopsis of the movie from Detective Conan World:
A certain world-famous painting was to be auctioned at an auctionhouse in New York frequented by the rich. The piece of art was one of van Gogh's 'Sunflowers', a masterpiece thought to be destroyed in Japan. Jirokichi Suzuki fights off all bidders by putting forward $300 million to buy it, stating that he intends to collect all seven of the 'Sunflowers' paintings that are scattered around the world. It will be given its greatest exhibition ever in the Japanese museum 'Lake Rock', which boasts iron-clad security, he announces live on worldwide news being watched by Conan and Ran. He has collected seven specialists known as the 'Seven Samurai' to protect the Sunflowers, but just as they are about to appear, Kaitou Kid suddenly shows up! He declares war, stating that he will steal the painting no matter what, before vanishing. Why would Kid make such a statement when he usually only goes after Big Jewels?

And just as everyone starts to panic, a high-school detective appears on the scene, having heard rumors of Kid's appearance: Shinichi Kudo. Then, the 'White Shadow' launches an aerial assault on the passenger plane carrying the 'Sunflowers' to Japan…The curtain opens on an art mystery that blends truth and lies, focused upon a peerless treasure…
Movie Visual: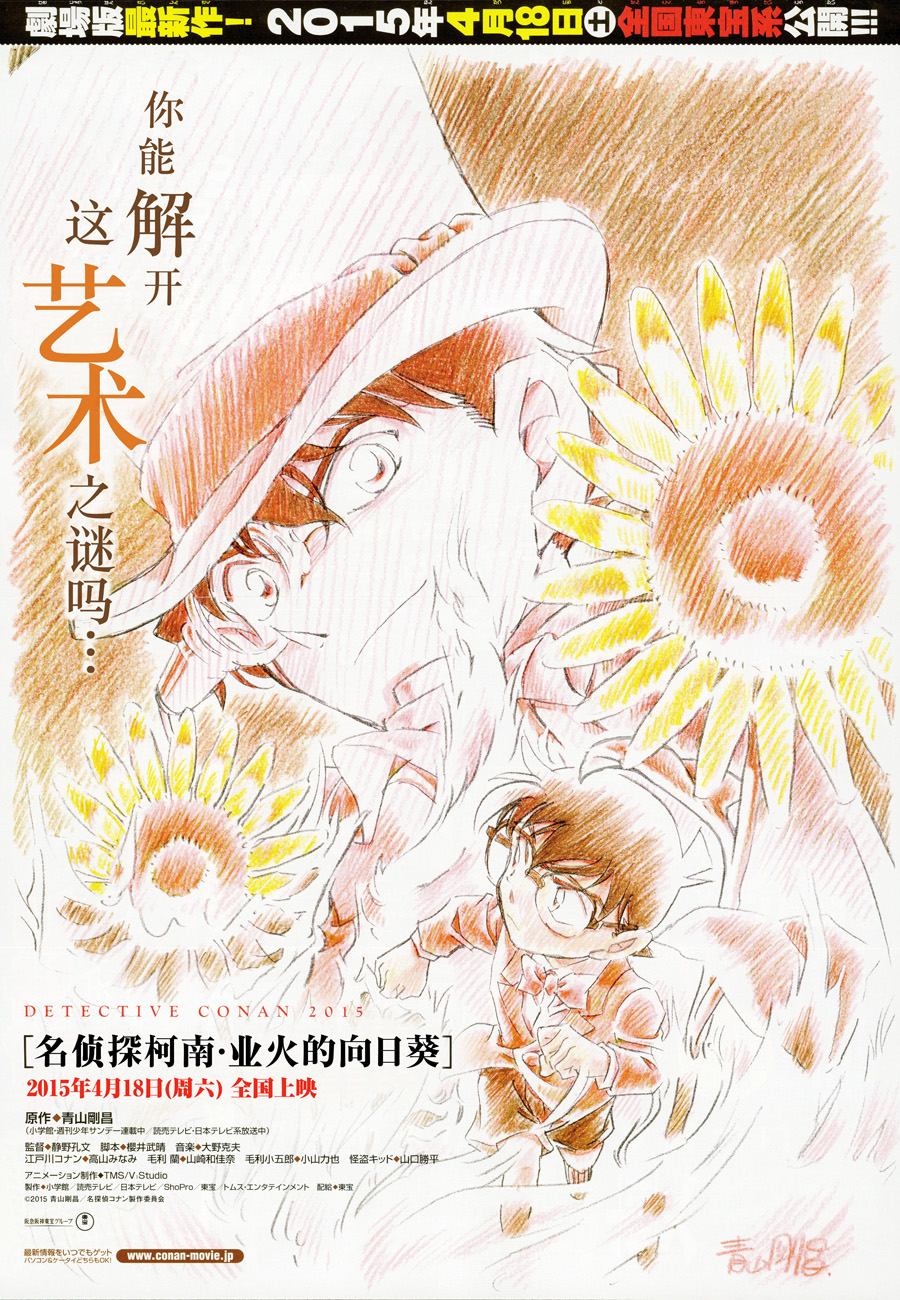 Detective Conan, is a Japanese detective manga series written and illustrated by Gosho Aoyama. The series is serialized in Shogakukan's Weekly Shounen Sunday since January 19, 1994, and has been collected into 84 tankobon volumes. Due to legal considerations with the name Detective Conan, the English language release was renamed to Case Closed. The story follows Shinichi Kudo, an amateur detective who transformed into a child while investigating the Black Organization.
Detective Conan received an anime adaptation by Yomiuri Telecasting Corporation and TMS Entertainment. The anime resulted in animated feature films, original video animations, video games, audio disc releases, and live action episodes. In 2009, a television special titled Lupin the 3rd vs. Detective Conan was aired featuring characters from Lupin III.
The tankobon volumes of the manga have sold over 140 million copies in Japan. In 2001, the manga was awarded 46th Shogakukan Manga Award in the shounen category. The anime adaptation has been well received and ranked in the top twenty in Animage '​s polls between 1996 and 2001. In the Japanese TV anime ranking, Detective Conan episodes ranked in the top six on a weekly basis. Both the manga and anime have had positive response from critics for its plot and cases.
Detective Conan Movie 19: The Hellfire Sunflowers synopsis from Haruhichan:
Kaitou Kid and Vincent van Gogh's artworks feature heavily in the movie, according to an interview with Gosho Aoyama. The teaser preview at the end of Dimensional Sniper included references to van Gogh's "Sunflowers" series.
Source: Detective Conan official website