The first full trailer for the upcoming Dragon Ball Z Movie 15: Fukkatsu no F movie has been previewed on a Japanese television show. This new trailer features various battles that will be fought in the film and the dramatic return of the galactic lord, Frieza. The upcoming movie will be the 15th overall theatrical film in the Dragon Ball Z franchise. It will be an new original story written by the manga's creator Akira Toriyama. He will be more involved with the upcoming film, being credited with the original concept, screenplay and character designs. The film will also feature Beerus, the God of Destruction, and his attendant Whis, from Dragon Ball Z: Battle of Gods.
Dragon Ball Z Movie 15: Fukkatsu no F will be releasing in Japanese theatres on April 18th 2015. The film itself will also be shown in traditional 2D and in 3D.
The latest visual for the movie was earlier released: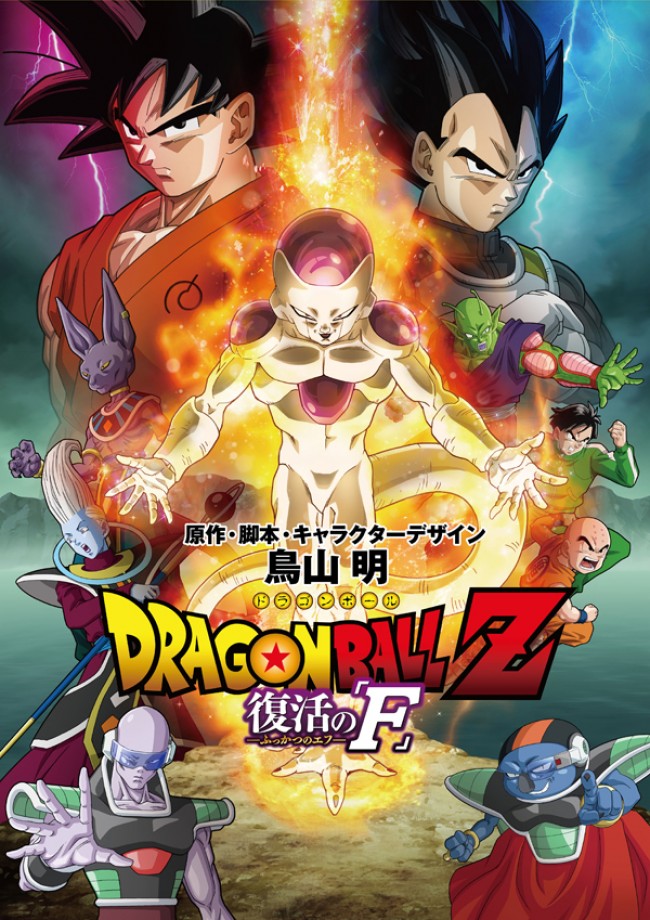 Past Visuals:
Dragon Ball is an acclaimed manga created by Akira Toriyama that was first published in 1984. The first anime adaptation of the manga, Dragon Ball, first aired in 1986 and was produced by Toei Animation. The series ended in 1989, in which the second half of the manga was then adapted with a new name: Dragon Ball Z. The anime and manga series were insanely popular in Japan, with the manga itself selling over 156 million copies to date, being the second highest selling manga of all time. The anime was soon picked up by Funimation Entertainment in 1995 to distribute in North America, where they made their own dub for the anime. Since then, a slew of merchandise, films, manga, games and card games, began releasing worldwide to capitalise on the franchise's popularity till this day, over 30 years since the manga was first published.
Dragon Ball Z Movie 15: Fukkatsu no F synopsis from Haruhichan:
An Earth where peace has arrived. However, remnants of Frieza's army Sorbet and Tagoma (from the Japanese word for 'egg') arrive on the planet. Their goal is to revive Frieza with the dragon balls. Their dastardly wish is granted, the "F" that plans its revenge against the Saiyans is revived…!