The official website for the upcoming anime of Hiro Mashima's Edens Zero manga series began streaming the first promotional video on Friday. The anime is scheduled to air from April 11, 2021. The promo video reveals more cast for the anime and previews the opening theme song "Eden through the rough" by Takanori Nishikawa.
In addition, it was revealed that the ending theme titled "Bouken no VLOG" will be performed by CHiCO with HoneyWorks.
The revealed cast includes:
Takuma Terashima (Otoya Ittoki from Uta no☆Prince-sama♪ Maji Love 1000%) will voice Shiki Granbell
Mikako Komatsu (Yume from Hai to Gensou no Grimgar) as Rebecca Bluegarden
Rie Kugimiya (Rose from Dragon Crisis!) as Happy
Hiromichi Tezuka (Dogedo from The Seven Deadly Sins: Revival of the Commandments) as Weisz Steiner
Shiori Izawa (Nanachi from Made in Abyss) as E.M. Pino
Shiki Aoki (Makoto Asada from Cardfight!! Vanguard G: Next) as Homura Kougetsu
Sayaka Ohara (Lelouch Lamperouge from Code Geass: Hangyaku no Lelouch) as Elsie Crimson
Kikuko Inoue (Mizuho Kazami from Onegai☆Teacher) as Mother
Houchu Ohtsuka (Jiraiya from Naruto) as Ziggy
The staff includes:
Director: Yuji Suzuki (Various episodes of Fairy Tail (2014) and Cardfight!! Vanguard G: Z)
Series Composer: Mitsutaka Hirota (Mr. Tonegawa: Middle Management Blues, Rent-a-Girlfriend, Zoids Wild)
Anime Character Designer: Yurika Sako
Sound Director: Yoshihisa Hirano (Death Note, Hunter x Hunter (2011), Ouran Koukou Host Club)
Animation Studio: J.C.Staff (Toradora!, Shokugeki no Souma, Prison School)
Anime visual: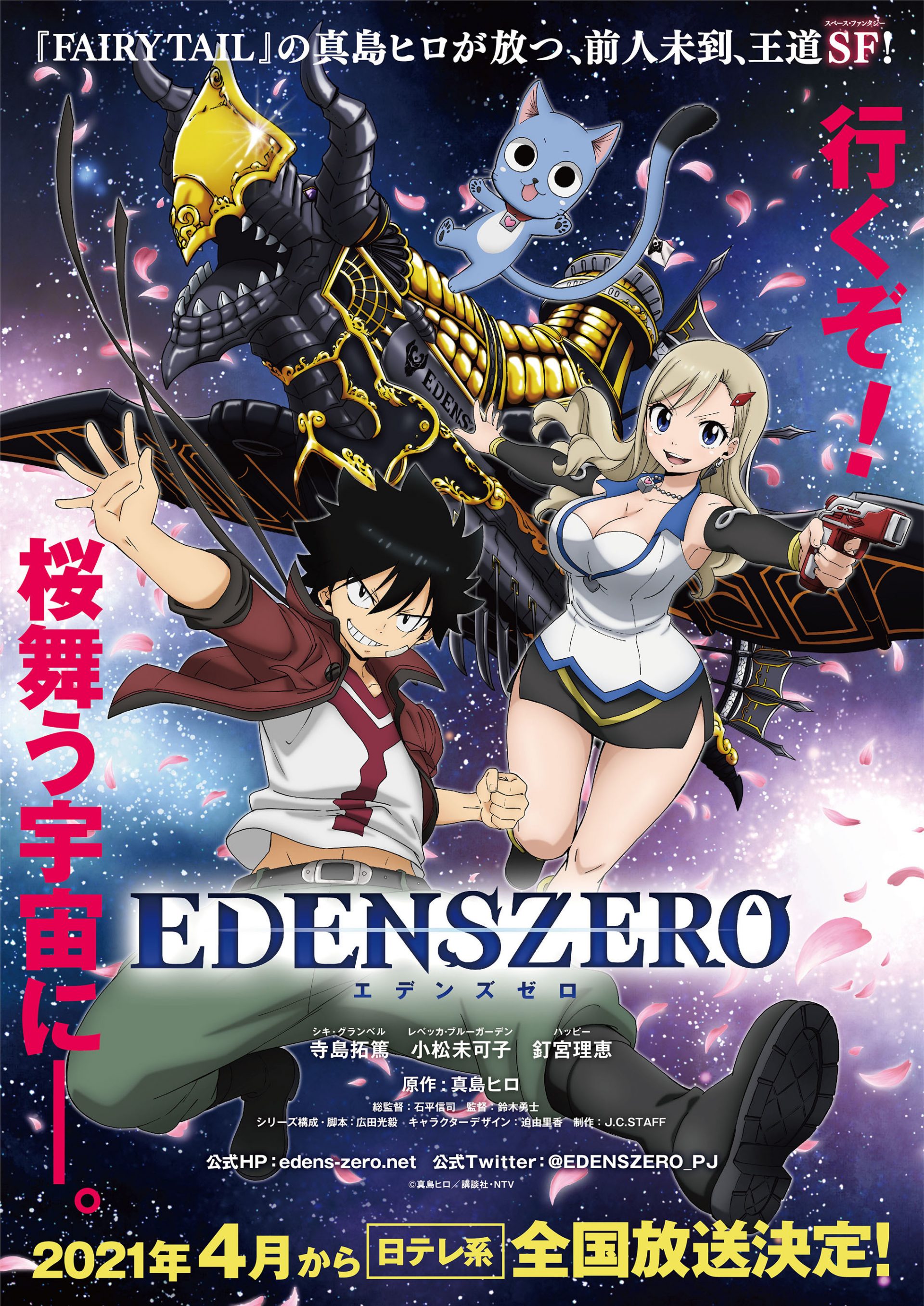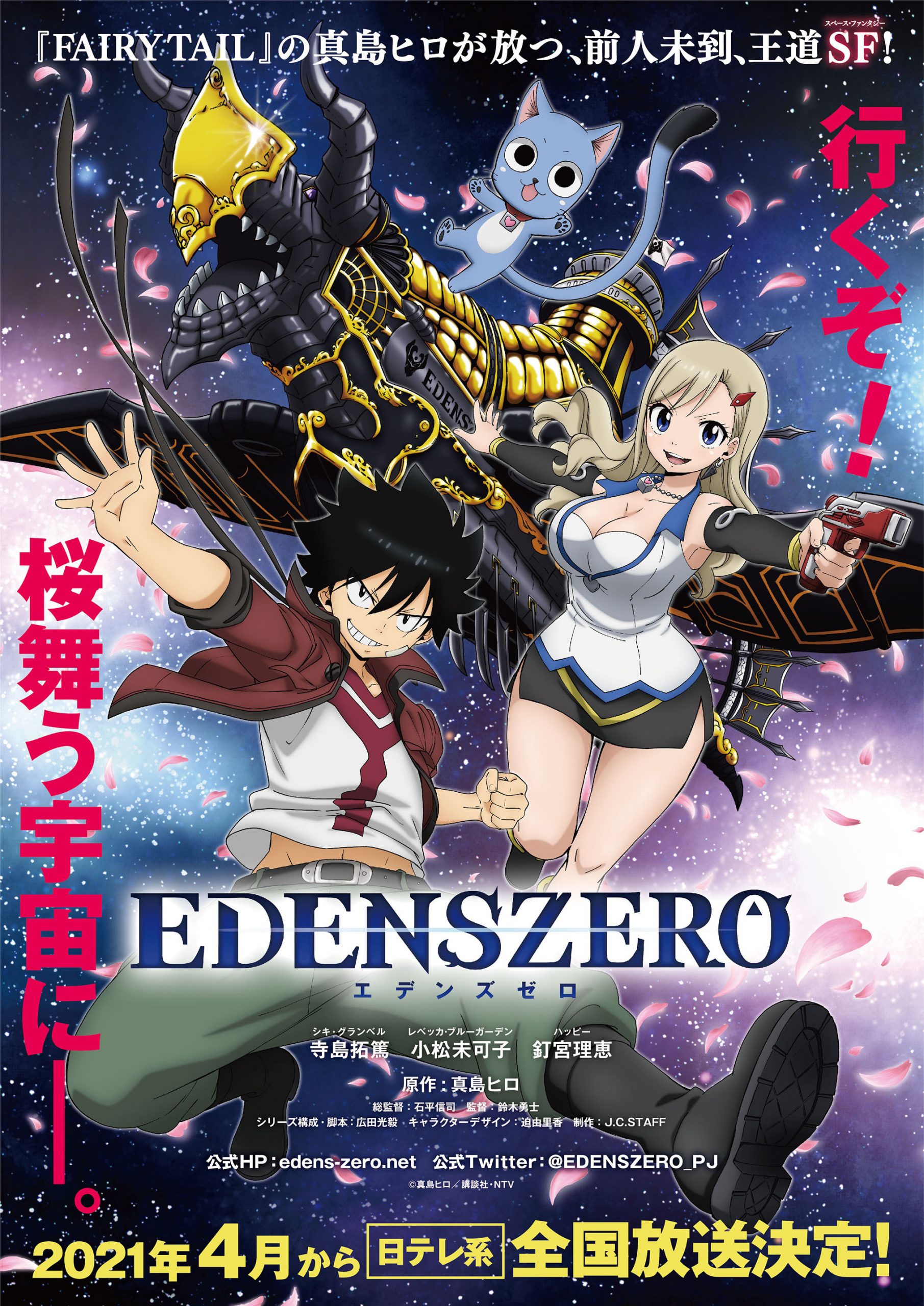 Edens Zero (stylized as EDENS ZERO) is a Japanese science fiction manga series written and illustrated by Hiro Mashima. It has been serialized in Kodansha's Weekly Shonen Magazine since June 2018, with its chapters collected into thirteen tankobon volumes as of January 2021. The story follows a boy named Shiki Granbell who embarks on a voyage aboard the titular starship across different planets in search of a cosmic goddess known as "Mother". The manga is published digitally in six other languages as they are released in Japan, with Kodansha USA licensing the series for English publication in North America on Crunchyroll, Comixology, and Amazon Kindle. An anime television series adaptation produced by J.C.Staff is scheduled to premiere in April 2021. A video game adaptation by Konami has also been announced. – Wiki
Edens Zero synopsis from MAL:
At Granbell Kingdom, an abandoned amusement park, Shiki has lived his entire life among machines. But one day, Rebecca and her cat companion Happy appear at the park's front gates. Little do these newcomers know that this is the first human contact Granbell has had in a hundred years!

As Shiki stumbles his way into making new friends, his former neighbors stir at an opportunity for a robo-rebellion… And when his old homeland becomes too dangerous, Shiki must join Rebecca and Happy on their spaceship and escape into the boundless cosmos.
Source: Edens Zero official website