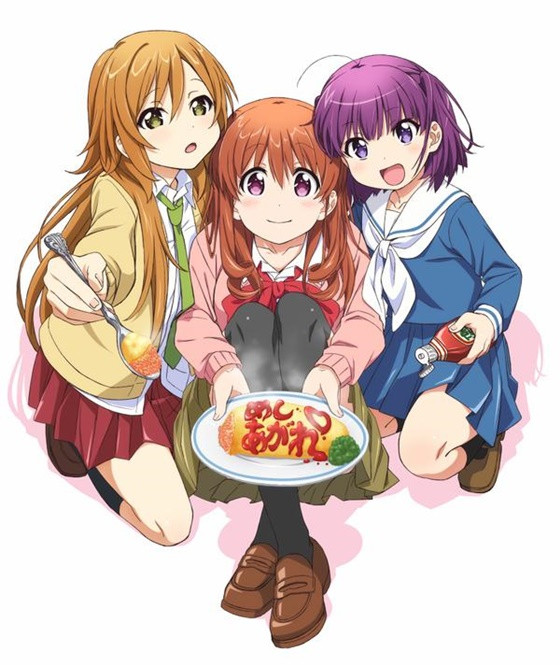 Title (English): Gourmet Girl Graffiti
Title (Japanese): 幸腹グラフィティ
Animation Studio: Shaft
Genres: Comedy, Seinen, Slice of life
Episodes: 3/?
 While everyone else was looking forward to their sequels this season, or other high profile anime adaptations, my most anticipated anime this season was actually Koufuku Graffiti. A marriage between renowned anime studio Shaft (Monogatari series, Madoka Magica series) and my favourite writer in anime, Mari Okada (Toradora!, AnoHana, Nagi no Asukara) had me drooling in anticipation as soon as I heard it. And it's not just because of the food, which is the theme of this anime.
Ryou Machiko has been living on her own ever since her grandmother died. She's always had a love for cooking and she was always good at it, but ever since her grandmother's passing, she feels like she can't make good food anymore. One day, Ryou's aunt calls her and tells her that Ryou's second cousin, Kirin Morino, will be attending a school near Ryou on Sundays and asks that Ryou take care of Kirin while she has school. The two have only met briefly in the past, so there is a lot the two don't know about each other. Kirin does know that Ryou is a good cook and Kirin loves the food that Ryou makes. The anime follows these two as they live together, as well as Kyou's close friend Shiina.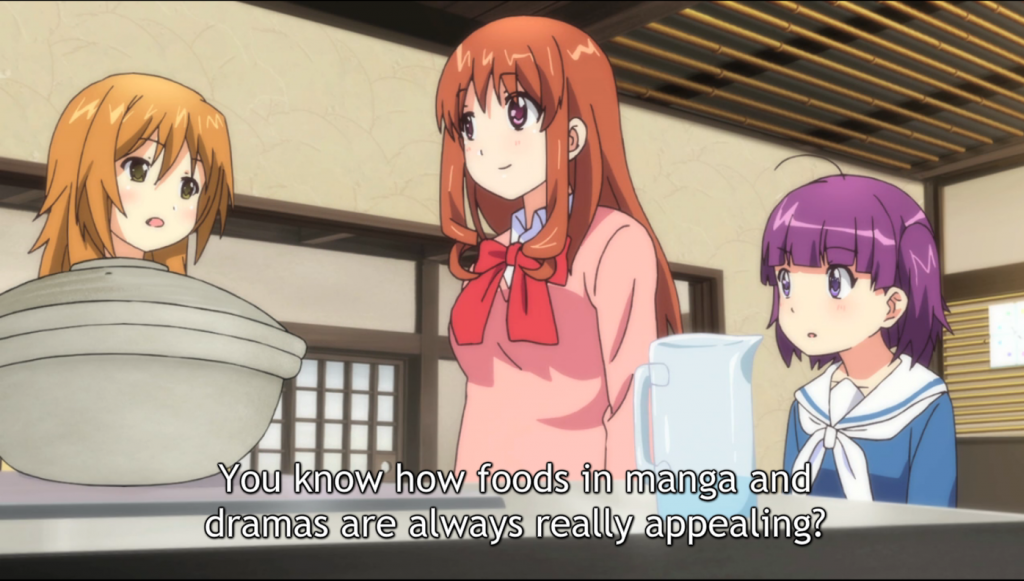 This is a nice anime to relax with. There's no major plot to follow, just these girls' lives. That being said, it is a seinen anime, which means a larger than normal focus on the characters and their development. There's been a few moments so far that are heart-warming, and help develop the characters. I'm sure later on there will most likely be more of these moments, if Mari Okada's other works is any indication of what is to come.
The art and animation so far is a big standout point. The animation has Shaft's usual high quality attached to it, but it seems they really put extra effort into Koufuku Graffiti. The parts of the anime that looks like it's had the most work done to it is the dishes that they eat, as well as the scenes where they're eating said dishes. There's something about the way they food moves: it's enticing, it's in slow-motion, it highlights all of the most delicious looking parts of every dish. There's also the way the characters eat it: there's all sorts of sparking effects, the slow-motion eating, their detailed descriptions of what they're tasting as they eat it… It makes you hungry! I've never wanted food this bad whenever I was watching something before. It's almost impossible to not want to jump into the screen, sit down with them, and eat whatever they are eating. I don't mean to sound weird, but that's my honest feelings on this. There's also something erotic about it as well that may make it a little bit awkward for some people, but it just makes me hungry and it makes me laugh because of how ridiculous it is.
This slideshow requires JavaScript.
The art style is reminiscent of some of Shaft's past works, primarily Hidamari Sketch and Nisekoi. There's the usual art style, but the art changes when the characters are eating, and they look more life-like during those scenes.
The soundtrack is usually relegated to the background for the most part, but during some of the more intimate scenes, the music comes in and helps add to the atmosphere which is always a plus in my books. The OP 「幸せについて私が知っている5つの方法」(Shiawase ni Tsuite Watashi ga Shitteiru Itsutsu no Houhou) and ED 「笑顔になる」(Egao ni Naru) are okay songs in my opinion. For some reason, I do like the OP even though it is a little plain. Perhaps, I'm still too much in love with Kantai Collection's opening to appreciate Koufuku Graffiti's.
So far, this is a decent anime with a bit of character development and its now famous/infamous eating scenes. Until it ends, I'm unsure if this will be one of Mari Okada's weaker works or not. I do believe in her ability to create realistic and well executed characters though. There are hints of that in the episodes so far, and I don't believe they have announced how long Koufuku Graffiti is going to be. Hopefully Koufuku Graffiti picks up a little bit, but as a primary slice of life watcher, it's doing a good job so far.
What do you guys think of Koufuku Graffiti so far if you're watching it? Let me know in the comments!