The cover of the December issue of Miracle Jump magazine is revealing on November 17th, that GANTZ, a highly acclaimed science-fiction manga written by Hiroya Oku, is inspiring a fully fledged 3DCG anime film in 2016.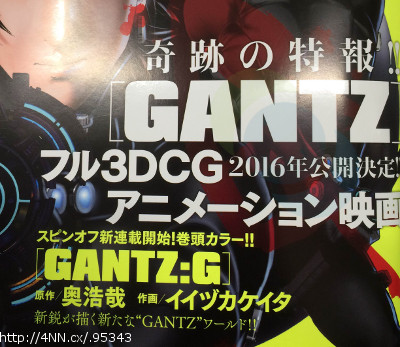 There are no news yet as to whether or not the film will only cover a few arcs like the anime, however, if this film does well, and garners enough attention for the manga and anime, perhaps it will inspire businessmen to put money into reviving the anime, and will lead to the animation of the entire manga.
Manga visual:
Gantz synopsis from MAL:
Thought your life was bad? Sometimes, death is worse. There is no salvation, peace, nor god waiting to receive you into their care. But wait, a god? Maybe you are talking about that big black ball stuck in the room with you. Now you are thrown into a game, fighting green aliens and robot monsters for the chance to survive.

When Kei Kurono is killed, he thus finds himself caught in such a game—a test of his skills, morals, and will to survive. His life is not his own; his death is spat and trampled upon over and over again. What happens if he does not listen? God knows.

A word of warning: Gantz is not for the faint-hearted, but neither is it as simple as it looks. Gore, rape, and violence is rampant, as are portrayals of greed, violence, and all the ugliness that one sees in society today.
Gantz is a Japanese manga series written and illustrated by Hiroya Oku. Gantz tells the story of Kei Kurono and Masaru Kato, both whom died in a train accident and become part of a semi-posthumous "game" in which they and several other recently deceased people are forced to hunt down and kill aliens armed with a handful of futuristic items, equipment, and weaponry. Both the manga and anime are noted for their heavy violence and sexual content.
The Gantz anime adaptation, directed by Ichiro Itano and animated by Gonzo, contains 26 episodes divided into two seasons. A series of two live action movies based on the manga were produced and released in January–April 2011.
Source: ANN