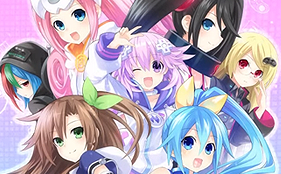 Compile's Heart official YouTube channel has streamed the debut trailer for their next spin-off title in the Hyperdimension Neptunia JRPG series, dubbed Hyperdimension Neptunia VS Sega Hard Girls: Dream Fusion Special.
Among plenty of already established characters in the long line of games, like IF-chan (Idea Factory) and Neptune, comes an armada of personification bliss with Sega Hatsumi (Sega, in general) and other representations of such classic consoles such as the Sega Genesis, Saturn, and Dreamcast. Even Sega's first shot at the handheld gaming landscape, the Game Gear, will make an appearance.
The story will feature both IF-chan and Sega Hatsumi transporting themselves in the past to a more Sega-influenced time, to "recover lost history," almost paying homage to the company that once gave Nintendo a run for their money.
As of November 2015, the – now, gargantuan – Hyperdimension Neptunia franchise has received an astounding twelve titles which include four main titles, five spin-offs, and three remakes of the original first three games for the PlayStation Vita and PC. It's cheeky brand of taking the piss out of the game development ecosystem has blasted off, developing a fanbase passionate enough to also garner the franchise an anime adaptation in July 2013.
Hyperdimension Neptunia VS Sega Hard Girls: Dream Fusion Special will release in Japan on November 26th, exclusively for the PlayStation Vita. In case you're itching for more information, visit the official Sega Hard Girls site and feel free to check out the opening, while you're at it:
Source: Gematsu
Erik is a 22 year-old streamer on Twitch who occasionally rants about professional wrestling, 2D girls, and his love for Super Sonico; and by occasionally, I mean a lot.