This year's 34th issue of Shueisha's Weekly Shonen Jump magazine will be announcing on Saturday that the Gintama anime will return for a one-episode special this November. This year's Jump Special Anime Festa event tour will debut this "tearful episode." Not much information about the upcoming special has been revealed but it does look like Gintoki Sakata and Sarutobi Ayame are doing a generic Mr. & Mrs. Smith pose, so it could be based around that type of theme.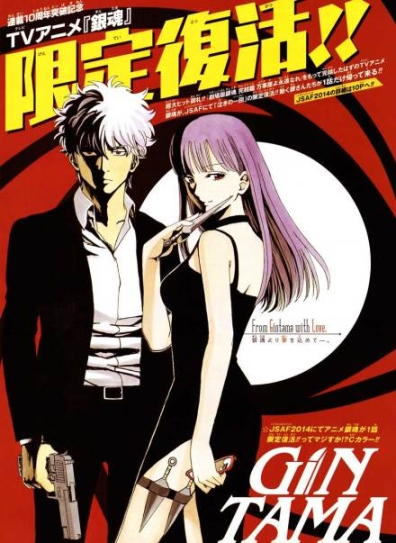 Jump Special Anime Festa will visit six cities this year: Tokyo on November 9, Sapporo on November 15, Sendai on November 15, Osaka on November 16, Nagoya on November 16, and Fukuoka on November 16. The magazine is holding a random drawing for 6,390 pairs of tickets. The Tokyo stop will include stage events with the voice cast members.
Hideaki Sorachi's Gintama action comedy manga inspired a television anime that premiered in 2006 and continued until 2010. After a small hiatus, Gintama returned under the name Gintama (2011) and aired until March 26, 2012 with a total of 51 episodes. After another small hiatus, Gintama returned under the name Gintama' Enchousen with a total of 13 episodes which aired from October 4, 2012 to March 28th, 2013. It also inspired two movies, Gintama: Shinyaku Benizakura-hen and Gintama: Kanketsu-hen – Yorozuya yo Eien Nare. Weekly Shonen Jump's 33rd issue had teased that the manga is celebrating over a decade of serialization with "OOO" (an unrevealed term that can be spelled with three Japanese syllables).
Gintama synopsis from Haruhichan:
Life isn't easy in feudal Japan… especially since the aliens landed and conquered everything! Oh sure, the new health care is great, but the public ban on the use of swords has left a lot of defeated samurai with a difficult decision to make concerning their future career paths! This is especially true if, as in the case of Gintoki Sakata, they're not particularly inclined towards holding a day job, which is why Gintoki's opted for the freelance route, taking any job that's offered to him as long as the financial remuneration sounds right. Unfortunately, in a brave new world filled with stray bug-eyed monsters, upwardly mobile Yakuza and overly ambitious E.T. entrepreneurs, those jobs usually don't pay as well as they should for the pain, suffering and indignities endured!
Source: ANN