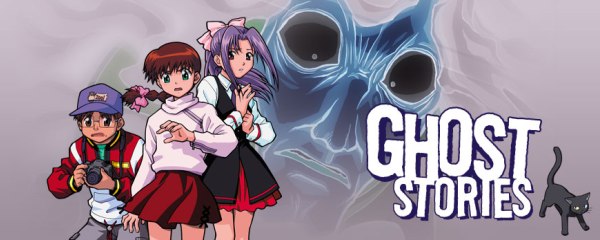 Crunchyroll adds the most infamous English dub to its roster. However, Ghost Stories is also available in its original Japanese dubbed form, we at Haruhichan highly recommend watching the English dub. I know, I know, subs are better than dubs, right? Just give it a chance! Especially if you're having a bad day and need a pick-me-up, this dub is absolutely fall-out-of-your-chair hilarious. The story behind how vastly different the dubs are begins when Ghost Stories was first licensed. Having not done so well in its home country, Japan, when it was brought over to the states, the people behind it asked the licencors to do whatever it takes to help sell their anime. And so, Ghost Stories became an infamously wacky, parodied dub.
Here are some short clips from the English dub:
The anime is available to Crunchyroll users in the United States, Canada, the United Kingdom, Ireland, Australia and New Zealand. The entire series is available for premium users, while only the first 10 episodes are available for free users, with the remaining 10 episodes available next week.
Crunchyroll describes the series:
When nearby construction disturbs a spiritual resting place, it's disgruntled denizens so what any supernatural being would do after a rude awaking – they terrorize the local school.And that means it's up to a scruffy band of young ghost hunters to expel their satanic schoolmates before everyone gets sent to permanent detention! Meet Satsuki, her crybaby brother, the resident class stud, the school nerd and "psychical researcher," a born again beauty, and a resentful, demon-possessed cat in the funniest, scariest school you've ever enrolled in.
The 20-episode anime first premiered in Japan in 2000. ADV Films released it in North America on five DVDs released from 2005 to 2006. Discotek release the complete series on DVD in March 2014 with the English dub and original Japanese audio.
Source: Anime News Network