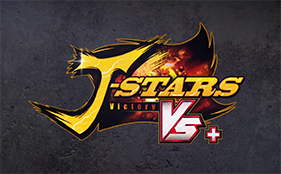 This week at Jump Festa, Bandai-Namco announced a series of games planned for the future – one of them being the popular fighting game J-Stars Victory VS+! For those who do not know, J-Stars Victory VS was released in Japan in March of this year. While no word on localization had followed, it has finally been confirmed and is slated to release the summer of 2015. The localized name comes with a "+" in the title, referring to additional features (namely an "Arcade Mode"). Below we have a sneak peak at the localized version.
The game features characters from several famous anime series' including the likes of Naruto from Naruto, Goku from Dragonball Z, Ichigo Kurosaki from Bleach, Monkey D. Luffy from One Piece, and other similar shonen stars. Even characters like Gintoki Sakata from Gintama or Jonathan Joestar from JoJo's Bizarre Adventure are featured, while supporting characters even include the likes of Tetsuya Kuroko from Kuroko no Basuke or Chitoge Kirisaki from Nisekoi.
What is perhaps most exciting for avid fans of anime in this trailer however, is the confirmation that while the game is being localized, Japanese voices will still be featured. Perhaps there will be the option to switch the language to English but the fact that it won't be dubbed completely while trashing Japanese vocals is certainly a pleasant relief.
The game is confirmed to release on the Playstation 3, Playstation 4 and Playstation Vita, and will be out as soon as next year. Certainly a game to look forward to! Reviews for the Japanese version are predominantly positive. Those who hadn't imported the game from Japan will have their patience rewarded!
I personally don't know if I'd get the game on the Vita or the PS3 but I definitely want to get it! Will you be picking this up? If so, on which system? Any thoughts? Let us know in the comments section below!
Source: Bandai-Namco News – linked from Bandai-Namco official website.