We're just two weeks away from the September 3rd Japanese release of the ninth and final volume of Kill la Kill home video Blu-ray and DVD release, with its accompanying 25th unaired episode. To promote this, an early look at this last collection's packaging has been posted online.
Kill la Kill volume 1:
Kill la Kill Volume 2:
Kill la Kill Volume 3:
Kill la Kill Volume 4:
Kill la Kill Volume 5:
Kill la Kill Volume 6:
Kill la Kill Volume 7:
Kill la Kill Volume 8:
Kill la Kill Volume 9:
AniPlex+'s mini-art collection box, offered with purchase of volumes 3-9 has also been previewed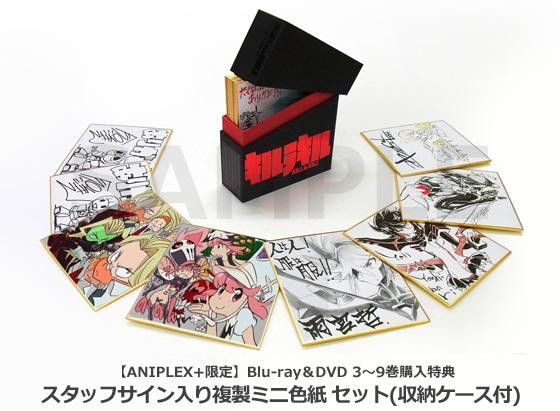 Kill la Kill synopsis from Haruhichan:
Ryuuko Matoi is a vagrant school girl traveling from place to place searching for clues to the truth behind her father's death—the "woman with the scissor blade." The journey has led Ryuuko to Honnouji Academy.

Honnouji Academy—where an elite group of students is granted superhuman power by their special uniforms called the "Goku uniform." With the power of the uniform, the student body president, Satsuki Kiryuin rules the students with unquestioned power and fear.

Satsuki holds the secret to the "scissor blade" and Ryuuko confronts Satsuki to gain information but… Was their encounter a mere coincidence or fate? The clash between the two will soon consume the whole academy!
Source: Crunchyroll