On October 5th, 2014, Hakusensha's Hana to Yume magazine is announcing that Minami Maki will end her Komomo Confiserie manga. Minami Maki, author of Special A and Seiyuu ka—!, has decided that there will only be two more chapters to her romcom manga about a spoilt princess and an accomplished patissier. The final two chapters will include color pages and the last chapter will be released on December 5th, 2014.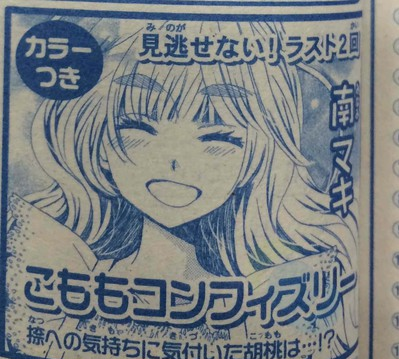 Komomo Confiserie's first chapter was released in the Hana to Yume magazine on May 20th, 2013. The story is based on spoilt princess named Komomo who is the quintessential bossy little girl. She takes a particular liking to a boy named Natsu, the son of her family's favorite patissier, and frequently tells him to make her pastries and confections. This lasts until the boy moves to France. When he is away, Komomo's family loses their high standing and wealth and Komomo is forced to live in the care of strangers and work part-time jobs, which she cannot do as she has no practical skills. After being kicked out of yet another job for being incompetent, she chances upon Natsu in the street. However, Natsu has changed into an accomplished patissier! How will this dramatic change in character affect their relationship?
Minami's Special A manga was also adapted into an anime by Sentai Filmworks in 2008. Viz Media is currently publishing both Special A and Seiyuu Ka—! in the US.
Source: ANN