In the latest issue of Shueisha's Weekly Shonen Jump it has been revealed that the third season of the Kuroko no Basket (Kuroko's Basketball) anime will be 26 episodes long.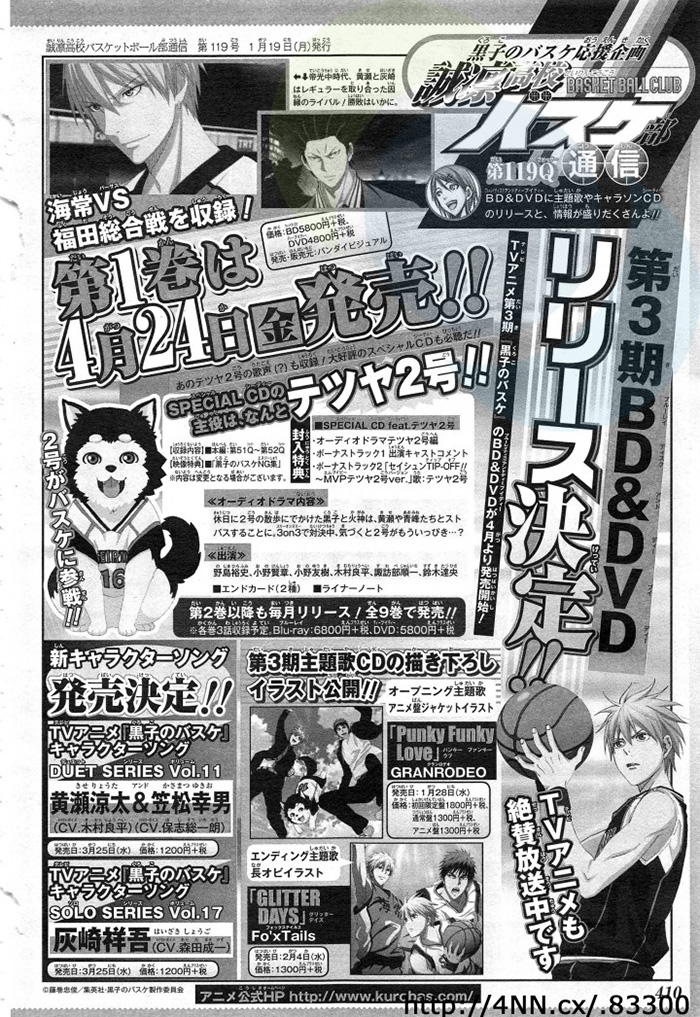 The third season of the Kuroko no Basket anime will be lasting over 2 seasons/cours for a total of 26 episodes. The magazine has also revealed that there will be a total of 9 volumes in the Blu-ray and DVD release of the anime. The first volume will contain 2 episodes while the remaining volumes will contain 3. The first volume will contain a bonus Drama CD with commentary from the anime's characters and the song Seishun TIP-OFF!!~MVP Tetsuya 2 Go, which will release on April 24.
Kuroko no Basket, is a Japanese sports manga series written and illustrated by Tadatoshi Fujimaki. The rendering The Basketball Which Kuroko Plays also appears in the artwork of the Japanese version. It has been serialized in Weekly Shonen Jump since December 2008; the individual chapters are being published in tankobon volumes by Shueisha, with the first released on April 3, 2009, and the 29th volume released as of October 2014. The series concluded on September 1, 2014, however a sequel to the manga will appear in Jump Next starting on December 2014.
Kuroko no Basket synopsis from Haruhichan.
The Teiko Middle School Basketball Team. The class that produced three perfect seasons in a row, with five once-in-a generation players, called "The Generation of Miracles". There was another player who all of them respected… A legendary 6th player. An up-and-coming power player, Taiga Kagami, is just back from America. When he comes to Seirin High School, he meets the super-ordinary boy, Tetsuya Kuroko. Kagami is shocked to find that Kuroko isn't good at basketball, in fact, he's bad! And he's so plain that he's impossible to see. But Kuroko's plainness lets him pass the ball around without the other team noticing him, and he's none other than the sixth member of the Miracle Generation. Kuroko makes a pact with Kagami to defeat the other members of the Miracle Generation, who have all played basketball at other schools. A battle of light (Kagami) and shadow (Kuroko) begins!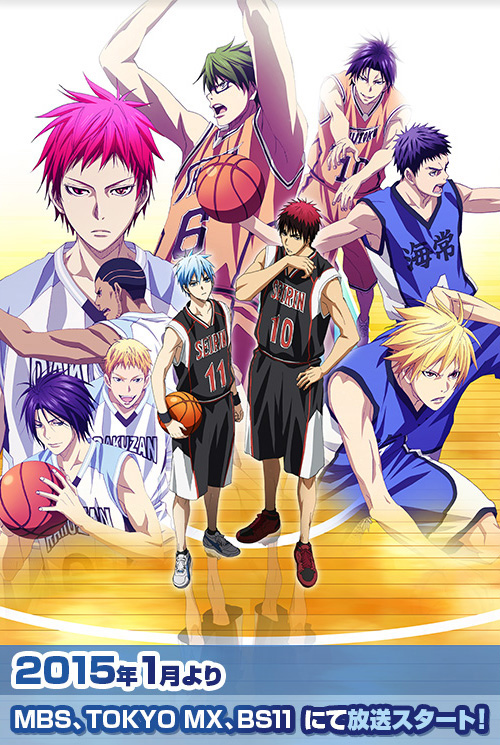 The third season of the Kuroko no Basket anime began on January 10th this season and will continue on through the Spring 2015 anime season for a total of 26 episodes.
You can visit the anime's official website here: http://www.kurobas.com/
And follow their Twitter here: @kurobasanime
Source  – Anime News Network