Although deceptively too much like Sword Art Online for its own good, Kuusen Madoushi Kouhosei no Kyoukan has some elements that make it stand out. The OP – for one – sounds promising at the very least. Though the animation budget appears to be less than stellar, it does try to mesh modern CGI with traditional animation, and it gets the job done. The track "D.O.B." by Iori Nomizu however sounds fantastic. Have a listen below!
http://www.dailymotion.com/video/x2x8ri2
Opting for a more classic looking ED animation, the show manages to save some face with the end of each episode, also including progression shots of character sketches/line art drawings. A nice, humble ED with a melodic tune does the show justice. The track used is "Hallelujah" by la la larks. What do you think of it? Watch it below!
http://www.dailymotion.com/video/x2x8t7a
The Kuusen Madoushi Kouhosei no Kyoukan anime began its broadcast on Thursday, July 9th at 12:30am JST on Tokyo MX. The anime will also air on Sun TV at 1:30am JST and on TVQ Kyushu Broadcasting at 2:35am JST. It will then show on the 10th on Chiba TV and TVK at 1:00am JST, on Saitama TV at 1:05am JST, and on the 11th on BS11 at 3:00am JST.
The main cast of the anime includes:
The main staff of the anime was also revealed and consists of:
Here is the anime's main visual: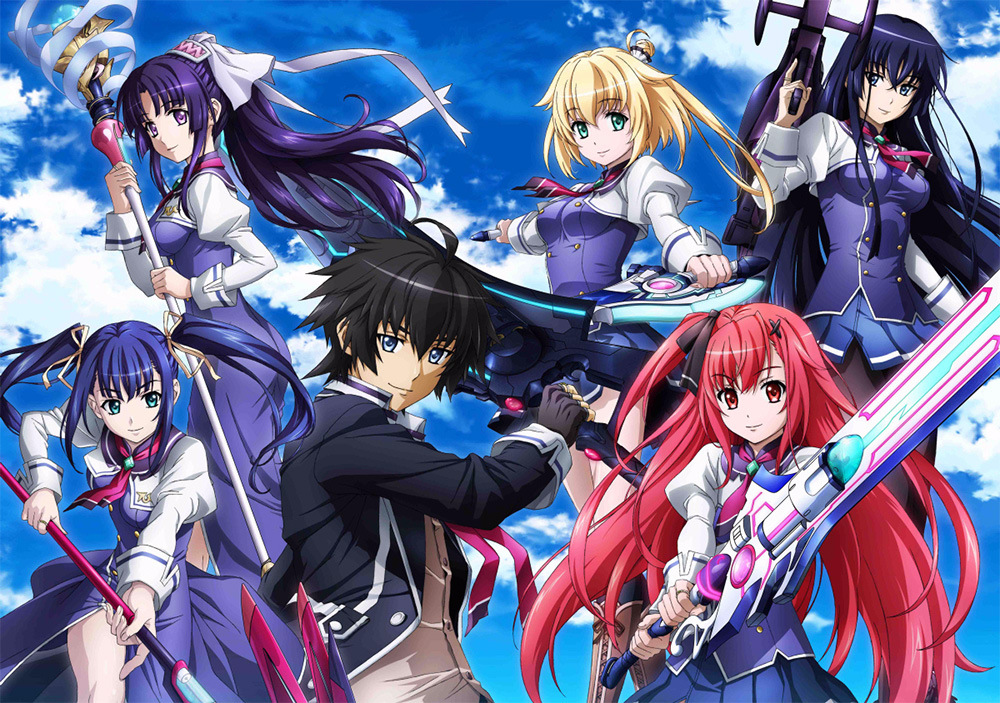 Kuusen Madoushi Kouhosei no Kyoukan is a Japanese light novel series written by Yuu Moroboshi and illustrated by Yuka Nakajima. Fujimi Shobo has published five volumes since July 2013 under their Fujimi Fantasia Bunko imprint. A manga adaptation with art by Arisu Shidō started serialization in Media Factory's seinen manga magazine Monthly Comic Alive from July 26, 2014. An anime adaptation was announced last July.
Kuusen Madoushi Kouhosei no Kyoukan synopsis from Haruhichan:
The story is set in a world where humanity, driven off the land by the threat of magical armored insects, now live in aerial floating cities. Thus wizards—aerial combat mages who fight the insects with magical powers—came into being.

Kanata Age is a young man who lives on the floating wizard academy city of "Misutogan." He was once celebrated as the "Black Master Swordsman," the elite ace of the S128 special team; however, he is now despised as the "traitor of the special team." One day, he is assigned as the instructor of E601, a team that has suffered ten consecutive defeats. E601 has three girls—Misora Whitale, Lecty Eisenach, and Rico Flamel—with one or two peculiar quirks.
Visit the anime's official website here: http://ku-sen.jp/
And follow their Twitter: @kusen_official