The official website for the upcoming adventure RPG Tokyo Ghoul: Jail for the PS Vita has revealed that anime's österreich returns for the theme "Luxurious Bone."  The opening theme for Tokyo Ghoul √A was performed by österreich titled "Munou."
A new visual for the game was also recently revealed:
Bandai Namco began streaming the first promotional video for the upcoming adventure RPG Tokyo Ghoul: Jail for the PS Vita last month. The promotional video introduces Rio, the new original character designed by original manga creator, Sui Ishida. The game will launch in Japan on October 1 for 5,690 yen ($48.1), and those who pick up early copies will get a download code for a collection of art used during development, a downloadable PS Vita theme, and a code for the "SSR Kaneki" in the Tokyo Ghoul: Carnaval iOS/Android app.
Last May a teaser for the upcoming game was also streamed:
Tokyo Ghoul: Jail is an adventure RPG video game for the PS Vita. The PS Vita adventure RPG will allow you to freely travel and explore Tokyo's 23 wards. The RPG features a new protagonist designed by the original manga creator, Sui Ishida. Players can chat with characters and deepen their relationships with them which will also play a factor towards the ending of the game. Tokyo Ghoul: Jail hits PS Vita in Japan this fall.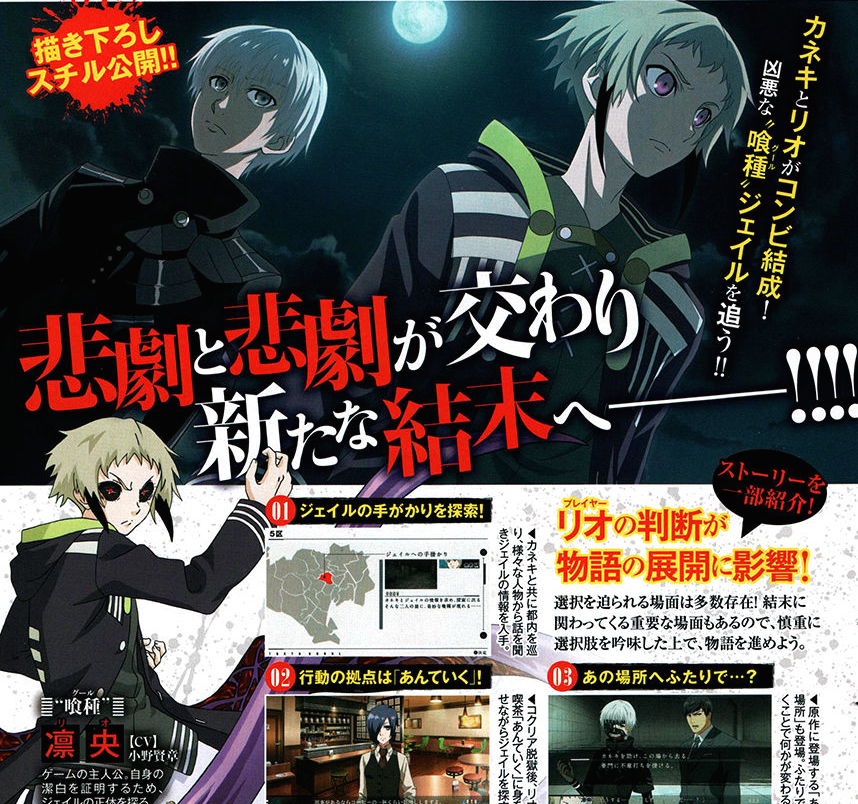 Here are some screenshots of the game:
Tokyo Ghoul is a manga series by Sui Ishida. It was serialized in Shueisha's seinen manga magazine Weekly Young Jump between September 2011 and September 2014 and has been collected in fourteen tankobon volumes as of August 2014. A sequel titled Tokyo Ghoul:re began serialization in the same magazine in October 2014 and a prequel titled Tokyo Ghoul: JACK is running online on Jump Live. A 12-episode anime television series adaptation by studio Pierrot aired on Tokyo MX between July and September 2014 and a 12 episode second season titled Tokyo Ghoul √A, started airing on January 8, 2015.