The official website of the anime adaptation of Okayado's Monster Musume (Everyday Life with Monster Girls) manga has announced that the Monster Musume no Iru Nichijou / Tokuma Shoten booth at Comiket 88 will be selling a 7 meter hug pillow of Mia. The hug pillow will retail for 100,000 yen ($806).

In addition to this, many other Monster Musume products will also be available at the event and includes:
A series of 12 limited edition keychains, ¥5,000 ($40.30)
A special character team set that features a disc case, mouse pad, A4 acrylic board, badges and a coaster. A total of three sets will be on sale for ¥5,000  $40.30) each:
Team A2 – Papi and Suu
Team FE – Mia and Mero
Team HI – Cera and Rachnera
A limited edition "Roll Me" T-Shirt featuring Mia, ¥4,000 ($32.25)
A limited edition B2 sized tapestry (6 to choose from), ¥3,000 ($24.20) each
A long tapestry bag (2 to choose from) to carry those tapestries, ¥3,000 ($24.20 USD) each
A bathing towel (3 to choose from), ¥2,000 ($16.10 USD) each
Monster Musume no Iru Nichijou
, usually translated as "
Everyday Life with Monster Girls
" but also as "
Daily Life with a Monster Girl
" or "
Everyday Monster Girls
", is a Japanese manga series written and illustrated by Okayado. The manga first began as a series of hentai one-shots. An anime adaption has been announced to Air in July 2015.
Monster Musume is currently published in Japan by Tokuma Shoten in their Monthly Comic Ryu magazine and by Seven Seas Entertainment in the United States, with the chapters collected and reprinted into—so far—6 tankobon volumes. The story revolves around Kimihito Kurusu, often referred to as "Darling" among various other things, a Japanese student whose life is totally thrown into turmoil after becoming involved with the "Interspecies Cultural Exchange" program by mistake.
Monster Musume synopsis from Haruhichan:
Monsters—they're real, and they want to date us! Three years ago, the world learned that harpies, centaurs, catgirls, and all manners of fabulous creatures are not merely fiction; they are flesh and blood—not to mention scale, feather, horn, and fang. Thanks to the "Cultural Exchange Between Species Act," these once-mythical creatures have assimilated into society, or at least, they're trying.

When a hapless human named Kurusu Kimihito is inducted as a "volunteer" into the government exchange program, his world is turned upside down. A snake-like lamia named Miia comes to live with him, and it is Kurusu's job to take care of her and make sure she integrates into his everyday life. Unfortunately for Kurusu, Miia is undeniably sexy, and the law against interspecies breeding is very strict. Even worse, when a ravishing centaur girl and a flirtatious harpy move in, what's a full-blooded young man with raging hormones to do?!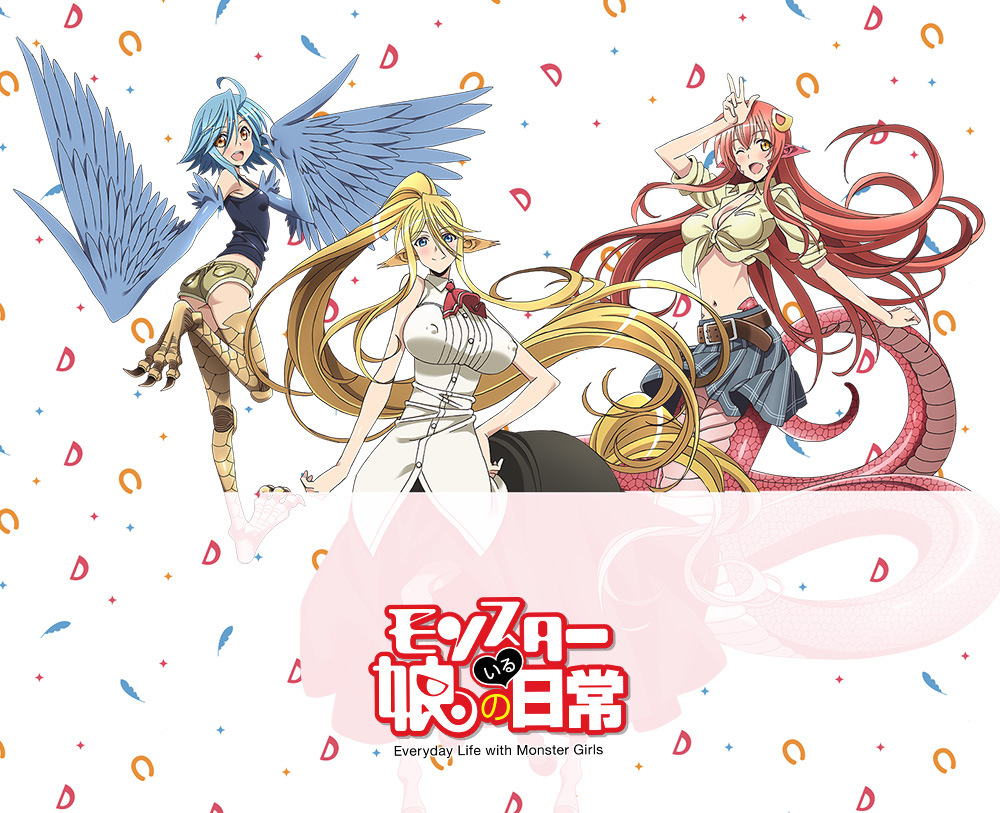 You can visit the anime's website here: http://monmusu.tv/
And follow their Twitter: @monmusu_tv