The live-action film based on Tsugumi Ohba and Takeshi Obata's Bakuman. manga opened on 325 screens in Japan on Saturday, and sold a total of 184,263 tickets for 251,607,900 yen (about US$2.08 million) in its opening weekend. It ranked #1 in the Japanese box office for the October 3-4 weekend. Compared to the live-action Moteki film (director Hitoshi One's previous feature), Bakuman. earned 102.4% more and sold 104.4% more tickets in its first week. (Moteki earned 213,478,881 yen or US$1.77 million in its first week, and eventually grossed 2.22 billion yen or US$18.4 million.)
The live-action film of Momoko Koda's Heroine Shikkaku (No Longer Heroine) shoujo manga fell from #1 to #2 this past weekend on 267 screens. It earned 178,309,700 yen (US$1.48 million) and sold 148,356 tickets in its third weekend. Heroine Shikkaku's 1.5 billion yen (US$12.45 million) gross has surpassed Attack on Titan: End of the World's 1.2 billion yen (US$9.96 million) gross. Attack on Titan: End of the World fell from #2 to #3 this past weekend on 331 screens.
The Anthem of the Heart anime film retained its #5 ranking for the third week in a row on 142 screens.
The Aoki Hagane no Arpeggio: Ars Nova Cadenza anime sequel film opened on 60 screens in Japan on Saturday, ranking at #7 and earning 67,525,150 yen (about US$560,560) and selling 42,170 tickets, with a per-screen average of 1.13 million yen (about US$9,383).
The anime film of Project Itoh's Shisha no Teikoku (The Empire of Corpses) novel opened on Friday, and ranked #13 in the Japanese box office.
In addition to this, since the movie has a Shonen Jump! theme, several voice actors from some of the manga magazine's most legendary series have provided their voices for the ads to narrate TV commercials. The first video is titled Friendship, and it is narrated by Mayumi Tanaka, the voice behind One Piece's Monkey D. Luffy.
The second video is titled Effort, and it is narrated by Akira Kamiya, best known for his role as Kenshiro from Fist of the North Star.
The third video is titled Victory, and it is narrated by the well known Masako Nozawa, who is the voice behind Dragon Ball's Goku.
While the final video is titled Love, and it is narrated by the voice actress behind Dragon Ball's Bulma, Hiromi Tsuru.
The film is directed by Hitoshi Ohne, who has directed the Moteki live action film adaptation and the 2013 film Koi no uzu. The adaptation will star Takeru Satoh (Kenshin Himura in the live action Rurouni Kenshin films) as Moritaka Mashiro, an aspiring manga artist. Alongside Satoh will be Ryunosuke Kamiki (Kenji Koiso in Summer Wars and Sojiro Seta from the Rurouni Kenshin: Kyoto Taika-hen movie) who will play Akito Takagi.
Kamiki has commented that he loves the manga and that it's an honour to be starring in the film. Satoh commented that he wants to convey the full message and marvelousness of the original manga's story. Tsugumi Ohba stated that he will be heavily involved in the film aside from being credited as the original creator, working as part of the film's production crew. He will also draw many of the manga pages that will appear in the film.
Movie visual: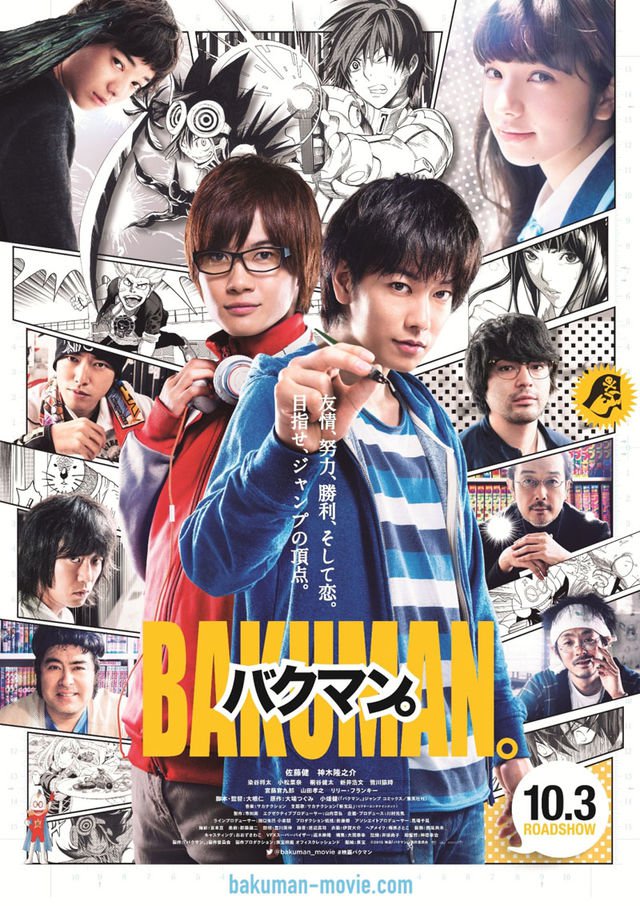 Bakuman is a manga series that started 2008 and ended in mid 2012. The series is written by Tsugumi Ohba and illustrated by Takeshi Obata, the same duo behind the original Death Note manga. The series ran in Shueisha's Weekly Shounen Jump for a total of 20 volumes. To date the manga has sold over 15 million copies. The manga follows two students who wish to become manga artists. An anime adaptation starting airing in 2010 and was produced by J.C. Staff. Two sequel seasons aired in the 3 following years. A video game based on the series released on the Nintendo DS in 2011.
Here is a synopsis of Bakuman from Haruhichan:
Moritaka Mashiro and Akito Takagi are pretty much foils of each other. Mashiro, an average 9th grade student but talented artist, and Takagi, an overall advanced 9th grader and aspiring writer. After great convincing, Takagi convinces Mashiro to join him in becoming the greatest mangakas Japan has ever seen. Takagi, with his gift of writing, hopes to become a successful mangaka, and Mashiro, with his gift of art, hopes to marry the girl of his dreams, Azuki Miho.