Raise your Databases as season 2 of Mamare Touno's Log Horizon has been announced. This news was revealed at the end of the 25th episode of the first season of the anime. The second season of the anime will air this Fall/Autumn in October.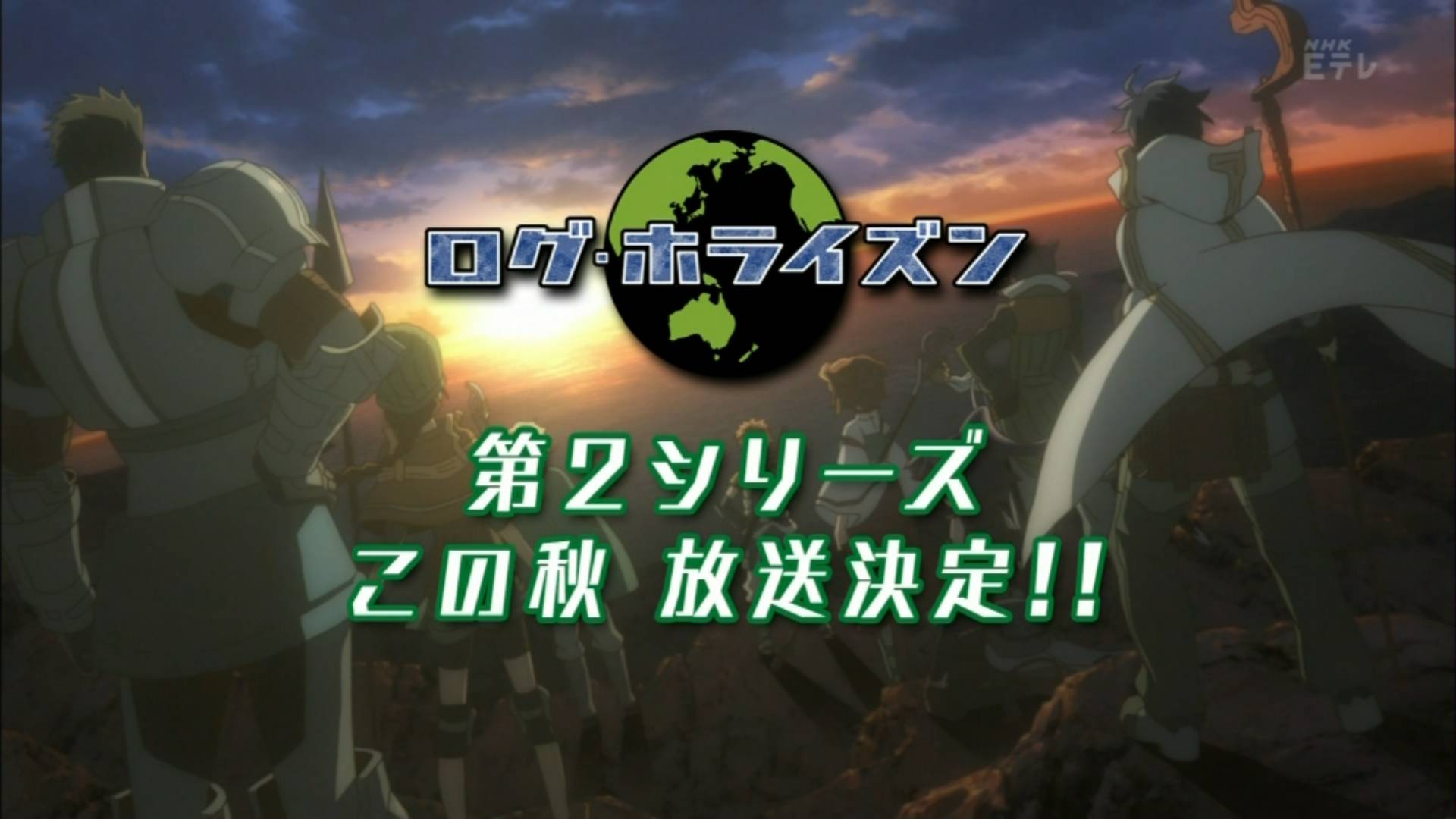 Log Horizon is a light novel series created by Mamare Touno in 2010, when Touno submitted the novel on the site Shosetsuka ni Naro. The series was then published by Enterbrain in March 2011, where a total of 7 volumes has been produced since. A bunch of manga adaptations were then issued after the novel's publication, all of which are written by Touno. An anime adaptation of the novels began in October last year, airing for a total of 25 episodes and covering 5 volumes.
半年間にわたり、「ログ・ホライズン」第1シリーズをごらんいただき、ありがとうございました!今年秋にシロエたちはパワーアップして戻ってきます!う~ん、腹黒さもアップしてるかも・・・?そして、再来週4月5日からは、毎週土曜にふたたび第1シリーズを放送!繰り返し見ても楽しめますよ~♪

— アニメ「ログ・ホライズン」 (@nhk_loghorizon) March 22, 2014
Here is a synopsis of the series from Haruhichan:
By its eleventh expansion pack, the massively multiplayer online role-playing game Elder Tale has become a global success, having a following of millions of players. However, during the release of its twelfth expansion pack: Novasphere Pioneers, thirty thousand Japanese gamers who are all logged on at the time of the update, suddenly find themselves transported inside the game world and donning their in-game avatars. In the midst of the event, a socially awkward gamer called Shiroe along with his friends Naotsugu and Akatsuki decide to team up so that they may face this world which has now become their reality along with the challenges which lie ahead.
Season 2 of Log Horizon will be airing this October. More information about the second series will be revealed in the upcoming months.