Inu Yashiki is certainly a daunting manga in contrast to some of Oku Hiroya's older works – primarily Gantz. (You remember Gantz, right? Of course you do. Who could forget that violence riddled bloodbath of unrivaled awesomeness?)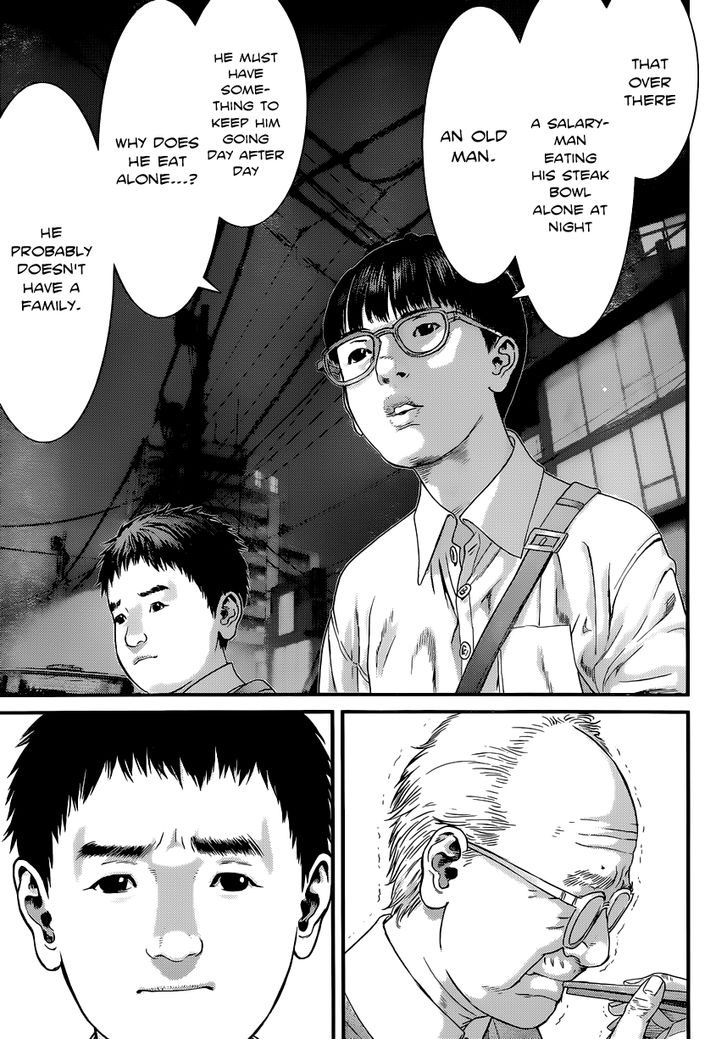 With an unusual protagonist, the story follows an elderly man – family name Inuyashiki – who has worked as a salary-man all his life, and seems to have started a family quite late into his years. With a nagging wife and two ungrateful kids to boot, Inuyashiki always strives to look on the bright side of things, and take everything he does and receives with a grain of salt – including harassment from teenagers and ungratefulness from his family.
Along the course of the first chapter, you can see all Inuyashiki seems to care about is his family. Though it took some time, he saved up all he could to give his family a nice, albeit small, home.
I started to really feel for this old man. He's clearly put a lot of hard work in to provide for his family, and all they've done is pass him off as trash in the wind. There's even a point where his own son runs into him on their respective ways home, and tells him that they don't really need to walk together. Hell, he even goes as far to comparing his family to Hobbits.
Through the shire loneliness of it all, Inuyashiki announces to his family that he'll be getting a dog, and quickly that dog becomes his only means of affection. It waits for him while he enjoys a bowl of ramen, and runs back right away when he gets loose.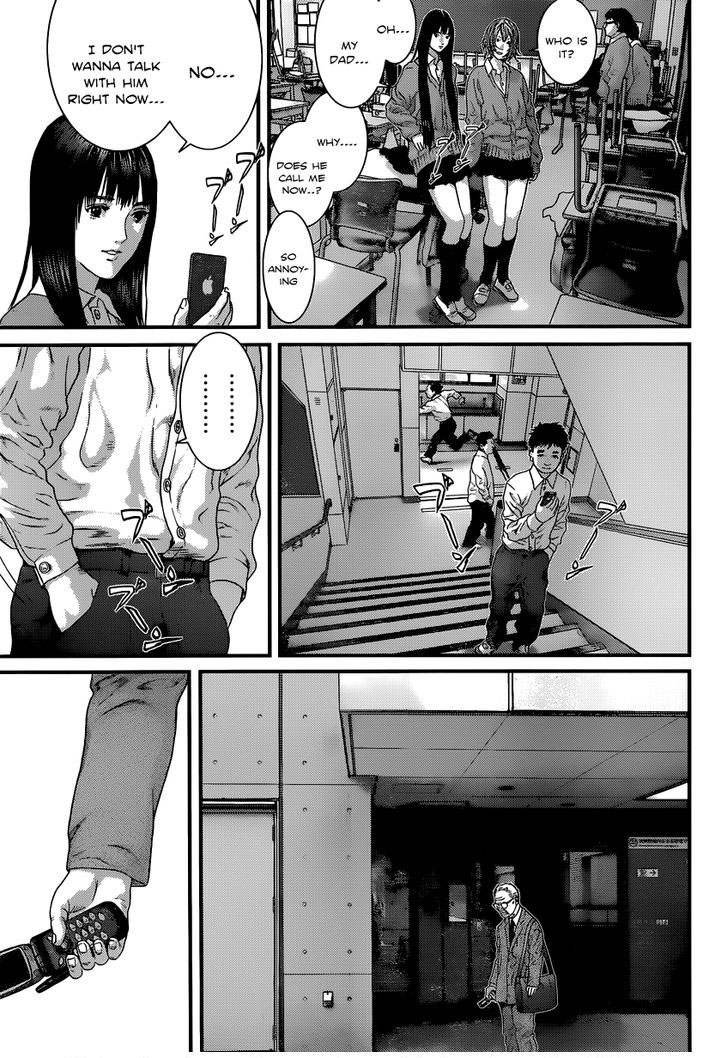 Later on, Inuyashiki receives some medical test results in the mail, and as soon as his life started for us, he is diagnosed with stomach cancer. He's left with this, and with having to tell his family, but no one answers his calls. At home, he can't bring himself to do it. So he takes the dog for a walk. When they reach a park, he collapses, tightly embraces his new friend, and breaks down.
Out of the corner of his eye, he sees a young man standing there. And as soon as the man came into his vision, a flash of light came and went, and just as soon as we're introduced to this kind old gentleman, we're made to say goodbye.
…or are we?
What drew me in was the poignant slice of life, and Oku Hiroya's take on how society treats the elderly, but what kept me was that ending. I won't get into how, but Inu Yashiki pulls a "I Am A Hero"-esque transition at the end. You won't see it coming, and that's how its meant to be. I don't normal compare or bring light to any kind of contrasts between manga and North American media (unless its explicitly spelled out), but Inu Yashiki has potential for some unequivocal Breaking Bad vibes. Only time will tell, and we'll just have to place that in the hands of the scanlators. Given the author, there's no doubt that we'll be down for a wild ride in no time.
If you want to check out the first (and so far only) chapter of Inu Yashiki, you can read it here.