The latest issue of Animedia has revealed the first cast members of the upcoming anime adaptation of Last Note.'s Mikagura Gakuen Kumikyoku (Mikagura School Suite) light novel series.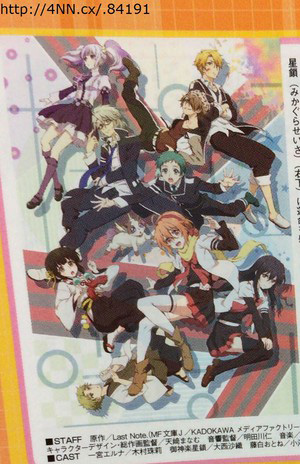 The main cast of the upcoming anime and which characters they will be voicing were revealed and includes:
Juri Kimura (Aoi Miyamori from Shirobako) will voice Eruna Ichinomiya
Ari Ozawa (Chiyo Sakura in Gekkan Shoujo Nozaki-kun) is voicing Otone Fujishiro
Ayaka Suwa (Tokaku Azuma from Akuma no Riddle) voices Himi Yasaka
Nobunaga Shimazaki (Haruka Nanase in Free!) as Shigure Ninomiya
Saori Oonishi (La Folia Rihavein in Strike the Blood) will voice the role of Seisa Mikagura
Yoshitsugu Matsuoka (Kirito in Sword Art Online') is playing as Bimmy
The main staff of the anime was earlier revealed and consists of:
Director: Tarou Iwasaki (Isshuukan Friends., Yakushiji Ryouko no Kaiki Jikenbo)
Series Composition, Screenplay: Masahiro Yokotani (Free!, Hataraku Maou-sama!)
Anime Character Designer and Chief Animation Director: Manamu Amazaki (Tari Tari, Daily Lives of High School Boys)
Sound Director: Jin Aketagawa (AnoHana, Aldnoah.Zero)
Music Composer: Yoshiaki Fujisawa (Love Live! School Idol Project, Akuma no Riddle)
Animation Studio: Doga Kobo (Gekkan Shoujo Nozaki-kun, Mikakunin de Shinkoukei)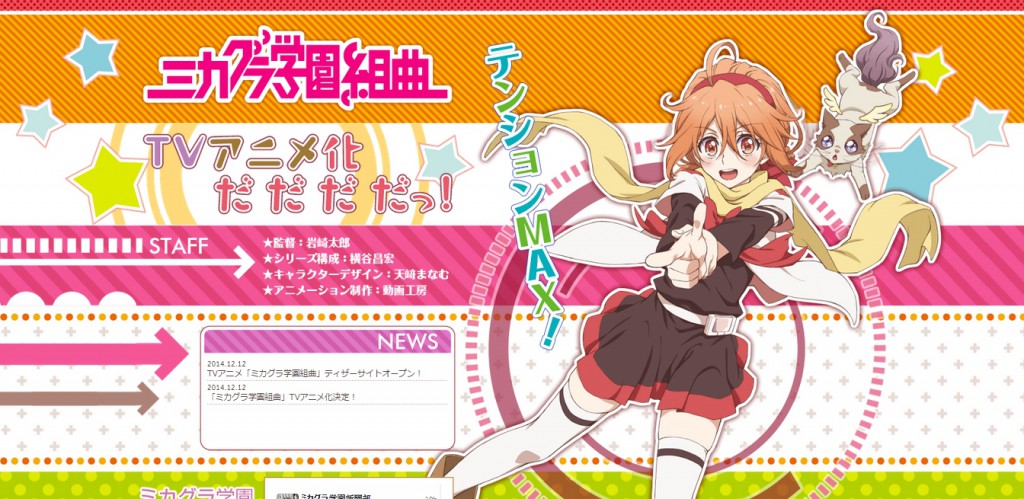 The Vocaloid composer, Last Note., began his light novel series on July 24, 2013 with Akina being the illustrator. It has also a shoujo manga series that was serialized in Comic Gene magazine. The manga started few days before the light novel, July 13, 2013. The light novel currently has four volumes while the manga has three compiled volumes. The fourth light novel volume was published on July 25, 2014 while the third compiled manga volume was released on September 27, 2014.
Synopsis of Mikagura Gakuen Kumikyoku's manga from Haruhichan:
A story based on the super popular song series from NND. Eruna Ichinomiya, a freshman who dreamed of a school life filled with cuteness, entered a boarding school—Mikagura Private School. In this school, each of the cultural club representatives have to battle each other, with unique powers…!! What will happen to Eruna, who somehow ended up becoming the representative of a certain club?!
The Mikagura Gakuen Kumikyoku anime will be airing this April during the Spring 2015 Anime Season. More information about the series will be revealed in the upcoming days.
You can visit the anime's website here: http://mikagura-gakuen.com/
And follow their Twitter: @mikaguragakuen
Source – Anime News Network