The third manga adaptation of the light novel, Amagi Brilliant Park, titled as Amagi Brilliant Park the Animation will be released on December 29, 2014. It will be written by the Amaburi Restoration Committee and will be illustrated by Ami Hakui. It will begin its serialization on Kadokawa's ComicWalker website under Dragon Comics Age. Additionally, Amagi Brilliant Park's official soundtrack CD and Drama CD will be released on December 24, 2014 and the first Blu-Ray & DVD volume of the series will be released on December 26, 2014.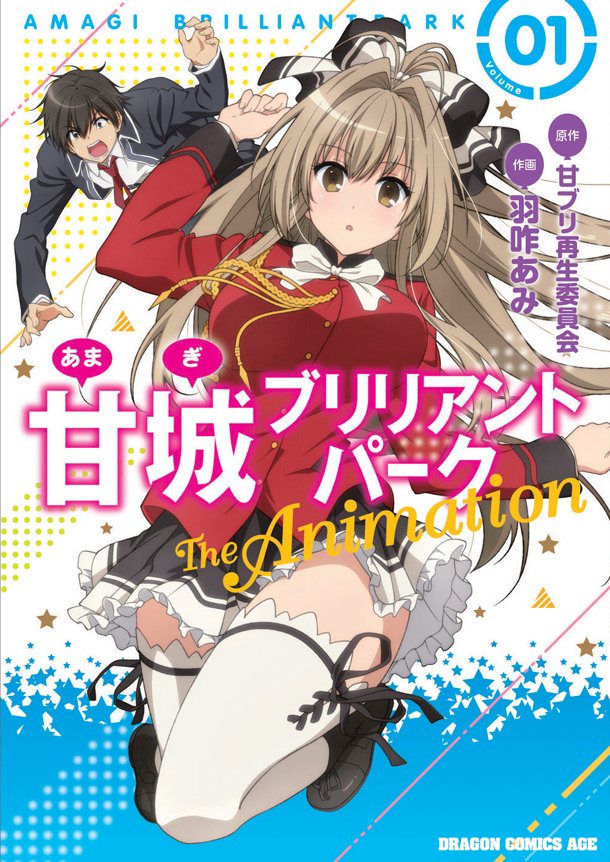 The official soundtrack was produced by Shinkichi Mitsumune (Rozen Maiden, Zero no Tsukaima). The CD will contain the opening theme of the series, Extra Magic Hour by AKINO (Sousei no Aquarion) and bless4 (Stitch!), the ending theme, Elementario de Aimashou by the BRILLIANT4 (Sylphy [Tomoyo Kurosawa], Cobori [Shiori Mikami], Salma [Minami Tsuda], Muse [Yuuka Aisaka]) and more than 20 additional tracks including insert songs. The CD costs ¥2,800 + tax.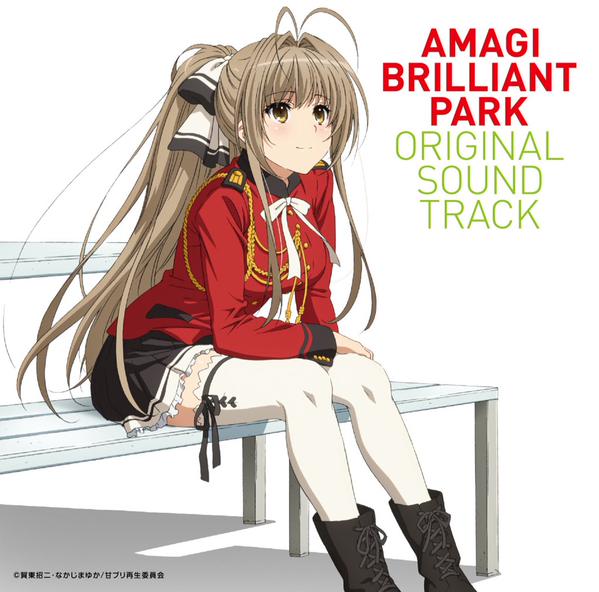 The drama CD will contain 3 episode tracks:
Things that happen around Isuzu's sickbed
Silly story of the Brilliant 4
The ABC trio training again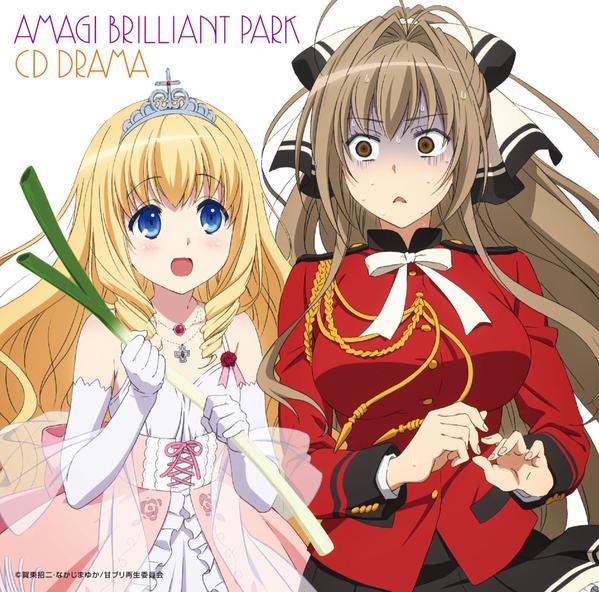 The cast will be the same main and supposrting characters as follows:
Seiya Kanie as Kouki Uchiyama
Isuzu Sento as Ai Kakuma
Latifa Fleuranza as Yukiyo Fujii
Moffle as Ayako Kawasumi
Macaron as Ryoko Shiraishi
Tiramie as Ai Nonaka
Muse as Yuuka Aisaka
Sylphy as Kurosawa Tomoyo
Kobori as Shiori Mikami
Salama as Minami Tsuda
The first animated volume of the series will be released in Blu-Ray & DVD. The Blu-Ray limited edition price is 6,975 yen (excluding tax) while the DVD limited edition price is 5,975 yen (excluding tax). It will contain the following:
The first two episodes of Amagi Brilliant Park

And staff commentaries on these two episodes by the director, Takemoto Yasuhiro, and the original author, Shoji Gatoh
Episode 1 Character Commentary by Moffle, Macaron, Tiramy
Episode 2 Character Commentary by Ayako Kawasumi, Kyoko Shiraishi, Ai Nonaka

A brand-new video of "Exciting Mini Theatre"
Newly-drawn package illustrations

Three-Sided Sleeve Case of Kanie and Isuzu
Digipak: 'Situation'

Amaburi Revival Sugoroku
Amaburi Special Guide
Amaburi Special Seal
Japanese subtitles
Other bonus videos
Amagi Brilliant Park is a light novel series written by Shoji Gatoh (Full Metal Panic!) and illustrated by Yuka Nakajima (Papa no Iukoto wo Kikinasai!). It began publishing on February 20, 2013 by KADOKAWA's Fujimi Shobo under the label Fujimi Fantasia Bunko imprint. Chingwin Publishing Group published the series in Taiwan. There are currently five light novel volumes and the fifth one was released in October 18, 2014. The novels sold more than 100,000 copies two weeks after the anime release.
Amagi Brilliant Park: Maple Summoner, a  light novel spin-off was published on October 18, 2014. It was written by Keishou Yanagawa and was illustrated by Yuka Nakajima (Papa no Iukoto wo Kikinasai!). There are currently two volumes and the second one was just published on November 20, 2014.
Aside from Amagi Brilliant Park the Animation, there are two more manga series adapted from the novel. One is titled as Amagi Brilliant Park that began publishing on February 8, 2014 while the other one is Amagi Brilliant Park? Fumo that was published on June 2014.
The light novel series has a 13-episode anime adaptation of the same name. It began airing on October 6, 2014 by Kyoto Animation (Free!, Tamako Market) and is directed by Yasuhiro Takemoto (Hyouka, Suzumiya Haruhi no Shoushitsu).
Synopsis of Amagi Brilliant Park from Haruhichan:
Seiya was forced to accept an invitation to an amusement park by the mysterious and beautiful girl Isuzu. What he didn't know was that she would bring him to the decrepit Amagi Brilliant Park, Japan's most disappointing amusement park. Seiya is introduced to the leader of the Park, the "real princess" Latifah, who suddenly entrusts him with saving the park, which is in danger of shutting down. Amagi Brilliant Park, it turns out, is not just any amusement park, but rather one populated by fairies.
Source – Natalie, TBS' Amaburi Page, Fujimi Shobos' Amaburi Page