In the recent issue of Shinchosha's [email protected] magazine some of the cast member for the upcoming anime adaptation of Kohske's Gangsta. manga have been revealed. Additionally, the series' official website has launched and revealed the first visual and the remainder of the main cast.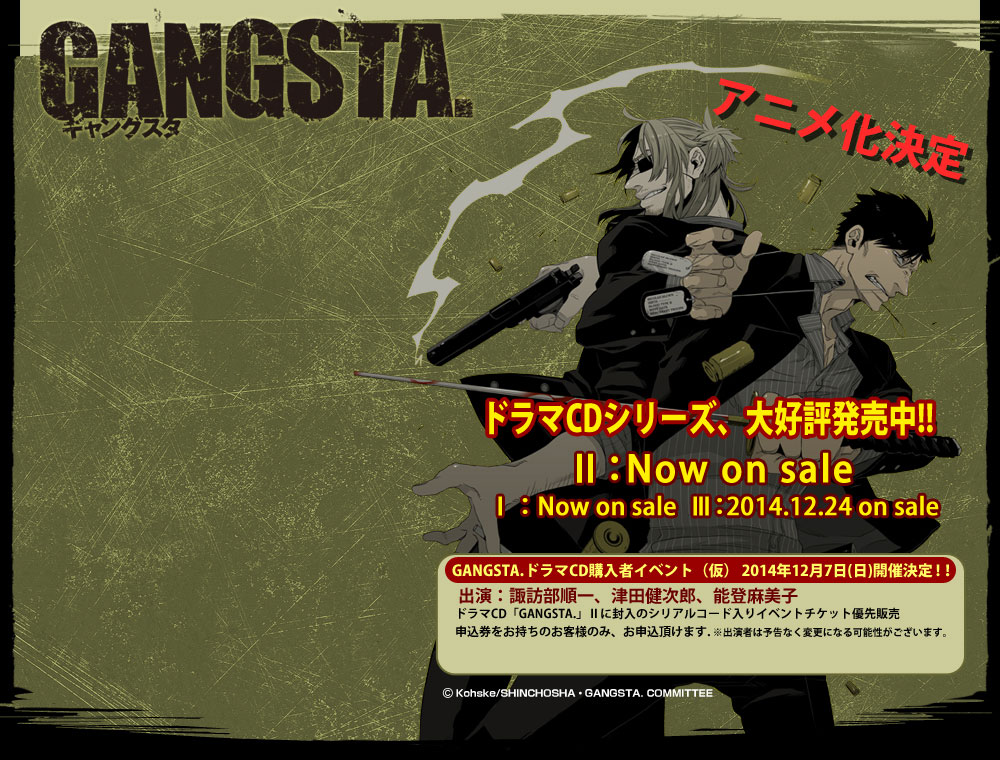 The [email protected] magazine is revealing more and more of the anime's cast every issue. The anime's website has also revealed more of the anime's cast, who will be returning to reprise their roles from the various drama CDs. The cast includes:
Junichi Suwabe (Archer in Fate/stay night: Unlimited Blade Works) voices Worick Arcangelo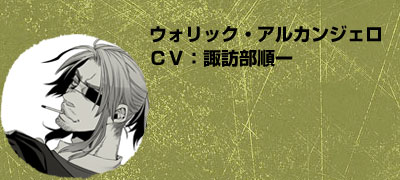 Kenjiro Tsuda (Sadaharu Inui from Prince of Tennis) as Nicholas Brown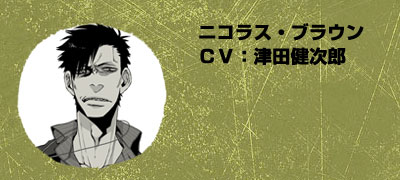 Aoi Yuuki (Madoka Kaname in Mahou Shoujo Madoka★Magica) voicing the role of Nina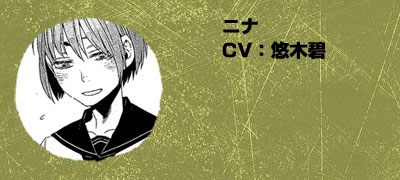 Tetsuo Kaneo (Bui from Yu Yu Hakusho) will voice Chad Adkins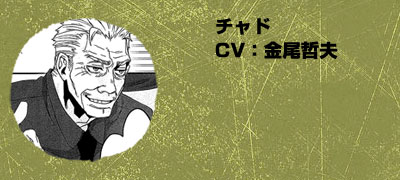 Mamiko Noto (Kotomi Ichinose in Clannad) will voice the role of Alex Benedetto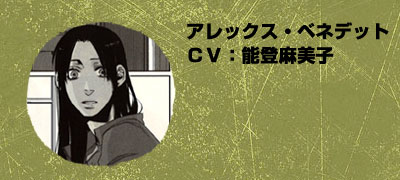 Kaito Ishikawa (Tsumugu Kihara from Nagi no Asukara) voicing as Cody Balfour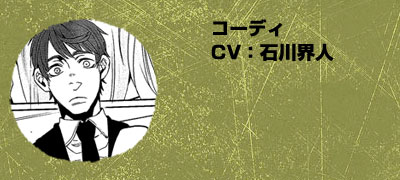 Satoshi Mikami (Kumado Minai in Mushishi Zoku Shou) as Dr. Theo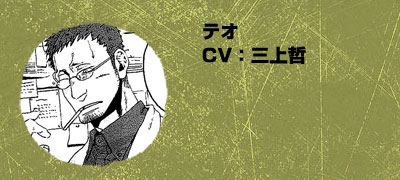 Hiroyuki Yoshino (Firo Prochainezo in Baccano!) voices Doug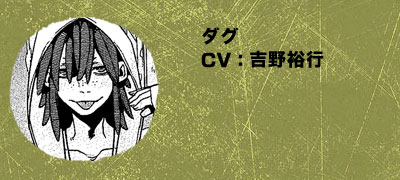 Yoshiko Sakakibara (Haman Karn from Mobile Suit Gundam) voicing as Gina Paulklee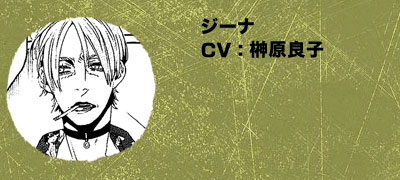 Mikako Komatsu (Neko from K) will voice Ginger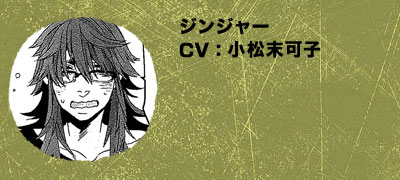 Tomohisa Hashizume (Bertolt Hoover in Attack on Titan) is playing the role of Delico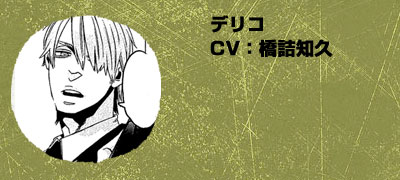 Tomoaki Maeno (Naotsugu from Log Horizon) as Yang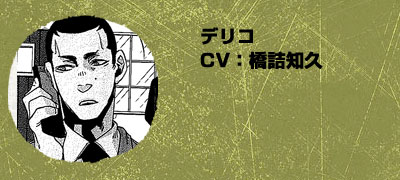 Takuya Kirimoto (Agon Kongo from Eyeshield 21) will voice Ivan Grazef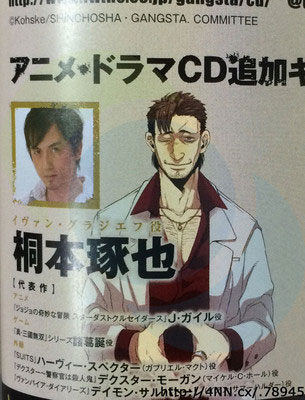 Tsuyoshi Koyama (Galileo in Kyoukaisenjou no Horizon) voices Miles Meyer
Katsuhisa Houki (Bartley Asprius in Code Geass: Hangyaku no Lelouch) voices the role of Daniel Monroe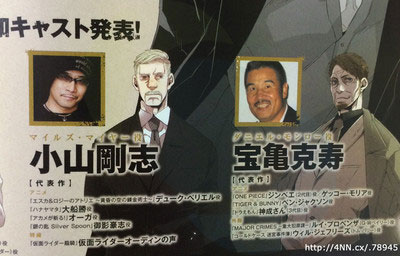 Takahiro Sakurai (Shougo Makishima in Psycho-Pass) as Marco Adriano
Kana Ueda (Rin Tohsaka in Fate/stay night: Unlimited Blade Works) voicing as Loretta Cristiano Amodio
Ami Koshimizu (Ryuuko Matoi from Kill la Kill) will play Constance Raveau
Tetsu Inada (Ira Gamagoori from Kill la Kill) will voice Galahad Woeho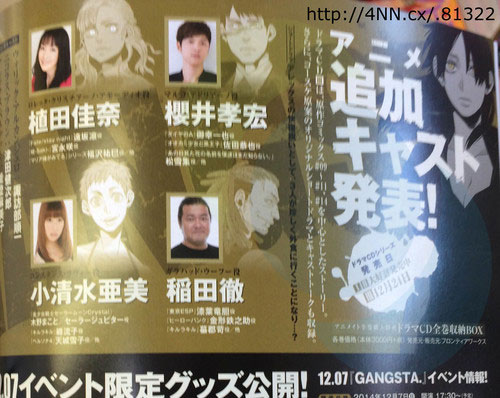 The site itself has revealed that a total of 3 drama CDs have been produced and are currently available for ¥3,000 (~ $30.00 USD) each. An event about the CDs will be held on the 7th of November at the Shinjuku Milano cinema in Tokyo, where the main cast of the series will make an appearance.
Gangsta. is a manga series written and illustrated by Kohske. It began serialization in 2010 in Shinchosha's Comic @ Bunch magazine where to date a total of 6 compiled volumes have been released. It is Kohske's first series, after publishing two short stories. His second manga series, DOODLE, began publication last year. The series received a drama CD adaptation that was released with the 6th volume in June.
Gangsta. synopsis from Haruhichan:
In the city of Ergastulum, a shady ville filled with made men and petty thieves, whores on the make and cops on the take, there are some deeds too dirty for even its jaded inhabitants to touch. Enter the "Handymen," Nic and Worick, who take care of the jobs no one else will handle. Until the day when a cop they know on the force requests their help in taking down a new gang muscling in on the territory of a top Mafia family. It seems like business (and mayhem) as usual, but the Handymen are about to find that this job is a lot more than they bargained for.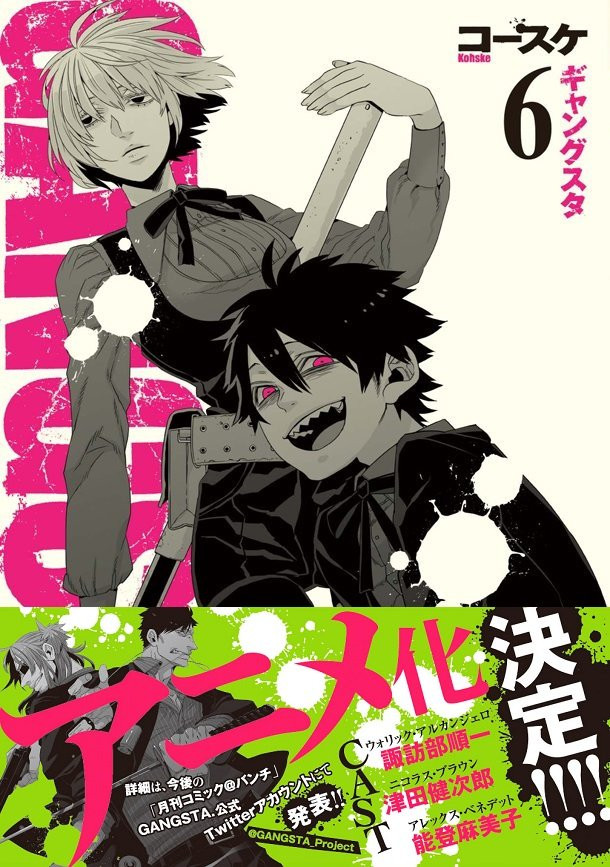 Not a lot of information has been released about the Gangsta. anime adaptation so far. Further information about the series will be revealed at the December 7 event.
You can visit the series' website here: http://www.fwinc.co.jp/gangsta/cd/
And follow their Twitter: @GANGSTA_Project
Source – Anime News Network, Anime News Network 2, Crunchyroll, Gangsta. Project Website