A brand new visual has been released for Makoto Shinkai's Kimi no Na wa. (your name.). The movie has become the 4th highest anime film, surpassing Studio Ghibli's Ponyo.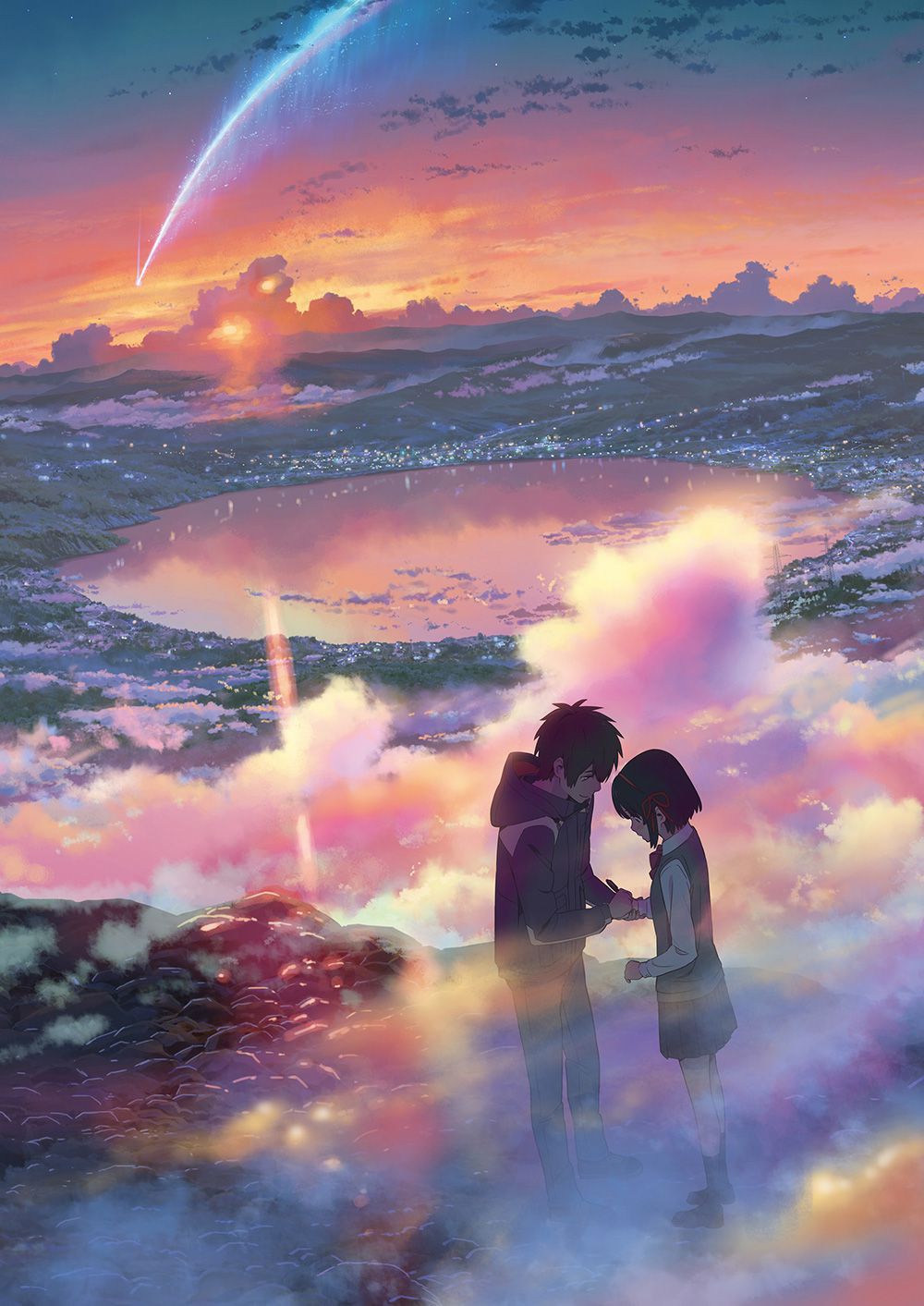 Kimi no Na wa. is currently sitting at a gross of ¥16.41 Billion ($157.25 Million) at the Japanese box office after 60 days and is still ranked #1 at the weekly box office. It has surpassed Ponyo, Studio Ghibli and Hayao Miyazaki's 2008 animated film that ended its run at ¥15.5 Billion ($148.54 Million).
The current top 5 highest grossing anime films in Japan are:
Spirited Away
Howl's Moving Castle
Princess Mononoke
Kimi no Na wa.
Ponyo
The film is currently the highest grossing 2016 film in Japan and the 9th highest grossing film of all time in Japan, earning more than many HollyWood blockbusters including Avatar and Jurassic Park, whilst reaching the ¥10 Billion (~ US$97.6 Million) milestone faster than Disney's Frozen (28 days vs 37). Within the first 40 days, Kimi no Na wa. has sold over 10 million tickets.
The film is also set to release in 85 regions around the world.
Ryunosuke Kamiki (Kenji Koiso from Summer Wars) will voice Taki Tachibana
Mone Kamishiraishi (Kanade Ooe from Chihayafuru Live Action Films) is voicing as Mitsuha Miyamizu
Masami Nagasawa (Umi Matsuzaki in From Up on Poppy Hill) voices Miki
Etsuko Ichihara (Hilda from Taiyou no Ouji: Horus no Daibouken) as Mitsuha's Grandmother
Ryo Narita (First Major Anime Role) voicing the role of Katsuhiko Teshigawara
Nobunaga Shimazaki (Haruka Nanase in Free!) as Tsukasa Fujii
Kaito Ishikawa (Tsumugu Kihara from Nagi no Asukara) is voicing Shinta Takagi
Kanon Tani (Debut Role) stars as Yotsuba Miyamizu
The production staff of the anime movie consists of:
Director and Series Composer: Makoto Shinkai (5 Centimeters Per Second, The Garden of Words)
Animation Director: Masashi Ando (Spirited Away, Paprika)
Animation Studio: CoMix Wave Inc. (Children Who Chase Lost Voices, Hana to Alice Satsujin Jiken)
Here is the film's most recent trailer:
And the previous 90 second trailer:
Makoto Shinkai is a well known anime director who got his start in the industry in 1997 directing the short film Other Worlds. His first major breakthrough in the industry was 2002's Voices of a Distant Star, which won various awards including the Animation Kobe award and the Seiun Award. Since his debut 20 years ago, his films have received acclaim and recognition for the films' plot, use of mature themes and breathtaking visuals. One of his more recent hits is 2007's 5 Centimeters Per Second, which won the award for Best Animated Feature Film at the 2007 Asia Pacific Screen Awards. Shinkai's most recent feature film is 2013's The Garden of Words.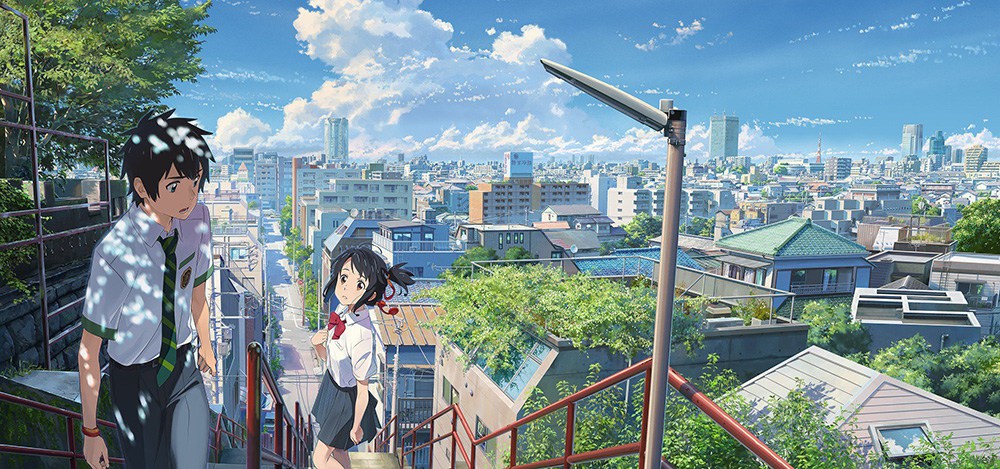 Kimi no Na wa. synopsis:
The story is set one month after a comet has fallen for the first time in a thousand years in Japan. Mitsuha is a female high school student who lives in a rural town nestled deep in the mountains. Her father is the mayor and isn't at home much, and she lives with her elementary school-aged little sister and her grandmother. Mitsuha has an honest personality, but she doesn't like the customs of her family's Shinto shrine, nor does she like her father participating in an election campaign. She laments that she lives in a confined rural town, and yearns for the wonderful lifestyle of living in Tokyo.

Taki is a male high school student who lives in central Tokyo. He spends time with his friends, works part-time at an Italian restaurant, and is interested in architecture and fine arts. One day, Mitsuha has a dream where she is a young man. Taki also has a dream where he is a female high school student in a town in the mountains that he has never been to. What is the secret to their dreams of personal experience?
Kimi no Na wa. is currently still in theatres across Japan. The film will be out in theatres across Australian and New Zealand on November 24 being distributed by Madman Entertainment. Funimation will also have a limited North American release before the end of the year. The film is set to release in 85 regions around the world.
Visit the anime's website here: http://kiminona.com/
And for more updates follow: @shinkai_works