It's already been less than a week since Nintendo's last Direct showcase which featured the Japanese publisher formally announcing the existence of Pokemon Sun and Moon, the next series of games in the legendary handheld series. Tomorrow, on March 3rd, Nintendo will be returning once again to grace viewers at home with information on what to look forward to in summer 2016.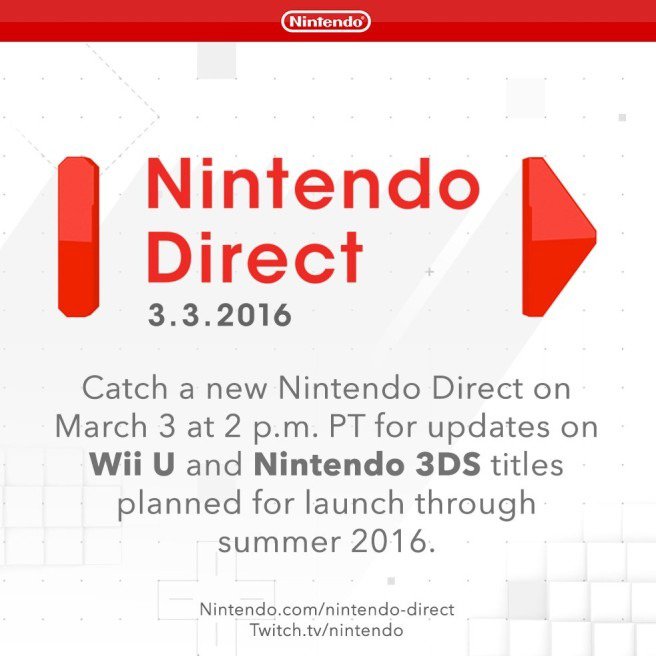 The presentation will touch base on upcoming titles for both the Nintendo Wii U and Nintendo 3DS and will begin at 2:00pm PT/5:00pm ET. Tomorrow's Nintendo Direct can be viewed from both Nintendo's official website or at Nintendo's Twitch channel.
With a new mothership Pokemon game having already been announced so swiftly before E3, it's exciting to wager that the publisher might not hold back any punches before another imminent Direct presentation during the magnanimous Los Angeles expo. Wishful thinking aside, here's to hoping we, additionally, receive some elaboration on titles such as Genei Ibun Roku #FE – previously Shin Megami Tensei x Fire Emblem – and if, perhaps, we will indeed see Nintendo follow up with rumors suggesting that the publisher will finally be localizing Mother 3, the cult-hit follow-up to Earthbound, to North America.
Source: Siliconera