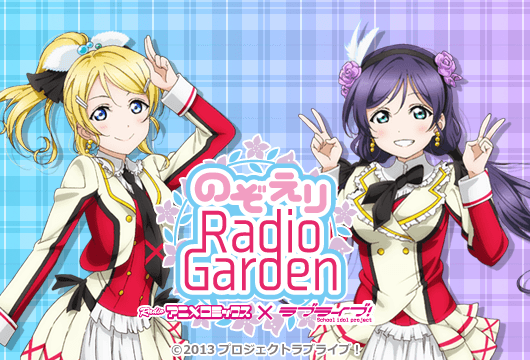 The NozoEri Radio Garden first aired January 4th, 2014 as a radio talk show with both Nanjou Yoshino (Ayase Eli) and Kusuda Aina (Toujou Nozomi) as the hosts. The show itself was sponsored by Animelo Mix in collaboration with the Love Live school idol project! Some of the topics discussed on the show are things such as winter break, and what they both do over the break. Other things can range from fan mail to facts you didn't know about muse. The show had a total of three guests in its lifetime. These guests included:
Nitta Emi (Kousaka Honoka) in episode 13 on March 29, 2014
Iida Riho (Hoshizora Rin) in episode 19 on May 20th, 2014
Pile (Nishikino Maki) in episode 43 on October 25, 2014
The show started airing on January 04, 2014 and aired every Saturday at 00:30 ~ 01:00 (UTC +09:00). It ended on September 26, 2015 on episode 91.
You can find each program on Nico Nico's video service here.
You can also find a translation and summary of each program here.
Source – Love Live! Wikia