A new key visual for the second season of the anime adaptation of Wataru Watari and Ponkan8's Yahari Ore no Seishun Love Comedy wa Machigatteiru. (My Teen Romantic Comedy SNAFU) light novel series has been revealed. The second season titled Yahari Ore no Seishun Love Comedy wa Machigatteiru. Zoku (My Teen Romantic Comedy SNAFU 2), will be airing from March 28.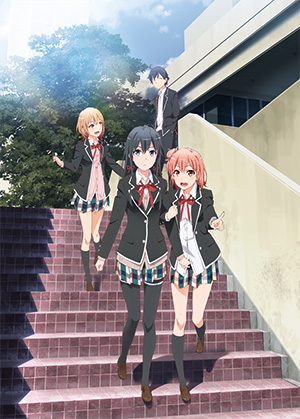 The opening theme will be titled "Harumodoki" and performed by Nagi Yanagi while the ending theme "Everyday World" will be performed by Yukino Yukinoshita (Saori Hayami) & Yui Yuigahama (Nao Touyama).
The first promotional video was streamed last January:
In addition to this, the new character designs were previewed earlier. Here's the characters in order: Yukino Yukinoshita, Yui Yuigahama, Hachiman Hikigaya and Iroha Isshiki.
The cast was also revealed earlier and include:
Takuya Eguchi (Kazuya Kujou in Gosick) will voice Hachiman Hikigaya
Saori Hayami (Ayase Aragaki from Oreimo) is back as Yukino Yukinoshita
Nao Touyama (Chitoge Kirisaki in Nisekoi) will return to voice Yui Yuigahama
Ayane Sakura (Kokoa Hoto in Gochuumon wa Usagi Desu ka?) will voice new character Iroha Isshiki
Haruka Tomatsu (Asuna Yuuki from Sword Art Online) will be voicing Orimoto Kaori
The series will feature new crew members, including a new director and animation studio. The staff are as follows:
MONACA (Nisemonogatari, Wake Up, Girls!) will again be in charge of music and Satoshi Motoyama (Boku wa Tomodachi ga Sukunai, Oreimo) will again serve as sound director.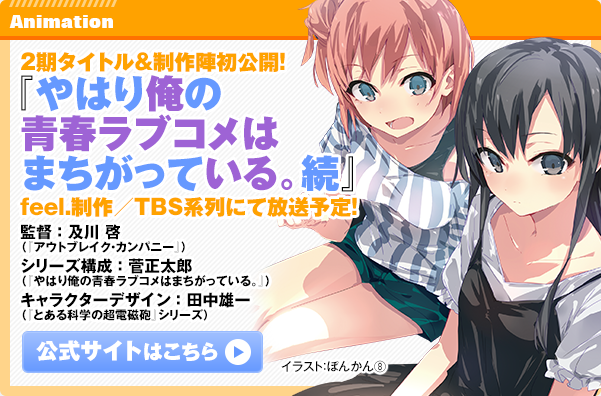 Yahari Ore no Seishun Love Comedy wa Machigatteiru. (My Teen Romantic Comedy SNAFU) is a light novel series written by Wataru Watari and illustrated by Ponkan8. The light novels began in March 2011 and is published in Shogakukan's Gagaga Bunko imprint. To date there has been 9 volumes and 4 short stories published. There has been three spin-off manga adaptations written and illustrated by various people. The series also received an anime adaptation that aired in April 2012 that was animated by Brain's Base (Baccano!, Tonari no Kaibutsu-kun). Additionally, a visual novel was developed by 5pb. for the PlayStation Vita that released on September 19th last year.
Here is a synopsis of the series from Haruhichan:
This romantic comedy revolves around an antisocial high school student named Hikigaya Hachiman with a distorted view on life and no friends or girlfriend. When he sees his classmates talking excitedly about living their adolescent lives, he mutters: "They're a bunch of liars." When he is asked about his future dreams, he responds, "Not working." A teacher gets Hachiman to join the "Volunteer Service" club, which happens to have the school's prettiest girl, Yukinoshita Yukino.
Source Oregairu official website, yaraon