Osomatsu-san, the newest anime in tribute to iconic mangaka Fujio Akatsuka, has hit it off in Japan. The anime, set in modern day japan, is a newer version of the original Osomatsu-Kun anime airing in the 1960's featuring the sextuplets as now 20 year old NEETs. The ending song not is not only catchy, but features visuals of traditional japanese food and Akatsuka's characters drawn in mustard sauce.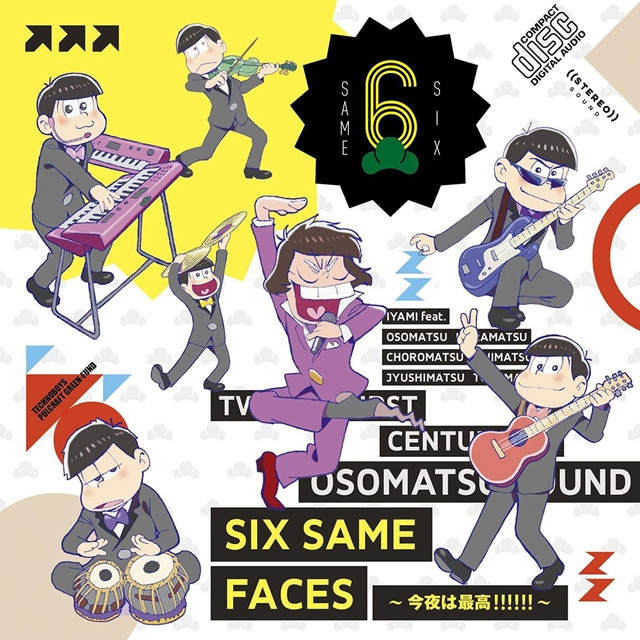 Since its original broadcast on December 16th of last year, Osomatsu-san's anime's ending features the song "Six Same Faces~Konya wa Saikou!!!!!!" has now official hit 100,000 copies sold in Japan. Officially awarded a "Gold Disc" certification, awarded to recordings selling to this quantity, Osomatsu-san is now officially certified by The Recording Industry Association of Japan.
The CD itself includes the songs VOICE by Iyami Feat. Osomatsu x Karamatsu x Choromatsu x Ichimatsu x Jushimatsu x Todomatsu in the original TV size alongside the ending in solos by each of the sextuplets and an instrumental version. Set to release on March 16th, the full single version of the Six Same Faces ending will be available for purchase.
Osomatsu-san visual:
Osomatsu-kun is a manga series by Fujio Akatsuka which ran in Shounen Sunday from 1962 to 1969. It has been adapted into two different anime series of the same name, the first in 1966, produced by Studio Zero, and the second in 1988, produced by Pierrot and aired across Japan on Fuji Television, the anime satellite television network, Animax, and the South Korean kids channel, Cartoon Network Korea. A new anime series by Studio Pierrot, Osomatsu-san, began airing in October 2015 to celebrate Akatsuka's 80th birthday (Akatsuka passed away in 2008 at age 72).
Osomatsu-san synopsis from Haruhichan:
Matsuno household has six naughty and mischievous sons (who are sextuplets), led by the eldest Osomatsu. They were grade schoolers back in the Shouwa period, but despite of still living in the same old household, the street view as well as the life style of modern day society have changed drastically.
Source – Crunchyroll, CDJapan