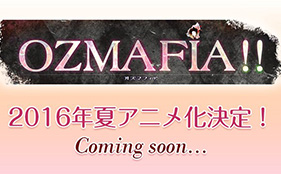 The official Twitter for the game brand Poni-Pachet revealed that an anime adaptation of its game Ozmafia!! has been green-lit for this summer on Thursday. The Machi Asobi Vol. 15 event revealed last fall that it will be composed of anime shorts and based on an original story from the game.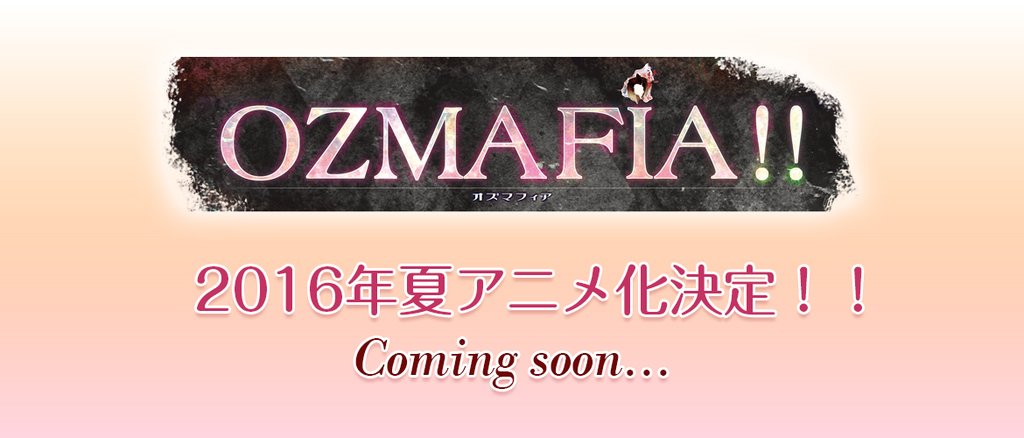 The cast has not been revealed yet but the game cast consisted of:
Akiko Hanamura as Fuka
Tarusuke Shingaki (Cadis Etrama di Raizel from Noblesse: Awakening) as Caramia
Kazuyuki Okitsu (Masaomi Asahina from Brothers Conflict) as Kyrie
Atsushi Kakehashi (Susumu Miyanomori from Hanayaka Nari, Waga Ichizoku: Kinetograph) as Axel
Mitsuhiro Ichiki (Kazuya Aoi from Freezing) as Scarlet
Junya Enoki (Takeru Takaishi from Digimon Adventire Tri.) as Hänsel
Takuya Kirimoto (Taira from Freedom) as Caesar
Manga Gamer also streamed the opening movie for the game back in July, 2014:
Ozmafia!! was originally released on June 28, 2013 via various Windows OS computers and later released via PlayStation Vita on February 26, 2015 with the title Ozmafia!! -vivace-. Four character songs were released in 2013 and 2014, and a soundtrack for Ozmafia!! -vivace- was released on November 25, 2015.
A manga adaptation by Yurino Tsukigase was released in 2012, prior to the game's release. It was originally published in Otome High! and later released via Web Comic Action. Futabasha published three compiled volumes of the manga.
Here's a synopsis of the series:
Ozmafia!! follows the tale of Fuka, a girl with amnesia who doesn't remember her own name, once she's rescued from the streets by members of the Oz family mafia. She begins trying to do her best in this dangerous city where several different rival mafia gangs are constantly at war for control and territory.

As Fūka tries to make do for herself amidst this danger, what fate lies in store for her? Will she grow close to one of the members of another faction? Will she fall in love with a member of the Oz family and face a love-triangle over her affections? The choice is yours!
Source: Poni Pachet Twitter, ANN