It seems that April Fools is well under way in Japan. First being the new Shaft announcement and now, the official website of the Ping Pong The Animation has updated with a new video. The video is a commercial announcing a new crossover partnership between the anime and Dragon Ball. And they seem to be going all out, with the commercial itself is narrated by Masako Nozawa, the Japanese voice actress of Goku from the Dragon Ball franchise, and also the voice of Obaba in Ping Pong The Animation.
http://www.dailymotion.com/video/x1kxh5n
And what other way is there than to parody the iconic music and logo from Dragon Ball. It even has Nozawa's character front and center. The official website also teases that the  story of the anime revolves around the adventures of Peko and Smile, in their journey to find the lost seventh ping pong ball in the world. Maybe it could grant wishes.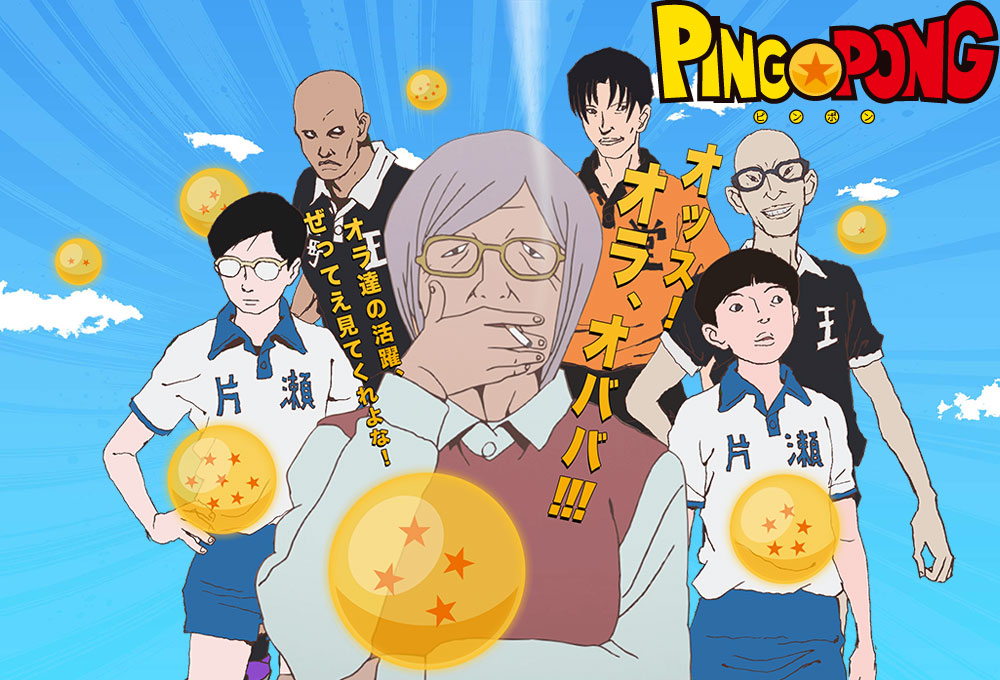 Ping Pong is a manga created by Taiyou Matsumoto in 1996. The manga is about the sport Table Tennis, or Ping Pong, that ran for a year for a total of 5 volumes. The manga was published in Shogakukan's Big Comic Spirits magazine. A live action film adaptation of the series was made in 2002 and was directed by Fumihiko Sori. An anime adaptation was announced earlier in the year. The anime will be produced by Tatsunoko Production (Sket Dance, Yozakura Quartet  ~Hana no Uta~) and will be directed by Masaaki Yuasa (Kick-Heart).
Ping Pong The Animation will begin airing on April 6. As for this crossover with Dragon Ball, it is nothing more than an April Fools joke – maybe.
For more information, visit the anime's official site: http://www.pingpong-anime.tv/