The Noitamina programming block began streaming the preview video for the first episode of the Punchline TV anime on Tuesday. In addition to this, it was revealed earlier that Shoko Nakagawa (Shokotan) and Dempagumi.inc perform the opening theme "PUNCH LINE!", under the group name, "Shokotan Dempagumi.inc.", while the ending theme will be titled "Honey Honey Honey" and performed by Ayumi Kurika Maki.
Previous promotional videos:
The cast includes:
The new key visual's tagline reads, "Once he sees panties, humanity is destroyed!?" Writer Kotaro Uchikoshi (Ever17) told Famitsu magazine that a game project is in the works.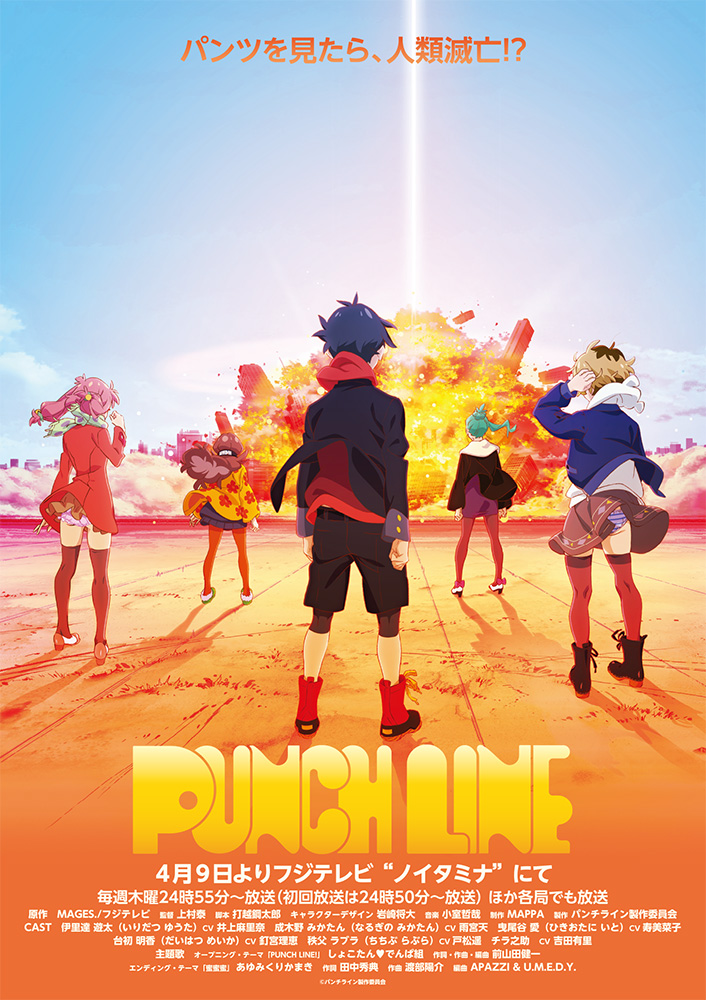 Punchline is an upcoming Japanese anime television series produced by MAPPA. The series follows Yuuta Iritatsu, whose spirit has been separated from his body. The series is directed by Yutaka Uemura (Dantalian no Shoka), with scripts by Kotaro Uchikoshi, music by Tetsuya Komuro (Vampire Hunter D), and character designs by Shouta Iwasaki. It will premiere on Fuji TV's Noitamina block in April 2015.
Punchline synopsis from Haruhichan:
The series follows Yuuta Iridatsu, whose spirit has been separated from his body.
Source: Punchline official website