The first episode of Rokujouma no Shinryakusha!? aired on July 12 and it will continue to air throughout the summer 2014 anime season with a total of 12 episodes. The anime series is based of Takehaya's light novel Rokujouma no Shinryakusha!?
Rokujouma no Shinryakusha!? synopsis from Haruhichan:
Due to young Koutarou's financial circumstances, he is forced to live in a small rokujouma (6-tatami apartment) on a budget of 5000 yen a month. On the plus side, he lives rent-free, but on the minus side, that's because room 106 of Corona Apartments is cursed. The ghost is a cute young girl, and hijinks ensue when she tries to drive him out. Between the haunting, Koutarou's nosy neighbors, and a self-styled magical girl flying to the unneeded rescue, there's way too much for the impoverished young man to handle.
| | |
| --- | --- |
| Genres: Comedy, Romance, School, Supernatural | Producers: Genco, Silver Link |
| Premiere: July 12, 2014 | Airtime (GMT+9): |
| Episodes: 12 | Station: |
| Join the conversation @anime_6joma or #6jomadaho | Promotional Videos: PV1, PV2, PV3 |
Magazine scan: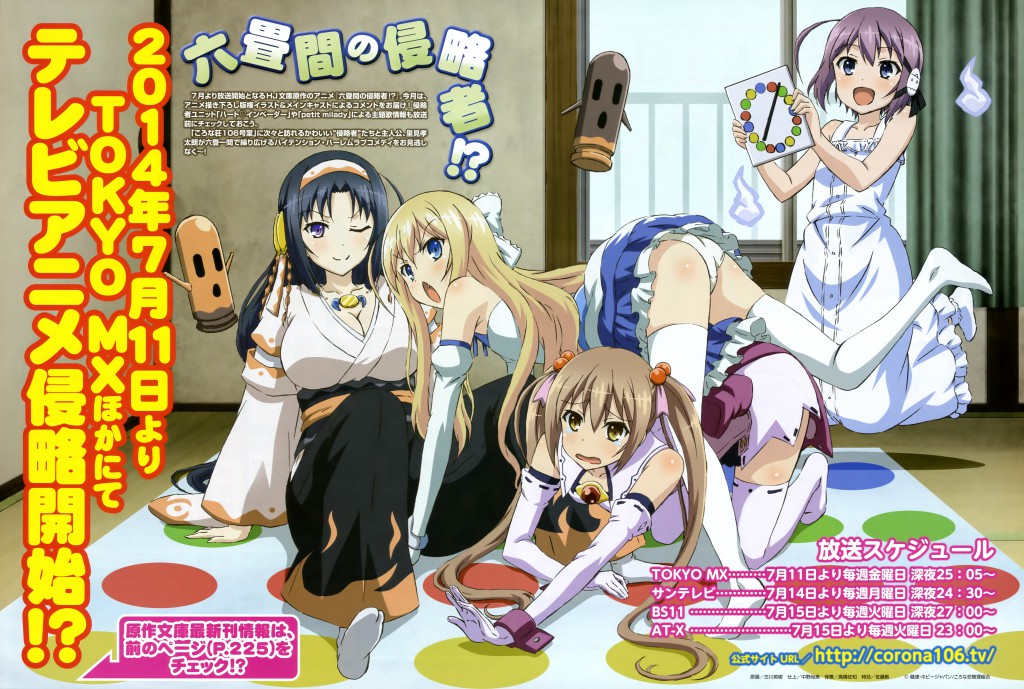 Will you pick up Rokujouma no Shinryakusha!? this summer?