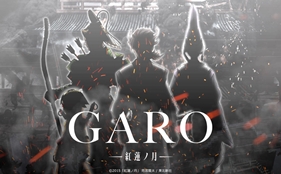 The second teaser of the upcoming Fall 2015 anime, Garo: Guren no Tsuki, has been released along with an introduction to one of the main characters of the sequel, Seimei, who is a "rare technique user." A new key visual featuring the main characters' silhouettes has also been revealed.
Staff:
Director: Atsushi Wakabayashi (Guin Saga, animation director for Yuu☆Yuu☆Hakusho)
Editor: Shou Aikawa (Fullmetal Alchemist, Eureka Seven AO)
Screenplay:

Toshiki Inoue (scriptwriter for Death Note, Ushio to Tora (TV))
Takawo Yoshioka (series compositor for Shigatsu wa Kimi no Uso)
Seishi Minakami (series compositor for No.6, Toaru Kagaku no Railgun)
Masaki Wachi (scriptwriter for Kingdom)
Shinichi Inotsume (series compositor for Gangsta.)
Shigeru Murakoshi (screenplay for Sidonia no KIshi)

Animation Producer: MAPPA (Zankyou no Terror, Shingeki no Bahamut: Genesis)
The second season will be having a female protagonist.
First teaser:
The first season of Garo aired with 24 episodes on October 4, 2014 to March 28, 2015.
First season visual:
Synopsis of Garo: Honoo no Kokuin from Haruhichan:
The story of the anime begins when the king's adviser launches a witch hunt, which endangers the Makai Knights and Makai Priests, who are supposed to protect people. A Makai Priest who has been condemned to die at the stake gives birth to a child, Leon Lewis. The child is rescued by his father, a Makai Knight, but never meets his mother. When he grows up he inherits the Gold Armor as a descendant of the Gold Knights. Meanwhile the king's adviser has taken over the country as the king has become ill, and Prince Alfonso has been driven out with his mother. He comes seeking the legendary Gold Knight in hopes of retaking his kingdom.
Visit the official website for Garo's second season here.
Source: Animate TV, ANN
sevenpocky | Anime and Manga Enthusiast. Slice-of-life and Sports genre fanatic. Shoujo manga lover.
Oh, and I'm short and I love writing manga news.