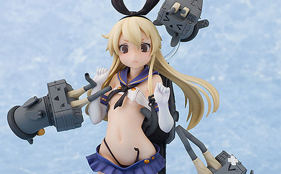 "Hawaa! I never thought they'd manage to hit me…!" This little cutie has been cutely damaged during battle! 1/8th scale and about 190mm tall, this figure would be a wonderful addition to any collector or lover of Kantai Collection. The destroyer Shimakaze has been sculpted in her major damage version with a look of surprise and embarrassment as her clothes drift away, her socks ripped.
The original illustration from the game has been faithfully brought to life in this figure, which even includes three adorable Rensouhou-chan characters taking damage around her.
Kantai Collection – Shimakaze 1/8 Figure Major Damage Ver. – Pre-orders are currently available on JList and is scheduled to be released in February 2016.
Shimakaze can be pre-ordered here
Somewhat of an aspiring journalist.
110% weeb.