Since I love trying new things, I decided to buy a bunch of Japanese snacks from abroad. So today, we'll be taking a look at the snacks I bought! This is no snack box, it's really what the title says – a bunch of random snacks consisting of a bunch of Umaibo, Meltykiss chocolate, rice spice mix (I guess this isn't a snack, but oh well) and pack of assorted dagashi. Dagashi are small, inexpensive snacks and candies that Japanese children frequently buy. If you've watched the second season of K-On, you probably remember Ritsu and Mugi visiting a dagashi store.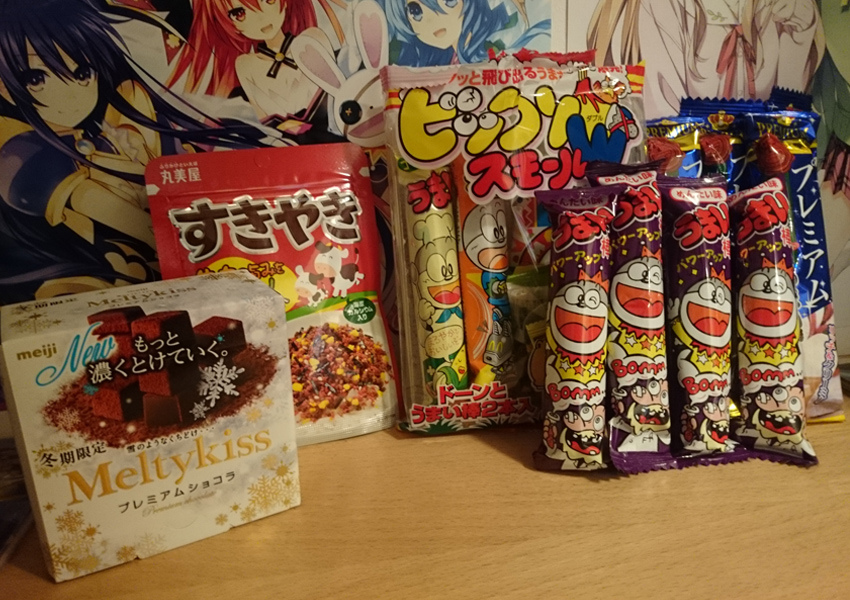 Umaibo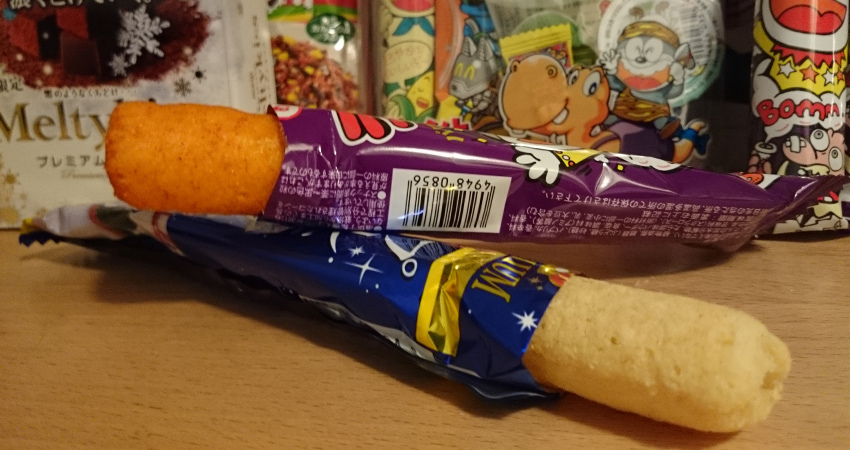 Umaibo are puffed corn sticks that come in a variety of different flavors. I got the Camembert, fish roe, salami and corn potage flavored umaibos.
The Camembert umaibo has a mild smell of camembert cheese. Once you've bitten into it, you're faced with a piquant short-lasting cheese flavor that gets overwhelmed by a corn flavor that strongly reminds of Cheetos quickly. As someone who frequently has dessert cheeses, I can say that this does not remind me of Camembert, at all. But it's delicious nevertheless!
Next up is the fish roe-flavored umaibo! Unlike the Camembert one, this one is heavily seasoned with a taste that reminds of BBQ seasoning. The seasoning overwhelms the corn taste of the umaibo, and has a very slight hint of fish roe. If you don't like fish, this umaibo should be fine for you as it's not fishy at all. I personally like this one a lot better than the Camembert one, as the taste lasts a lot longer.
Salami is great, and so is the salami-flavored umaibo. The salami flavoring is surprisingly accurate, with just the right balance of flavors. You have the savoury taste of salamis and also a undertone of smokiness. Out of all the umaibos I tried today, this one is probably my favorite!
The corn potage-flavored umaibo has a very creamy sweetcorn taste, sort of like canned sweetcorn, but with a salty and creamier taste to it. It's a great flavor, but all good things come to an end. However in this case, it comes to an end too soon, just like the Camembert umaibo.
Meiji Meltykiss – Original Premium Chocolate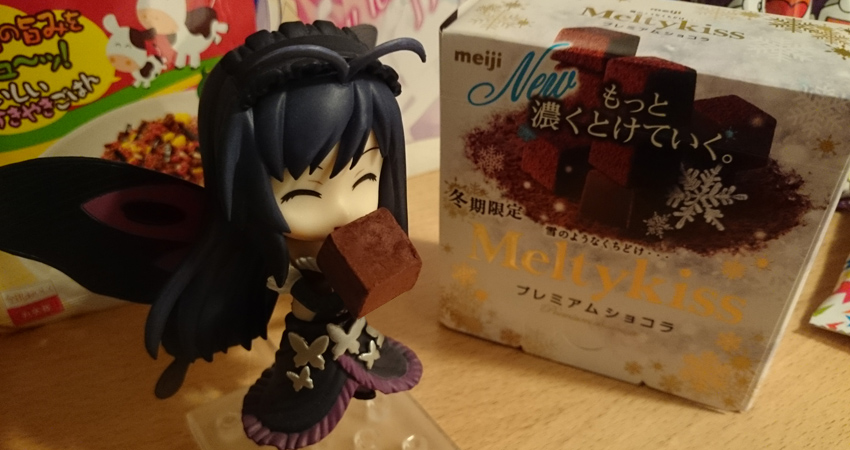 Meltykiss chocolate pralines have a soft, smooth texture and melt as soon as you put them into your mouth. To be honest, I was expecting the package and pralines to be much bigger, but they turned out to be really, really small. Disappointment warning!
Taste-wise they're absolutely great. The pralines melt as soon as they're put into your mouth, to reveal their well-balanced taste. These pralines have the richness and complexity of dark chocolate, but also the smoothness of milk chocolate. Definitely something I'd buy again despite how small the package is!
Happy Pandaro gummy (Part of dagashi pack)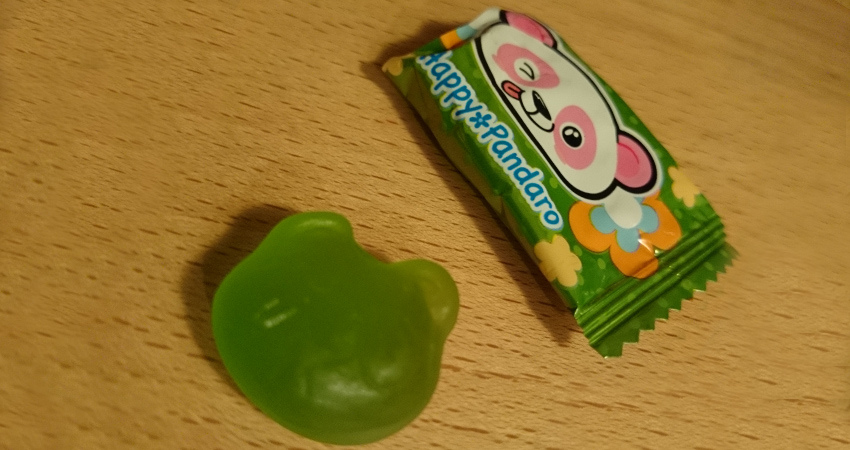 A not-so sweet and chewy gummy candy, with a somewhat sour, distinctive apple taste. Nothing special, really.
Melon tablets (Part of dagashi pack)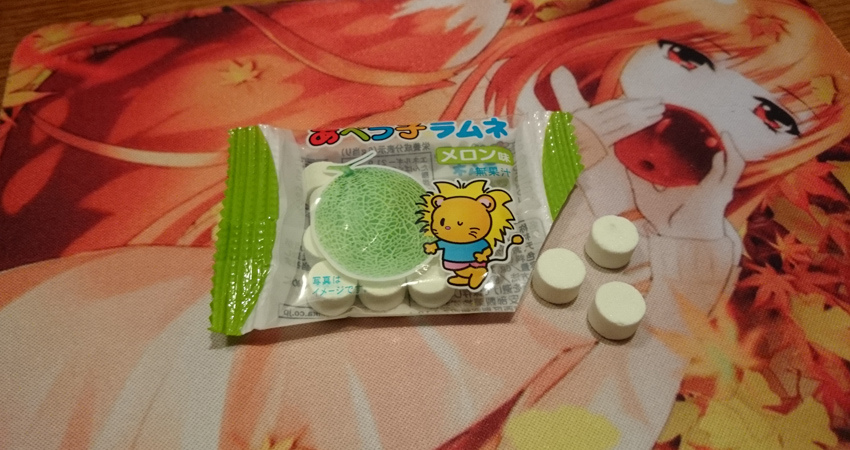 These melon-tasting tablet-shaped candies quickly dissolve in your mouth to reveal a sour, melon-y taste.
Mini konpeito (Part of dagashi pack)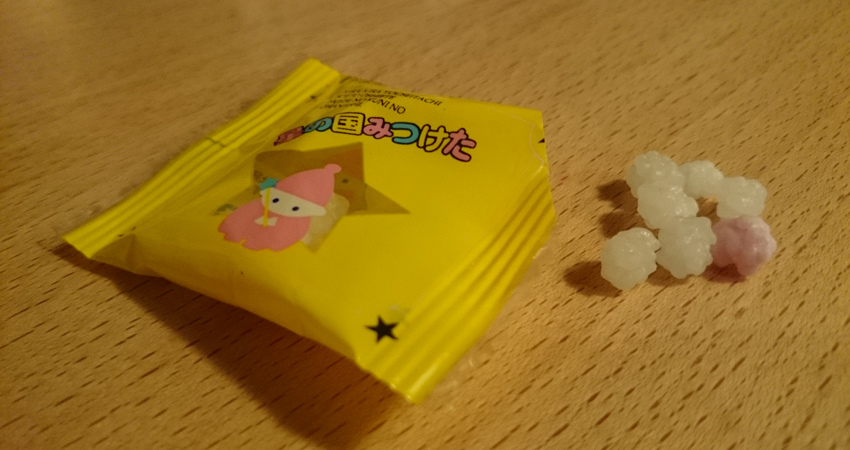 Konpeito are traditional Japanese candies originating from the old capital city of Japan, Kyoto. These are simply small balls of sugar, nothing else! The red ones had a very mild strawberry flavor, while the white ones were really just 100% sugar and uh, tasted of sugar?
Random jelly (Part of dagashi pack)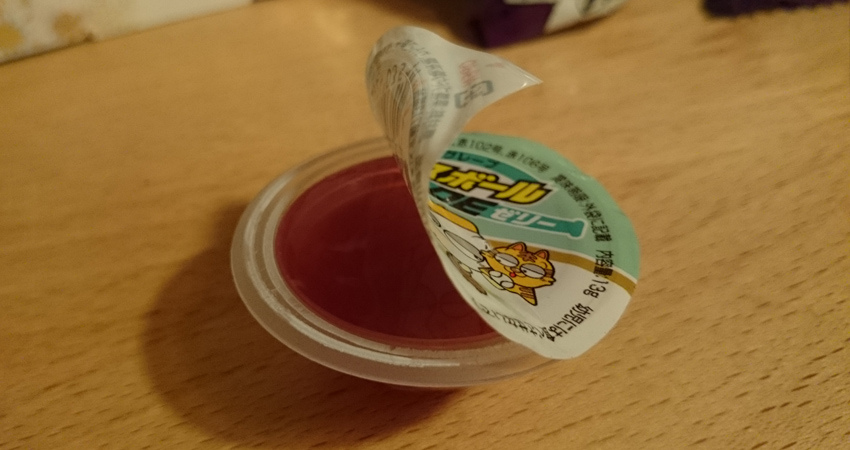 Jelly. Sweet flavor, not much else other than that. Pretty bland and boring.
Fried rice crackers (Part of dagashi pack)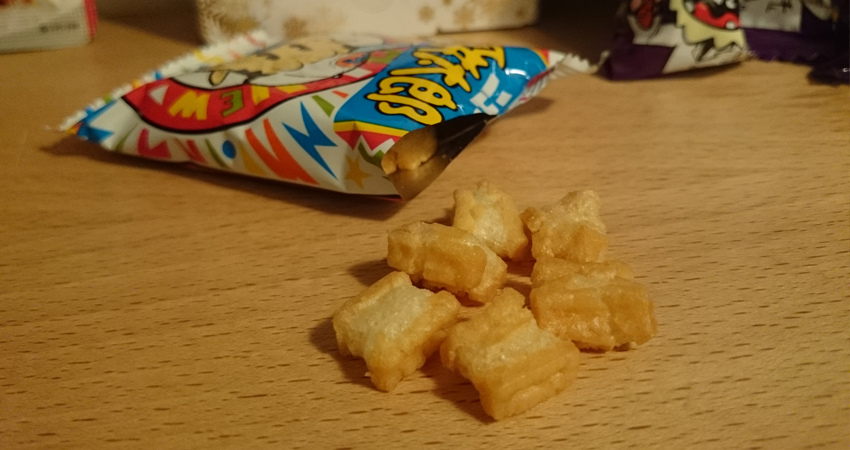 Small, crunchy fried rice bits. Salty, and has a very fragrant rice flavor that reminds of Asian tea crackers made out of rice flour. If you've had fried breadsticks before, then that is exactly how these taste!
Grape-flavored chewing gums (Part of dagashi pack)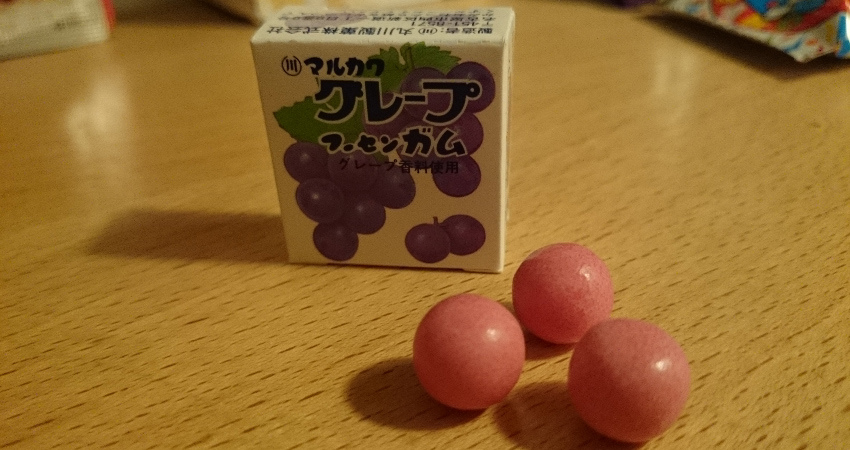 These gums come in a package so tiny it's cute! Each package contains 4 small chewing gums, but you might want to chew 2-3 at a time since they really are small. Works for blowing bubbles, if that's your thing! They have a very realistic flavor of grapes, not too sweet and not too sour. The zingy taste lasts for quite a while.
Umaibo candy (Part of dagashi pack)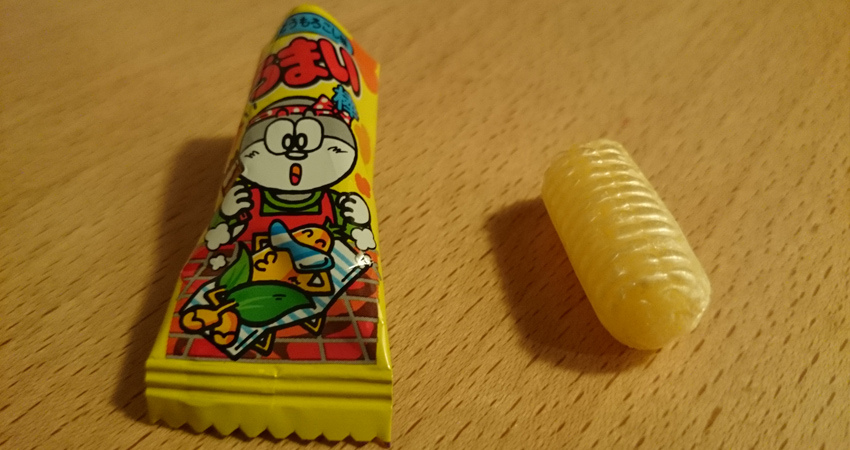 It tastes just like the corn potage umaibo! It's a hard candy with a slightly sweet corn flavor. Unlike its umaibo equivalent, it lasts for quite a while.
Marumiya sukiyaki beef flavored rice mix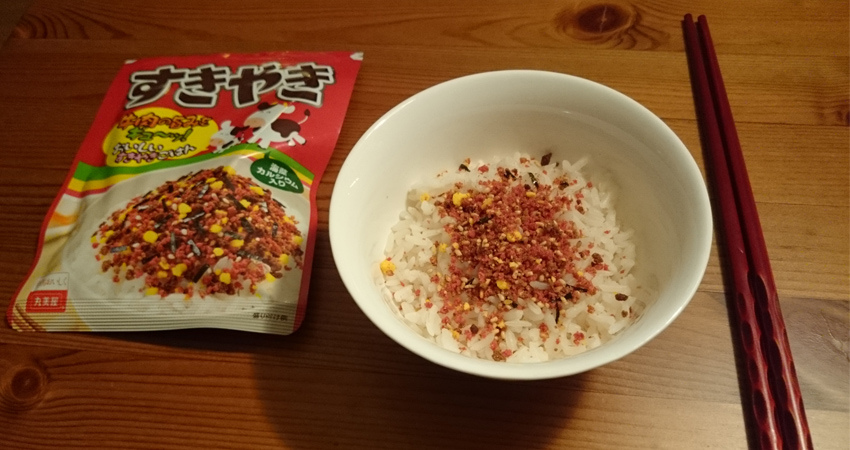 The first thing you'll notice when you open the package is a very strong, but pleasant, smell of meat. The spice mix looks like it consists of very small bits of meat, egg (think scrambled egg bits), nori strips (dried seaweed) and various spices. Together they create a taste that reminds of beef soup, but much stronger. The taste is rich, savoury and really just packs a huge punch of flavor. Definitely a great thing to have at home, I'm a huge fan!
The spice mix works the same way as sauce/gravy does, so a sprinkle of this and your bowls of rice are good to go! One packet of spice mix is good for 7-10 bowls of rice since just a little bit of the spice mix is enough.
And that's it for today, hope you enjoyed reading this article as much as I enjoyed writing it! Do you have any snack recommendations, or any questions? Feel free to discuss and ask below in the comments!