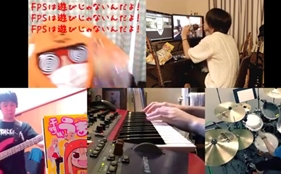 It's that time of the year once again! Every season, Japanese fans and musicians from AnimeSongCollabo gather together to bring people anime covers from the opening and ending themes of shows that are currently airing. Unfortuantely, they only featured 16 shows, which is about 10 shows less than what they have from the past.
Shows covered (chronologically by playlist):
Overlord Opening Theme | Clattanoia by OxT
Gakkou Gurashi! Opening Theme | Friend Shitai by Inori Minase, Ari Ozawa, Mao Ichimichi and Rie Takahashi
Gakkou Gurashi! 1st Ending Theme | Harmonize Clover by Maon Kurosaki
Rokka no Yuusha 1st Opening Theme | Cry for Truth by MICHI
Arslan Senki (TV) 2nd Opening Theme | Uzu to Uzu by NICO Touches the Walls
Joukamachi no Dandelion Ending Theme | Honey♥Come!! by Yui Ogura
Akagami no Shirayuki-hime Main Ending Theme | Kizuna ni Nosete by eyelis
Durarara!!x2 Ten Ending Theme | EXIT by REVALCY
Classroom Crisis Ending Theme | Anemone by ClariS
Gatchaman Crowds Insight Opening Theme | Insight by WHITE ASH
Himouto! Umaru-chan Opening Theme | Kakushinteki☆Metamaruphose! by Aimi Tanaka
Sore ga Seiyuu! 1st Ending Theme | Anata no Omimi ni Plug In! by Marika Kouno, Rie Takahashi and Yuki Nagaku
Senki Zesshou Symphogear GX: Believe in Justice and Hold a Determination to Fist. Opening Theme | Exterminate by Nana Mizuki
God Eater Opening Theme | Feed A by OLDCODEX
Ranpo Kitan: Game of Laplace Opening Theme | Speed to Masatsu by amazarashi
Working!!! Opening Theme | NOW!!!GAMBLE by Kana Asumi, Saki Fujita and Eri Kitamura
You may also watch it on Nico Nico Douga here.