It has been revealed that the upcoming original TV anime series, Classicaloid, will premiere on Fall 2016. More production staff and cast has been announced, as well as a new promotional video. The anime was previously announced by broadcaster NHK last July 2015.
Teaser Visual: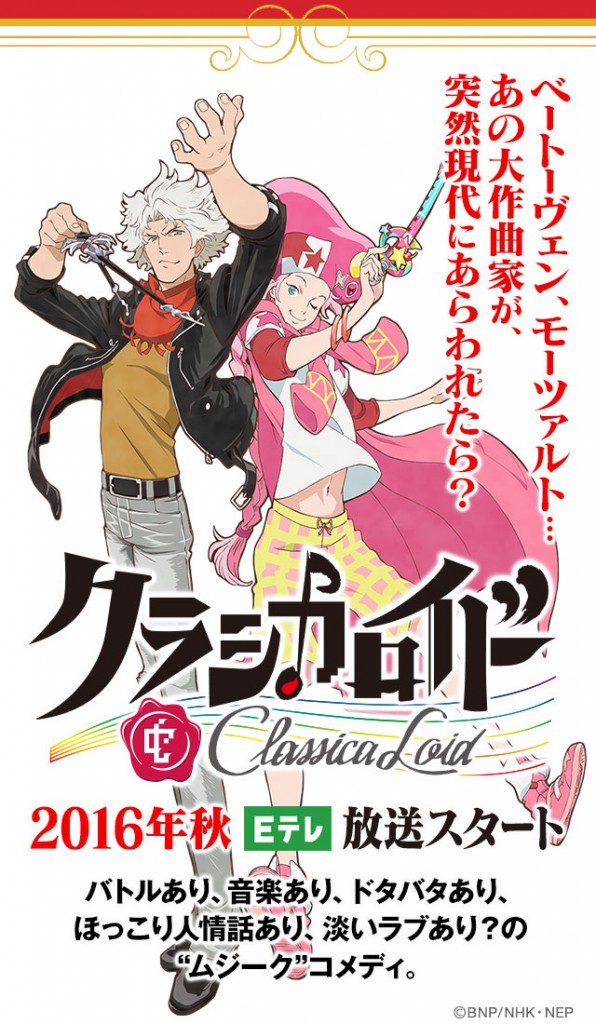 PV:
Staff:
Director: Yoichi Fujita (Osomatsu-san, Gintama')
Original Character Design: Makoto Tsuchibayashi (Sengoku Basara)
Character Design: Seiichi Hashimoto (Ruruoni Kenshin's Key Animator)
Series Composition: Ichirou Sakaki (Outbreak Company's Original Creator) and Michihiro Tsuchiya (PriPara)
Script: Shuu Matsubara (Osomatsu-san), Kyou Kogure, Tsuyoshi Kida (Bleach), Miya Asakawa
Music Producers: Tomoyasu Hotei x Beethoven, tofubeats x Mozart, Tsunku x Bach, and more to be announced
Production Studio: Sunrise
Announced characters and their draft sketches:
Beethoven
Sosuke
Kanae
Mozart
Chopin
Bach
Synopsis of Classicaloid from MAL:
In a rural town undergoing revival through music, high school students Kanae and Sousuke meet none other than Beethoven and Mozart! Calling themselves "Classicaloids", this mysterious duo creates a strange power through the "music" they play.

One night, stars fall from the sky and gigantic robots appear, causing trouble every single day! Bach, Chopin, Schubert also appear as Classicaloids. What is the mystery behind the powers they possess? Are they humanity's friend or foe?
Source: Official Website